BEST HIP-HOP The Best Hip-Hop on Bandcamp: March 2021 By Phillip Mlynar · March 30, 2021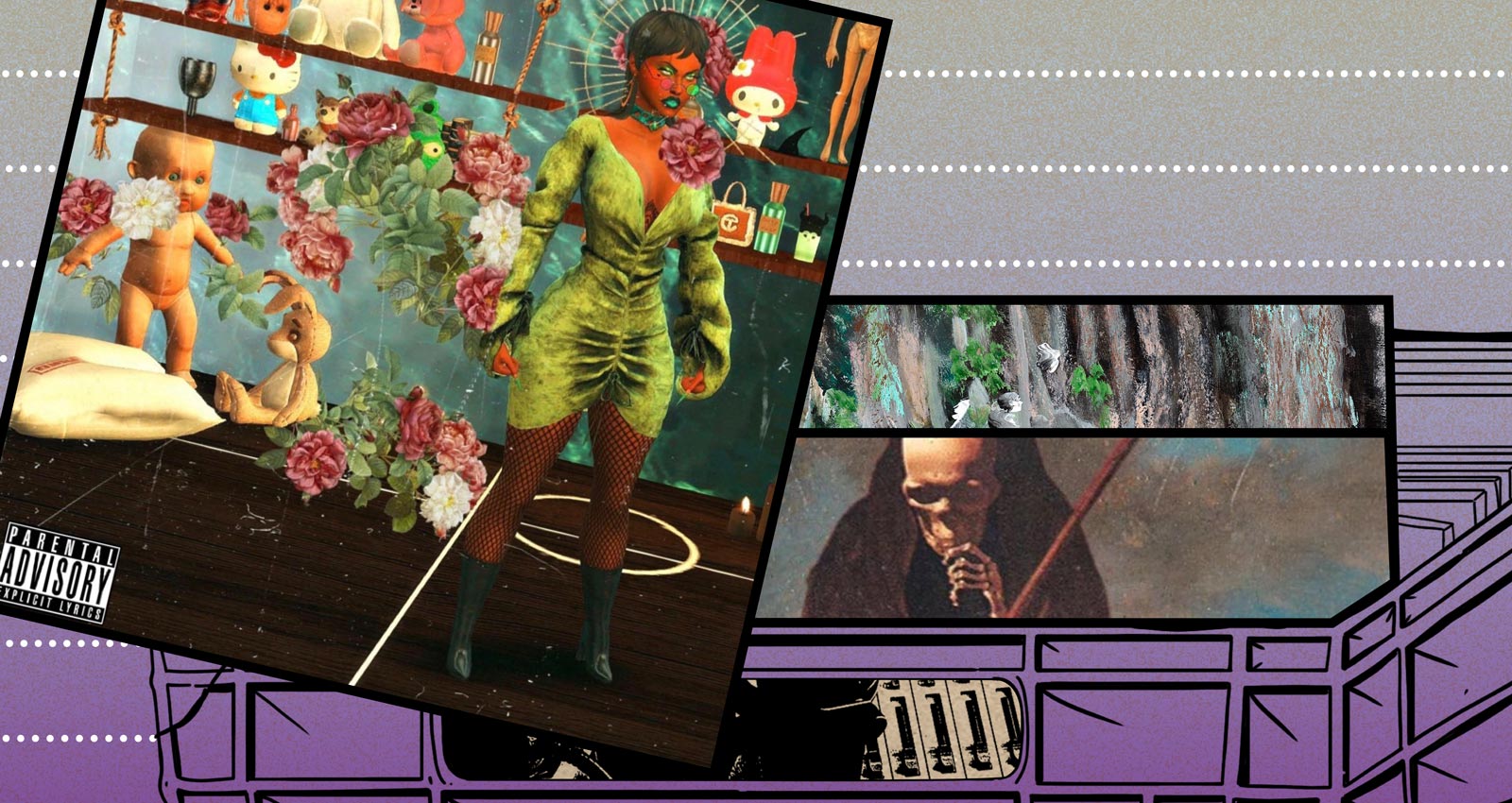 March's round-up of the ten most essential new hip-hop releases on Bandcamp includes a North London MC's reflections on their British-Chinese heritage, a Harlem-to-Boston collaboration that tackles regret and mourning, plus a Chattanooga rapper's struggles with creative and personal regeneration during a pandemic. We also check in with a cult '90s artist who raps in the style of Hanna-Barbera's iconic pink cartoon lion.
Brooklyn's amani secured a place on Bandcamp's best hip-hop of 2020 list off the strength of his impactful An Unknown Infinite collaboration with producer King Vision Ultra. That project backed the rapper's voice with beguilingly grubby beats that exuded a dank industrial hum, but for amani's self-produced A CONSTANT CONDENSATION the sonics shift into a stripped-down soul-sampling direction. Opener "Come Through (I Already Did)" layers amani's meditative vocals over a reposeful cascading piano riff as the wordsmith alludes to revolution and warns, "That's not a jab to the system—that's an uppercut." On subsequent track "Strayaway" he opens by claiming "Walking my dog, I don't like kicking it with humans" before building up to juxtapose religious and spiritual teachings with the harsh reality of "a cold war on these streets." The theme of searching the soul for a sense of salvation recurs throughout, poignantly concluding with a persuasive combination of the mantra-like "DoBetaErryDay" and the celestial, synth-fueled instrumental "A Royal End."
Armand Hammer & The Alchemist
Haram

The Armand Hammer reign continues. Following last year's vital Shrines dispatch, the Brooklyn-based duo of billy woods and ELUCID team up with powerhouse Los Angeles beat scientist The Alchemist to create a record that conveys a forbidding atmosphere of impending danger and doom. "Kill your landlord/ No doubt/ Asymmetric unconventional extremists/ Make meaning," raps ELUCID over escalating strands of electric guitar and nervy piano on early cut "Roaches Don't Fly." Spurred on by a mystical flute riff, "Indian Summer" features woods warning, "I swore vengeance in the seventh grade/ Not on one man, the whole human race/ I'm almost done/ God be praised/ I'm almost done/ Every debt gets paid." A late cluster of tracks co-starring guest MCs contribute to the album's simmering momentum, with Earl Sweatshirt blessing the psych-jazz-tinged "Falling Out The Sky"; amani and Curly Castro adding their gravitas to the spectral "Wishing Bad"; and Quelle Chris bringing his unmistakable brogue to the curdling, swine-themed "Chicharrones." Ending proceedings on a bluesy, redemptive note, final song "Stonefruit" spotlights ELUCID singing in an impassioned experimental style before woods relays a rap parable that's sparked by a lament: "Said OK just to save face but she never forgave/ It's only so many ways you can say grace/ In truth, she rather cry at your grave/ All black regalia/ We back not speaking."
The sequel to Chattanooga rapper bigmutha's 2020 studio album debut Muthaland grapples with the idea of personal and creative regeneration in a pandemic world. Over Paris Aden's cherubic, drum-less production on introductory track "PMS," the rapper—who styles herself as the "antichrist of female rap" on social media—rags on doubters, the industry, and fake friends alike. "They want me to be a rapper/ I want me to be myself," she explains. "If rapping happen, that happen/ I'm keeping health over wealth." The sonic intensity ramps up during the project's mid-section, with pummeling bass and sizzling trap-style hi-hats running through "Muthaleficent March" and apprehensive piano fueling "Tig Ol Bitty," which features Detroit's ZelooperZ as a lyrical guest. Mutant Academy figurehead Fly Anakin also pops up on "Traphouse," with the rapper's agitated tone playing off the husky menace that radiates from bigmutha's voice. Ending Muthaleficent 2 defiantly, "True Crime" is based around beatmaker Winslow Donovan's creepy piano-spiked beat and features bigmutha vowing, "Why you make me competition?/ You must like to lose."
New York City's PENPALS, the trio of MCs Bobby Noble and Rapswell plus producer Squires, have been building up a healthy vault of ruggedly charming hip-hop since 2015's eponymously-titled debut. FAUX PALS is an expanded spin-off project that adds Jamii Bass to the crew's line up. Collectively casting themselves as Hennessy-fortified "bodega superstars" on introductory cut "Portals," the MCs gloat about flowing over "luxury beats made on shitty keyboards," while on "Artichoke," their compactly-wrought bars are supported by shimmering blasts of grandiose strings. The lyrical shenanigans peak most triumphantly on closing cut "Master Plumbers," where a blend of swaggering flute and syncopated flashes of percussion inspire the trio to pass the mic to boast about paying debts with fake checks, recall amorous pursuits soundtracked by Jodeci songs, and drop references to scuzzy, cult cartoon show Ren & Stimpy.
REGRESSIONS is a companion piece to last year's Progression project, which showcased the persuasive combination of battle-wizened, Harlem MC G4 JAG and Boston-based producer MEPHUX. The latter's beats dwell in an evocatively maudlin chamber, conjuring feelings of regret, nostalgia, and mourning through nuanced use of plaintive piano riffs and lonesome guitar loops. It's a sonic backdrop that supports the baritone-voiced MC's lyrical laments about lost friends, missed opportunities, and the value of putting faith in hard work to overcome adversity. On opening song "How Many Times," G4 JAG brings a humanistic touch to the plight of lives cut short by environmental factors; "Who Are You?" relays a search for a sense of self-worth in a double-time flow; and the dusky "Soul Food" spotlights music industry falsehoods and pitfalls. Adding key lyrical support to G4 JAG's mission, Flee Lord contributes his raspy bark to "Live Right," and Rochester beacon Eto passes through the title track to vow "Let me explain/ They ain't keep my name alive—they kept me in vain/ But they won't get me arraigned."
MAVI's follow-up to 2019's breakthrough Let The Sun Talk opens in salubrious fashion, with the reverberating soul loops of "Time Travel" prompting the North Carolina MC to blend philosophical spells with cocksure boasts. "I can't write all the time 'cause I can't lie/ I put a price on this shit 'cause it's all mine," he begins, before moving on to muse: "Ain't nothing but a little character what that pain prove/ This that love from a awkward angle/ Cracks in my family like ceramics and commandments too/ But if you touch my chain you'll perish like Thor hammer too." The EP is a showcase for MAVI's stylistic adaptability: on "THOUSAND MILES" he switches into an angular and choppy flow; "METHODS" challenges his verbals with taut, bass-swaddled production; and the drum-free closer "TOWN CRIER" prompts spoken word influences to bubble to the surface. "I can tell my spirit ain't made of nothing new," he raps over the latter track's lush bed of strings, successfully keeping faith with a message of humble spirituality.
Natty Wylah
BRUCE

"You don't know about the pain that I hold I got inside me/ And I ain't from England, I ain't from China, so fuck off with your labels," vents Natty Wylah on "WHOAMI," a centerpiece cut from the North London lyricist's BRUCE mixtape. Over a muted and melancholy backdrop that's anchored by slyly murmuring synths, the MC reflects on his British-Chinese heritage and addresses the ignorance and identity issues he's faced with on a daily basis. Eventually, the song reaches a conclusion that's resistant but also couched in uncertainty: "Peace, music, love movements/ Come on everybody get loose/ Just trying to find silence/ I'm in amongst mayhem and madness/ And arise from the grit/ I move phoenix I flew/ But like who am I?" The track is an impactful synopsis of the way Wylah tackles worldly concepts in a nimble and personalized fashion—and it's a combination that certifies BRUCE an emotive gem of a mixtape.
In the '90s, Snaggapuss emerged as a cult rap figure known for reciting his rhymes in a voice that resembled the tone of his namesake, Hanna-Barbera's pink cartoon lion Snagglepuss. Back then, the Bronx-based Snagga rolled with renowned mixtape DJ Doo Wop's Bounce Squad—and at one point the MC was courted by Dr. Dre—but for Bronx Dundee he's teamed with Australian beatmaker Ramzee. Blessing a brawny and pounding beat on opener "The Flesh," the MC sets out his agenda with casual confidence: "Won't see me dancing a jig, I'm too militant/ Momma said I write poetry not ignorance/ Rap changed, I refuse to adapt to it/ Please stop tagging me with your trap music/ Caught up with material shit/ How's admiring whips gonna help you start a fire with sticks?/ My rep speaks for myself, I ain't gotta brag/ Know a whole lot of celebrities I ain't gotta tag." Smartly, Ramzee's production across Bronx Dundee harnesses brassy stabs and brooding bass lines to provide sturdy support for the MC's animated deep register. Nodding to Snaggapuss's cartoon heritage, a limited edition pink cassette version of the album is also available.
The concluding chapter of Sole's mansbestfriend series of releases finds the Maine-based MC in prickly form. Set to a backdrop of sullen guitar and lurching drums, introductory track "My Cup" encapsulates the Anticon founder's agenda: "They tell me to write something happy/ Why would I write something happy?/ I'll be happy when the bankers and Silicon Valley assholes fuck off the Earth/ Leave us alone/ This scorched Earth, we'll turn it back around." On the album, Sole's typically politicized outpourings are balanced by introspective asides, like on "Nothing Left To Say" where he ponders, "Catch me in the back of the club wondering why I'm here/ Pretending to be social." Climatic cut "Walk With Me" pairs the MC's final words with crackling snares and palpable distortion, as he muses how "despite my communist leanings I understand the desire to be selfish" and proceeds to claim, "Remember everything is linked/ Every ship eventually sinks." Vinyl heads take note: Each record is pressed from randomized recycled ink to produce a truly one-off color blend.
Thumbing Thru Foliage is a full length collaboration between blissfully-blunted, Los Angeles MC YUNGMORPHEUS and New York-based producer ewonee from the Mutant Academy collective. Across the LP, ewonee conveys a sense of soulful melody, with tracks helmed by honeyed strings and tranquil piano refrains that thoughtfully cushion the rapper's granular voice. "I seen a lot of shit/ Ain't talkative, Bobby Brown, my prerogative/ Shit too grimy, I been trying to think positive," YUNGMORPH relays on early track "Middle Passage." Elsewhere, the rapper casts himself as "Robin Hood part two" over stealthy, spy-movie-strings on "Blaqstar Farms," blasts back at the Feds on the airy, synth-infused "FistfulofGreens," and weaves in political commentary about systemic inequalities on the bittersweet "Rat Race." Consistently delivering his words with relaxed aplomb, YUNGMORPHEUS brings a conversational quality to the album that successfully makes Thumbing Thru Foliage feel both warmly intimate and worldly wise.