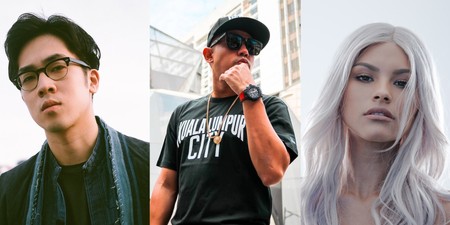 This weekend's going to be a busy one, what with two concurrent events under the YOUTHx umbrella at the Singapore Sports Hub: Hyperplay and SHINE Festival.
The latter's entertainment lineup is absolutely stacked with local and regional talent. When it comes to regional artists, Malaysian rapper Joe Flizzow (pictured, middle) leads the way with a 16 Baris showcase that will feature Malaysian rappers Airliftz, Altimet, Aman RA and others. Also performing are Christian Bautista, Thai singer TACHAYA and Japanese hip-hop artist JP THE WAVY.
As for Singaporean artists, the likes of Charlie Lim (pictured, left), Tabitha Nauser (pictured, right), Sezairi, M1LDL1FE, and more will be performing. Also showcasing their work are the four mentees of this year's SHINEx *SCAPE Talent Development Programme: Yung Raja, Fariz Jabba, Houg and YAØ. These performances will take place at two stages: the Arena Park Village stage and the OCBC Square stage.
And that's not all – there's also a couple of talks with music industry professionals, organised by Aging Youth. On Saturday, Nigel Lopez of Middle Class Cigars, Edwin Waliman of Secret Signals and EMONIGHTSG, and Lennat Mak of Warner Music Singapore will be on a panel titled "Building a Community Around Your Brand" (RSVP here).
The day after, Paddy Ong from M1LDL1FE, Akeem Jahat and weish (sub:shaman and .gif) will be on a panel titled "The Artist's Journey" (RSVP here).
There's also a bunch of extra-musical programming, from F&B to interactive installations, games and urban art. And did we mention all this is free? Whew.
SHINE Festival will take place at and around the Singapore Sports Hub on Saturday, 4 August and Sunday, 5 August 2018. Check out the live music schedule below:
Day 1
Arena Park Village stage:
10.30am to 12.30pm – Glee Studios
12.45pm to 1.30pm – Dru Chen
1.45pm to 2.30pm – Still Sunrise
2.45pm to 3.15pm – MOTUS
3.30pm to 4.00pm – Axel Brizzy
4.15pm to 4.45pm – Nicco Homaili
5.00pm to 5.30pm – MHC
5.45pm to 6.15pm – Mean.XS
6.30pm to 7.30pm – 16 Baris
7.45pm to 8.15pm – Fariz Jabba and Yung Raja
8.30pm to 9.00pm – Joe Flizzow
9.15pm to 9.45pm – JP THE WAVY
OCBC Square stage:
2.45pm – Sportify
3.05pm to 5.15pm – SHINE x Noise Urban Sounds with Abby Simone, Retrofocus and Royal Estate
5.30pm to 6.15pm – Mediacorp SPOP
6.30pm to 7.00pm – Izat Ibrahim
7.15pm to 7.45pm – Christian Bautista
8.00pm to 8.45pm – Lew
9.00pm to 9.45pm – Jasmine Sokko
Day 2
Arena Park Village stage:
10.00am to 11.30am – SG Street Fest
11.45am to 12.30pm – Theodora
12.45pm to 1.30pm – Weish
1.45pm to 2.15pm – Intriguant
2.30pm to 3.15pm – M1LDL1FE
3.30pm to 4.15pm – Disco Hue
4.30pm to 4.45pm – Houg
5.00pm to 5.15pm – YAO
5.30pm to 6.30pm – Linying
OCBC Square stage:
3.15pm to 4.15pm – SAFRA: Ultimate Voice
4.30pm to 5.00pm – Joie Tan
5.15pm to 5.45pm – SOBS
6.00pm to 6.30pm – Astronauts
6.45pm to 7.15pm – Sezairi
7.30pm to 8.00pm – Tabitha Nauser
8.15pm to 9.00pm – Charlie Lim
9.15pm to 9.45pm – TACHAYA
---