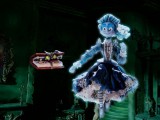 HBO Max is planting a major stake in the Latin American market, with plans to develop more than 100 local productions in the region over the next two years. The content will all be exclusive to the streamer as part of its Max Originals brand, and a new kids show is already in the mix.
Ahead of its summer launches in Latin America and the Caribbean, HBO Max has greenlit a stop-motion anthology series called Frankelda's Book of Spooks (five x seven minutes) from Mexico's Cinema Fantasma (Victor and Valentino). Frankelda's creepy main character will tell a different scary story from her magical book in each episode when the series launches later this year.
Cartoon Network LatAm's YouTube channel released a pilot episode (pictured) for Frankelda's Book of Spooks in November 2019 that has since amassed more than 229,000 views.
HBO Max has 33 LatAm projects already in production, including Zeppelin Studio's YA-skewing Dias De Gallos (10 x 45 minutes), about teens who get into rap battles; action comedy Búnker; romantic drama Amarres; and drama series The Missing.