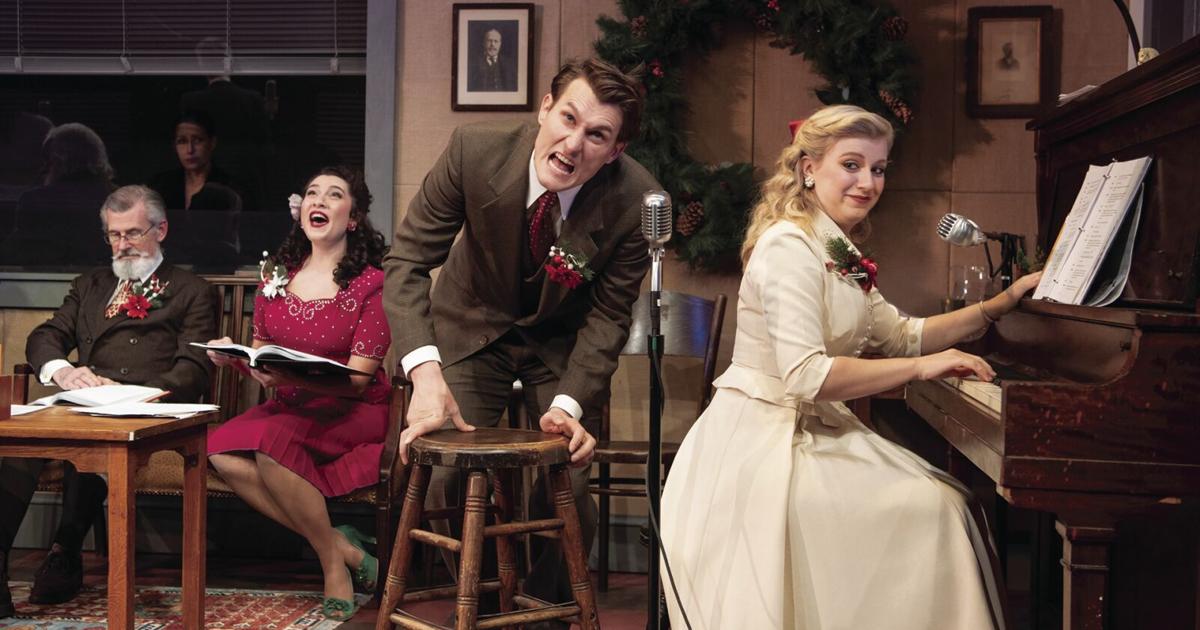 WARWICK, R.I. — The Sandra Feinstein-Gamm Theatre is celebrating the season with a funny, exuberant, heart-warming and spirit-lifting production of "It's a Wonderful Life: A Live Radio Play."
The play blends two worlds: The Bedford Falls of Frank Capra's classic holiday movie "It's a Wonderful Life," and a radio station where a handful of radio personalities have gathered in December 1946 to broadcast the film's story of George Bailey and his guardian angel Clarence.
Under insightful direction of Damon Kiely, chair of performance for the Theater School at DePaul University in Chicago, both worlds come to life.
The Gamm's set depicts the radio station – in this case, it's called WGAM in Warwick – and the actors are introduced by their radio jobs, like station manager and announcer. Then, they take turns stepping up to what looks like old fashioned microphones to voice characters in the "Wonderful Life" tale. A Foley artist provides sound effects.
Almost unconsciously, the audience's attention narrows onto the actors. They work with their voices, of course, but being in the theater, we can watch their expressions and their body language. Imagination takes over, and now we "see" the residents of Bedford Falls.
Tony Estrella portrays George Bailey, from the optimistic young man who can't wait to get out of small-town life to the responsible son who lets go of personal dreams when duty calls. The anguish he feels when that life looks pointless, and the joy that arrives with Clarence's help, play out authentically in Estrella's expressive performance.
Fred Sullivan Jr. plays a villain, greedy old Henry F. Potter, and an angel, Clarence, a gentle soul sent to look out for George Bailey, and he fits both parts to a T. Lynsey Ford plays the Bailey matriarch Rose, and Mary Hatch, George's loving wife, completely changing her demeanor – and our mental image — for each.
This is an experienced cast. There was a live show at The Gamm in 2019 and a Zoom version last year, and all the actors have found details to make their portrayals realistic and entertaining.
Jeff Church is a man of many voices and faces as George's brother, Harry; police officer Ernie Bishop; and a host of other characters. Helena Tafuri and Richard Noble keep multiple characters lively, and Emily Turtle not only acts but plays piano, at times like an accompanist for a silent movie.
Speaking of accompaniment, Foley artist DJ Potter is a show in himself, watching him create sounds from breaking glass and a woman's footsteps to birds, or the tinkling bell when an angel earns his wings. He also turns a pre-show sing-along of "The 12 Days of Christmas," led by an ebullient Church, into a marathon of sound effects.
The story of "It's a Wonderful Life" is the emotional core of this amalgam, and under Kiely's direction that emotion is sincere and touching.
The "Radio Play" part provides and extra layer of fun, including some clever, original "commercial breaks," and signs that light up to encourage applause.
Best of all, there is enough holiday spirit packed into this 90-minute performance to carry theater goers right into the New Year.
Performances of "It's a Wonderful Life: Alive Radio Play" continue through Dec. 24 at the non-profit Gamm Theatre, 1245 Jefferson Blvd. Tickets are $49-$69, available at (401) 723-4266 or gammtheatre.org. For information on discounts, visit gammtheatre.org/discounts.
For the safety and comfort of Gamm audiences, patrons must present either proof of vaccination or a negative COVID-19 test in order to enter the theater. All patrons, regardless of vaccination status, must wear masks. Find details at gammtheatre.org.
Hamilton makes a welcome return to Providence
George Washington: moral compass … rock star, rapper.
Those are words Marcus Choi uses to describe the character he plays in "Hamilton," which makes its second appearance at the Providence Performing Arts Center beginning this week.
First at PPAC in 2019, the show is a history lesson told with contemporary panache, featuring non-traditional casting and a sung-through score that blends rap, jazz, R&B and Broadway-style show tunes. It's funny in places, but also moving, and generally historically accurate.
In the six years since the musical debuted at New York's Public Theatre, moving shortly thereafter to Broadway, "Hamilton" has become a phenomenon, winning Tony, Grammy and Olivier awards and the Pulitzer Prize for Drama.
Based on Ron Chernow's celebrated biography "Alexander Hamilton," the story follows this founding father from his arrival in America as an orphan from the West Indies to his role as Washington's close adviser during the Revolutionary War and later, the new nation's first secretary of the treasury.
The book, music and lyrics all were written by Lin-Manuel Miranda, who also appeared in the title role on Broadway.
Choi has been playing Washington since 2018, albeit with a hiatus during the pandemic lockdown. But when rehearsals for this North American tour, one of three currently on the road, began in August, Choi already had read Chernow's "Alexander Hamilton" as well as his book about Washington, "Washington: A Life." He even had visited Mount Vernon.
That research led him to see Washington as the "moral compass, the steadiness" among the show's characters. "To make light of the character would be doing him an injustice," Choi says.
But in the musical, "George Washington enters the show like a rock star," singing "Right Hand Man," which Choi says "is the best introductory song for any character I have ever seen in any show."
Then in Act II he raps his way through "Cabinet Battle #1 and "Cabinet Battle #2," which are presented as freestyling rap battles, but with participants bragging and trading insults based on political arguments of the day. Finally, leading to his farewell address, Choi sings a poignant "One Last Time."
Choi's "preparation" for this show includes numerous Broadway roles, including his debut in 2002 in the revival of "Flower Drum Song." He appeared in "Wicked," "Allegiance" and revivals of "Sweet Charity" and "Miss Saigon," and on television in "Homeland," "Blindspot," "Chicago PD" and "The OA," among other television and theater roles.
He acknowledges that touring in "Hamilton" is rigorous, with performances four nights a week and twice on Saturdays and Sundays. "There are about 26,000 words and almost as many dance moves" in the two-and-a-half-hour production, he says, "and it's packed with information."
"If you've never seen it, never heard it, it's overwhelming," he acknowledges. "Listen to the album … so you know where the story is coming from and where it's going as it unfolds on stage."
"Hamilton" opened Tuesday night and runs through Dec. 12 at the Providence Performing Arts Center, 220 Weybosset St. Tickets are $69-$159 with a select number of premium seats. For tickets or information, visit the box office in the theater, call (401) 421-ARTS (2787) or visit ppacri.org online. A digital lottery for 40 seats at the price of $10 each is under way; use the official app for "Hamilton" available in the Apple App Store and the Google Play Store (http://hamiltonmusical.com/app).
All patrons attending in-person events must either show proof of full vaccination against COVID-19 or proof of a negative COVID-19 PCR test taken within 72 hours of performance time or proof of a negative COVID-19 antigen test (rapid test) taken within 6 hours of performance time. Regardless of vaccination status, patrons must wear masks. For specific information and updates, visit PPAC's Health and Safety Measures page at ppacri.org/healthandsafety.
The long wait is over: Trinity Rep reopens for Christmas Carol
"A Christmas Carol" is the first in-person performance at Trinity Repertory Company in 20 months — cause for the first round of applause at the show's recent press opening night.
This is Trinity's 45th iteration of Charles Dickens' novella, and folks who have seen multiple productions know that discovering how different directors, casts and designers interpret the familiar tale, of ghostly visits that transform Ebenezer Scrooge, is like opening presents: Thrilled by some things, less so for others.
This year's favorite things – a reference to a song that director and resident company member Joe Wilson Jr. works into the production – include memorable performances, lovely vocals and an interesting mix of costumes.
Missing, at least for this "gift recipient," is some of the spirit-lifting joy of previous year's productions.
In program notes, Wilson noted, accurately, that Dickens wrote "A Christmas Carol" as "a piece of political writing. Charles Dickens was making a statement about the way that we treat the poor." That discussion that continues today, making the 1843 tale worth re-telling in 2021.
Wilson's messaging is subtle, often as much about pauses as what's said. When the Ghost of Christmas Past shows Scrooge the celebration Fezziwig hosted for his workers and apprentices, Scrooge realizes, "The happiness he gives is quite as great as if it cost a fortune." The pause that follows adds emphasis.
Happier moments come, of course, in Scrooge's Christmas morning awakening. Timothy Crowe is spot-on portraying his character's grumpy bluster and disdain, and just as perfect in his relief to have survived the Ghosts' visits and for the opportunity to mend his ways.
Ricardo Pitts-Wiley is an appropriately anguished Jacob Marley and then he's all business as the nefarious Old Joe, buying goods stolen from Scrooge's lodgings and, indeed, his body.
The ebullient standout is Stephen Thorne as a red-coated, sequined Ghost of Christmas Present. The actor makes good use of his gift for physical comedy, but switches easily to serious moments – a balance that has been a hallmark of entire productions.
Kenisha Kelly's costumes are a creative mix of period looks and less specific styles. The Ghost of Christmas Past, played with great attitude by Ava Gaudet, is a cross between Wonder Woman and an angel. The women partying at Scrooge's nephew's home are garbed in jewel-toned holiday finery.
Trinity's "Carol" always has had lots of music, and many of the songs from Richard Cumming's original score are sampled this year along with some additions, including a jazzy rendition of "Pennies from Heaven." An abundance of trained vocalists in the cast and top-notch musicians as accompanists make beautiful music; choreography by Taavon Gamble is well executed and fun to watch.
All three elements – vocals, instrumentals and dances – are worth the spotlight; however, the song-and-dance numbers tend to interrupt the storytelling and slow down the performance.
Wilson's approach to "A Christmas Carol" well may be rooted in the fact that present day feels pretty serious as we confront a pandemic and the focus it has brought to inequities.
As an organization, Trinity Rep has spent the past year working on being equitable and inclusive and has created a new position; Monique Austin of Woonsocket now is director of equity, diversity, inclusion and anti-racism.
Wednesday's performance was preceded by a land acknowledgement to the Narragansett, Pokanoket and Nipmuc tribes, and Trinity has published in the program an "audience agreement" aimed at making everyone feel welcome, just as Scrooge does at the end of this year's "Carol," when he invites the Cratchits, his nephew and others into his home.
The scene was followed by lengthy applause, which Thorne, acknowledging the audience from the stage, allowed to run on "because we missed it so much."
Nice to be back.
Performances of "A Christmas Carol" continue through Jan. 2 in the Elizabeth and Malcolm Chace Theater at Trinity Rep, 201 Washington St. Tickets start at $27 and are available online at trinityrep.com/carol or by contacting the ticket office at (401) 351-4242.
The live show is being filmed and will be available for streaming on demand from Dec. 6-Jan. 16. Buy tickets for the virtual production at trinityrep.com/carol.