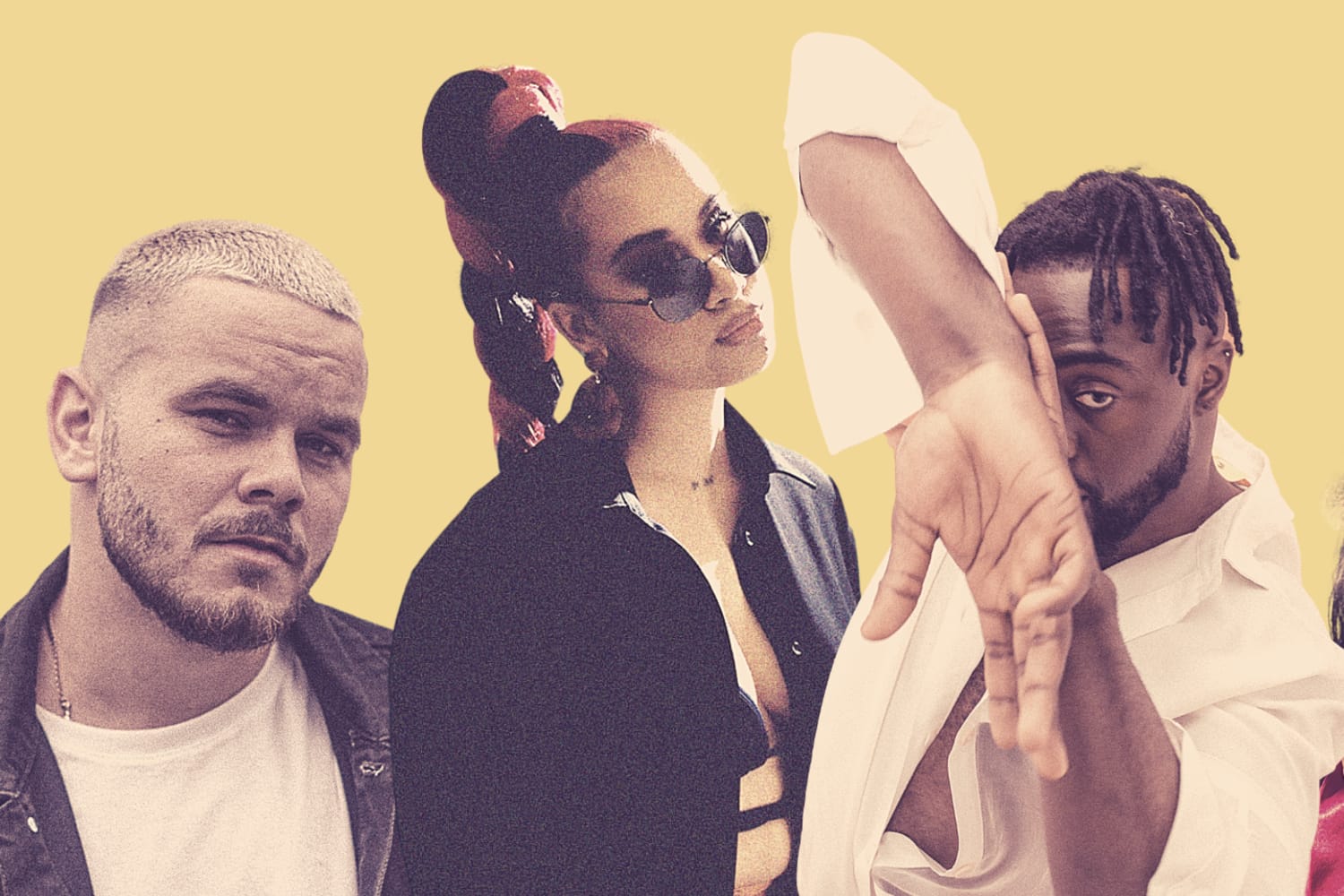 Over the past five years, Australian hip-hop has transformed. A new generation of artists have broken through, bringing with them politically-conscious rhymes that tackle race, home and heritage in vital ways. Now, our homegrown scene is more diverse than ever, influenced by sounds from drill to dancehall and led by artists who call everywhere from Sydney's Mount Druitt to WA's East Kimberley home.
So just who are the names leading the charge in 2021? In previous editorials, we've shouted out the established acts running things right now: Sampa the Great, Manu Crook$, Baker Boy, B Wise, Genesis Owusu,
Tkay Maidza
and more. But with so much bubbling up around the country, today we're turning our attention to the fast-risers who've just broken through — or are about to.
Some of them are a few years into the game, others just dropped their first single. They're all incredibly talented and each bring something fresh and exciting to the scene. Dive in to get to know rappers and R&B prodigies who'll be turning heads in 2021 and beyond.
Why they matter: Many of us first became acquainted with the talent of JK-47 on his Nerve collaboration 'Sunday Roast' back in 2019. But it was September of the following year that the Tweed Heads rapper really left his mark, when he delivered the fully-formed debut album Made For This.
That LP saw JK spit assuredly about both the personal and the political, inspecting injustices like Aboriginal deaths in custody. JK's talent is singular but as he declares on 'I Am Here (Trust Me)', his music has a higher purpose: "I ain't in it for your oohs and aahs / I'm doing this for my community."
What to watch: The potent 'I Am Here' (Trust Me)'.
Why they matter:
You might know A.Girl as a vocalist but as Hau Latukefu
will tell you
, the girl can rap too. The artist born Hinenui-Terangi Tairua takes her cues from the likes of SZA, Jhené Aiko and Jorja Smith, gliding gracefully between R&B, pop and hip-hop. After announcing her talents with a pair of releases in 2019, last year she came back with her strongest track yet in the super slick 'Lola'. We have it on good authority that she has even bigger things coming for 2021, so watch this space.
What to watch: A.Girl's killer 2020 single 'Lola'.
Why they matter: Back in 2016, A$AP Ferg picked Kwame out of the crowd at Sydney's Metro Theatre to freestyle, an opportunity the then-teenage talent did not squander. Since that fateful encounter, Kwame has kept climbing: his first EP in 2017 shot him onto the radar of hip-hop tastemakers, he leveled up his lyricism with a string of releases in 2018, then returned in 2020 for his biggest year yet with a trio of singles and a new EP. Kwame gets better at every turn and we can't wait to see where he takes things next.
What to watch: 'Tommy's in Trouble', one of Kwame's excellent 2020 releases.
Youngn Lipz
Why they matter: Drill isn't the only thing coming out of Sydney's Western Suburbs right now. With the mammoth success of his debut track 'Misunderstood', Cabramatta son Youngn Lipz proved there's a big appetite for smooth, heartfelt R&B in the 'burbs.
Since 'Misunderstood' introduced him to the world in 2019, YL has been busy proving both his talent and work ethic — dropping another four singles as well as stopping by for a guest verse on S1MBA's big 'Rover' remix in the space of around nine months. With a start this strong, we can't wait to see how big YL can take things in 2021.
What to watch: The seriously smooth 'Say It'.
Reyanna Maria
Why they matter: How do you know you're poised for big things? Probably when you get Tyga on the remix of your debut release. That's how it's gone for Reyanna Maria, whose track 'So Pretty' received a new verse from US rap superstar earlier this year. 'So Pretty' is Reyanna's first foray into hip-hop territory — she cut her teeth with vocal covers of Ariana Grande and Jhene Aiko songs — but it's already blown up on TikTok. We're here for the rap rebirth.
What to watch: There's no video yet, so we'll have to make do with the 'So Pretty' lyric video for now.
Masked Wolf
Why they matter: Masked Wolf has just hit a milestone few artists ever do. In March, the Sydney-based rapper earned his first Billboard number one, claiming the top spot on the Emerging Artists chart.
The track he's done it with is the bass-driven hip-hop joint 'Astronaut in the Ocean', which was originally released in 2019 but has recently taken on a new life — clocking up 180 million plays on Spotify and 70 million on YouTube in the first couple of months of the year. That runaway success has seen Masked Wolf sign with Warner Music, positioning him for a huge 2021.
What to watch: 'Astronaut in the Ocean', the track that's sent the name Masked Wolf viral.
Sydney Yungins
Why they matter:
Sydney Yungins have started 2021 strong — already, they've pulled in four million Spotify streams on the anthem-in-wait 'Eshays'. Big numbers are getting standard for the '21 area trio, who've been shaking up
the lad rap scene
since they started releasing music in late 2019. By fusing beats that move between drill and house party hip-hop with perfectly-adlay bars referencing Nike TNs and goon bags, Sydney Yungins have taken an underground subculture to new heights.
What to watch: 'Eshays', the trio's big 2021 single.
Why they matter:
He's only a couple of songs in, but we're confident Kapulet is poised for big things. The Mount Druitt rapper dropped his debut single 'Phone My Line' in August and
watched it immediately blow up
, racking up over a quarter of a million views in its first few weeks.
Kapulet runs with the OneFour crew — the group's Spenny has a guest verse on 'Phone My Line' — but rather than drill, he makes melodic, Afroswing-infused jams. Kapulet says he's got a new song with OneFour's J Emz "in the bag", so watch this space.
What to watch: The irrepressibly catchy new single 'Same Ones'.
Hometown: Northern NSW via Central Queensland
Why they matter: There's a few reasons you need to pay attention to Zheani. For one, few rappers can rival her work ethic. The multidisciplinary artist is perpetually creating — she delivered three EPs over the past two years and in 2021 has already dabbled in the world of NFTs, dropped a new mixtape and captured the attention of international stars like Grimes.
Importantly, her ability to build a career that's entirely DIY, self-sufficient and situated outside mainstream lanes makes her a force to be reckoned with. And the music itself — which fuses metal, trap, pop and electronic elements, topped by raw and unfiltered rhymes — puts Zheani in a lane of her own.
What to watch: The brain-bending new single 'Skin Walker'.
Agung Mango
Why they matter: Agung Mango has spent the last couple of years showing off just how much he can do. On singles like 'Growing' he's nailed a breezy, 90s hip-hop style. In 2019 there was his punchy, high-energy joint EP with Melbourne crew 3k, then in 2020 came the slower, jazzier album with multi-instrumentalist collaborator Nikodimos. At festivals like Golden Plains and Laneway he's revealed his raucous, punky onstage presence. But no matter where he is or what flavour Agung is dabbling in, the result is always music that's cool, confident and unlike anything else out there.
What to watch: 2020 joint 'RODENT' is the sound of Agung Mango at the peak of his powers.
Tasman Keith
Why they matter: We shouted out Tasman Keith in our 2020 round-up of rappers to watch, but the Bowraville talent has leveled up so much in the past twelve months we had to bring him in again for 2021. After sharing his incendiary 64 Bars and To Whom It May Concern EP last year, Tasman kicked off 2021 by supporting Midnight Oil on tour — a very high-profile way to return to the stage. With a debut album rumoured to be on the way, things are only about to get even bigger.
What to watch: Tasman's blistering 64 Bars for Red Bull TV.
Why they matter:
Jesswar
's been grinding for a few years now, but in 2021 it feels like she's really hit her stride. Over the past few months the 64 Bars alumni has shared a pair of powerful singles in 'Medusa' and 'Venom', securing coveted triple j airplay with both. Her dedication to the craft, fiery punchlines and incredible flow make her an incredible force in hip-hop.
What to watch: Jesswar's 64 Bars, for raw and unfiltered proof of her rap prestige.
Why they matter: Just one release in, it's already clear that Pricie is a name you need to know. The now Melbourne-based vocalist and rapper's debut tune 'Too Dang Good' oozes bravado and effortless cool, with Pricie's rhymes set to a beat from local production gun Lucianblomkamp. Signed by Sweat It Out, rated by triple j and already nailing that intersection of hip-hop and R&B, we see big things on the horizon here.
What to watch: 'Too Dang Good', Pricie's casually cool introduction to the world.
Why they matter: Proudly African-owned label 66 Records was founded just over two years ago in a housing commission basement studio in Collingwood. Since then, it's quickly grown to become a home for some of Australia's most exciting new hip-hop acts, including Melbourne identity ECO$YSTEM. A string of big singles in 2020 proved ECO$YSTEM's talent and work ethic and we'd wager he'll only be busier in 2021.
What to watch: 'Fetish', a track practically begging to be played at full volume from your car stereo.
Why they matter
: Barkaa only began putting out music in 2020 but already, she's turning the right heads. Hip-hop tastemaker Hau Latukefu named the proud Malyangapa, Barkindji rapper
one to watch
and Jimblah dubbed her track 'For My Tittas' "Blak greatness" in our round-up of
the most underrated Australian hip-hop tracks ever
. Not bad for someone only a year into their career.
Watch to watch: 'For My Tittas', Barkaa's powerful debut single.
Planet Vegeta
Why they matter: Funk basslines, soulful melodies and electronic production collide in the smooth, R&B-flavoured hip-hop that Planet Vegeta make. The Western Sydney-bred trio released their debut single in late 2019 and leveled up this year with their first EP, the irrepressibly catchy Letters To Chi-Chi. We love the music; bonus points for the name.
What to watch: The effortlessly cool 'Sailor Moon'.
Pistol Pete & Enzo
Why they matter: Hip-hop duo Pistol Pete & Enzo have a flow that just seems to work together — which, given they're brothers, makes sense. The Western Sydney sons rapped solo growing up, joining forces in 2017 to start putting out official releases. With the backing of powerhouse label Biordi Music (home of Youngn Lipz) and a run of big tracks under their belt, the pair look set to take things to even higher in 2021.
What to watch: 2020's 'Out The Vault', to see their uncompromising flow in action.
Hometown: Melbourne via Zambia, NZ and the UK
Why they matter: KVKA didn't waste any time getting started. At age 16 he shared his debut track, the shadowy 'WHO YOU', which has since amassed three million streams between Spotify and YouTube. A few years down the track the Zambian-born, now Melbourne-based rapper has only sharpened his skills. KVKA kicked off 2021 with the 10-track release Cupid's Revenge, which shows off his talent for creating dark, dastardly hip-hop.
What to watch: 'Double Up', one of the biggest tracks from Cupid's Revenge.
Why they matter: There's a Big Skepta Energy to 'What's Good', the coolly assured hip-hop hit Jaecy made waves with last year. Whether you know him from that UK-inspired track or 'Repeat', his big 2019 collaboration with Pistol Pete & Enzo, it's clear the Bankstown-bred rapper has what it takes. Stay tuned for his inevitable 2021 domination.
What to watch: 'What's Good', for the perfect introduction to Jaecy's vibe.
Why they matter: Biordi Music is the Western Sydney hip-hop label home to Youngn Lipz and Pistol Pete & Enzo. It's also behind newcomer Bally Boy, who's already amassed over a million streams on his November 2020 release 'All Out'. Since then, Bally Boy's dropped two more big tracks to kick off 2021, both of which showcase his innate flow and breezy charisma. It's a strong start for the Auburn-raised talent and we can't wait to see where Bally Boy takes it from here.
What to watch: 'All Out', the track that introduced Bally Boy to the world.
Jordan Dennis
Why they matter: Who's cooler than Jordan Dennis? The Melbourne MC has been making it look easy since he debuted with the bouncy neo-soul cut 'Crumbs' in 2018. Dennis has moved into harder hitting sonic territory since then, sharing the brooding 9-track HDMI2 EP last year alongside a string of collaborations. With a new collaborative album on the way under the alias Flyboy Jack, expect 2021 to bring more of the good stuff.