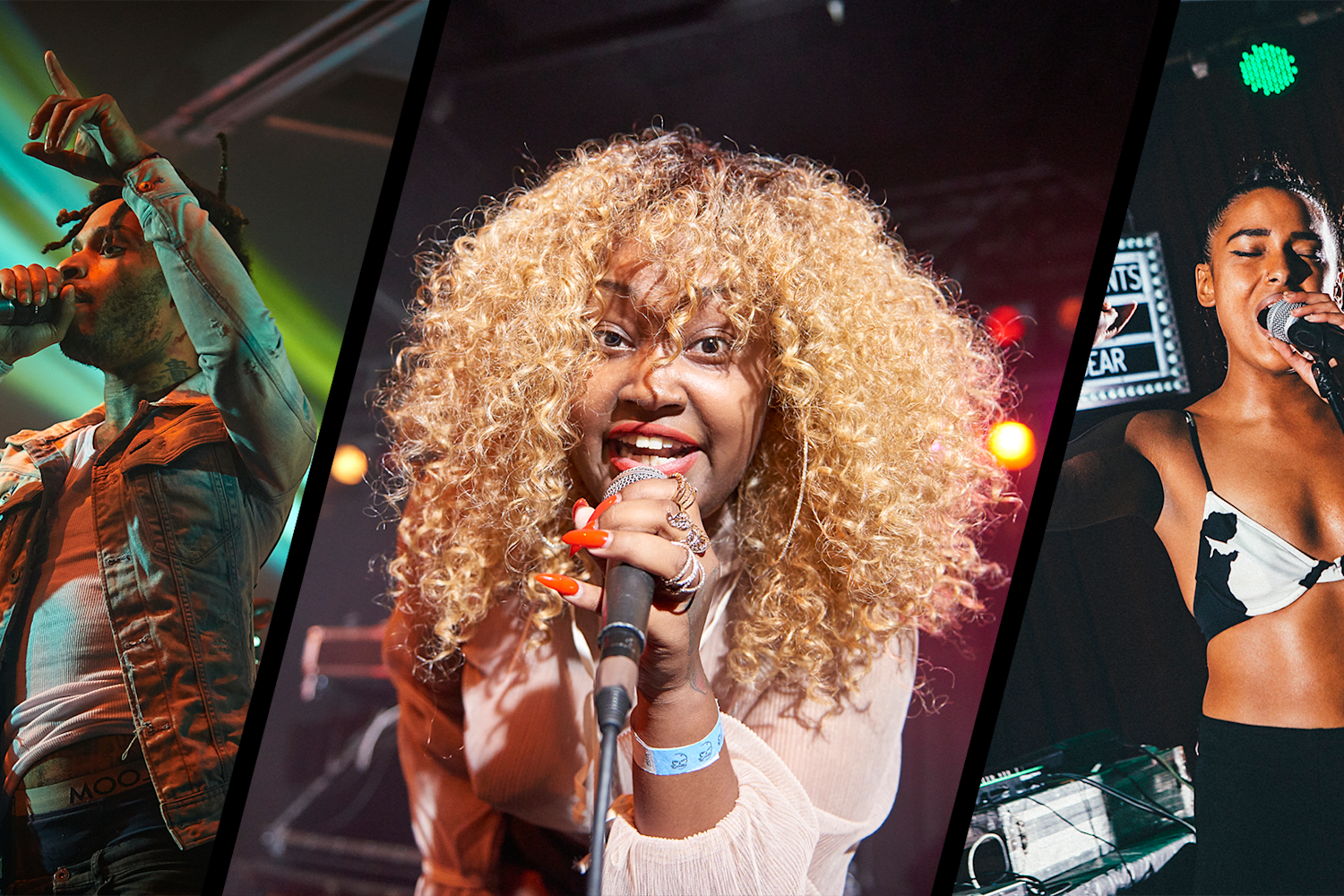 The industry game's always changing and hip-hop has long been the catalyst. While hit tracks can still pop from Hot 97 airplay, the main, headline-grabbing successes these days play to the viral potential of the internet, where YouTube plays and SoundCloud streams are king and queen. This is where rappers have their best chance to turn heat into fire — if the moment's right and the timing's good, an unknown rapper can become a sensation overnight.
But behind every success story is also the potential for rappers to extend beyond their breakout moment. Hip-hop's ephemeral nature often leads to one-hit wonders and deflated follow-ups, but
like Playboi Carti, Lil Pump and other recent breakouts before them
, a handful of underground rappers are making big statements right now. From 03 Greedo and Princess Nokia to JPEGMAFIA and Jay Critch, the artists on this list are challenging assumptions about rap and defying industry expectations, prepping for a bigger stage.
Ignoring their energy and momentum would be impossible. Whether it's musical, lyrical or something else altogether, the statements these rappers are making are not game-preserving, but potentially game-changing.
All eyes have been on 03 Greedo this year. The Watts rapper is a perfect combination of eccentricity and authenticity. His sound — dreary, Los Angeles-inflected street music — arrives with the weight of the world, best represented on this year's breathtaking mixtape "The Wolf of Grape Street." While Greedo's currently facing a 20-year prison sentence, his reps assure fans that he'll continue to release new music, which is not surprising for a highly prolific artist known for dropping marathon mixtapes and holding onto a treasure trove of many more. No matter what the setback — an artificial eardrum, a metal rod in his leg and now this upcoming incarceration — 03 Greedo is adamant about coming through on a statement inked on his face over 10 years ago, styled in large, cursive letters: "Living Legend."
After a one-year exile to Senegal by his mom for his troublesome ways, Harlem's Sheck Wes has barely been back for a year and he's already primed to explode. Having inked contracts with both Kanye's G.O.O.D. Music label and Travis Scott's Cactus Jack, one might assume that he's an industry artist riding on the backs of his forebears. But the former model and basketball wizard has proven that he doesn't need co-signs to get where he is. Tracks like "Live SheckWes Die SheckWes" and "Mo Bamba" have already taken on lives of their own, and with his debut album "Mudboy" due any minute and a forthcoming project with NIKE, we all know where this story's headed.
Who knew one of 2018's hardest rappers would be a 28-year-old mother of four from Chattanooga? Bbymutha's story doesn't conform to the typical come-up narrative, especially in these days of overnight sensations and hype tales, but it also shouldn't entirely define her. Amid all the story-based features, Bbymutha's pro-woman, sex-positive artistry is the real statement. She cooks up the same sort of flow and cadence on nearly every track, but it always goes down easy. It's idiosyncratic, really — she's the only rapper who can drawl over Grimes and make it work and the only rapper who would dare use someone she hates (Houston televangelist Joel Osteen) as inspiration for her forthcoming album, "Prosperity Gospel."
Cousin Stizz
Cousin Stizz has got this game down pat. Somehow sounding classic and fresh at the same time, the Boston rapper has carved out a unique position among the
younger crop of rising rappers
: these aren't hyped-up cuts for the club, but slices of realism for the streets, whip-smart transmissions from a New England purview that don't need gimmicks to bang. His easy flow and infectious hooks marry perfectly to the impeccably curated beats he jumps on, especially when steeped in slower, hypnotic swirls. He describes his next project, coming in 2018, as a "new level of music," and we have no reason not to believe it.
"Pull Up Wit Ah Stick," SahBabii's breakout single, was everywhere last year. And for good reason — the track hit an impossible sweet spot with its sparkling production and downright transcendent hook. While the Atlanta-based rapper has been bogged down by Young Thug comparisons in the early part of his rise, SahBabii has since made it clear on tracks like "Marsupial Superstars" that he has a one-of-a-kind voice, marked by rubbery flexibility and sensual ease. With a remastered mixtape and a handful of other jams since, everything's been lining up nicely, a perfect setup for him to make his biggest move yet — the release of his debut album, "Squidtastic." Let it hit.
Princess Nokia
Where she easily could've regurgitated the formula that made "1992" such a unique, inspiring banger of a mixtape, Princess Nokia made a bold statement this year by paradoxically calming things down and releasing what she calls an "emo mixtape" ("A Girl Cried Red"). Rather than delivering on the expectations of her fans — many of whom probably thought they had Destiny Frasqueri all figured out (ha!) — the NY rapper threw a mighty curveball, choosing to trudge forward on her own terms, no matter how alienating the consequences. In 2018, Princess Nokia made her aesthetic priorities clear, and it's hopefully just a taste of more bravery to come.
YBN Nahmir
With Tay-K currently out of commission, YBN Nahmir is here to carry the torch. Like his more controversial Arlington counterpart, the Alabama native peddles raw, succinct bangers, optimized for quick consumption and maximum impact. YBN Nahmir's big breakthrough came with last year's "Rubbin Off The Paint," but his latest cut shows it wasn't a fluke: "Bounce Out With That" sees a hard Tay-K simulation draped in the influential visuals of Cole Bennett, a video already sitting at a cool 75 million views. Wiz Khalifa, Chris Brown and G Herbo are just a few collaborations coming down the pipeline, with of course his solo debut already pegged for the year. As he put it to XXL: "2018? We finna f**k it up."
Some rappers have a swagger that feels unearned, but Valee is so smooth, so confident it doesn't even matter. His delivery is straight fuego, an overwhelmingly fluid, affected slur of a cadence that creeps in like a virus. "GOOD Job, You Found Me," released this year on Kanye's G.O.O.D. Music imprint, was just a preview of the Chicago rapper's steady artistry. With cold, minimal beats as his platform and his masterful flow the statement, Valee helps represent the
inspired misfits who continue to disrupt Windy City hip-hop
. Should his hooks thus far make the impact that they ought to, how we perceive Chicago rap could be upended by the end of 2018.
Rico Nasty
Her real name is Maria Kelly, but we know her as Rico Nasty. Or is it Tacobella? Or Trap Lavigne? In a hyper-mediated world of avatars and identity building, it's not surprising that the 20-year-old Maryland rapper (who will be performing at
Red Bull Music Festival New York
) would don new identities like blouses. This makes it hard to be sure who she'll bring on any given track, but Rico's core identity — a boundary-pushing, oftentimes brash dissenter — shines through each time, whether it's via the pop sneer of Tacobella or the brazen trap of her primary pseudonym. "Sugar Trap 2" and "Tales of Tacobella" sound like preludes to the big leagues, and we can't wait to hear who'll show up for it.
Jay Critch
New York is still thirsting for another Bobby Shmurda-level breakout and everyone's looking to Jay Critch. For a rapper who's making waves through only a spare number of certified, NY-centric bangers, Critch is cushioned in that rare, highly coveted spot where what he does next could serve as the de facto stand in for the rap sound of an entire city. It's a curious position to be in, even in the context of this feature: while many of the rappers here are making statements about, around or building upon their music, we're still waiting on Critch to release his first long-form work. And, if his Rich Forever contract and "Atlanta" (FX) placement are any indication, the crest will be big.
JPEGMAFIA has long been manipulating the shape of rap to come by toppling its most entrenched sounds and mythologies. Thankfully, ears are finally warming up. Released at the start of the year, the self-produced "Veteran" was met with near-universal acclaim; it's the kind of bold musical statement that cuts across artificial boundaries — in this case, between underground rap and the experimental netherworld — arriving at something both ethereal and corporeal, grim yet lively. His music is frighteningly innovative and aggressively challenging, in both the musical and political sense. What could JPEG possibly have in store for us next?
Yes, even random freestyles on Instagram can get you in the spotlight. Saweetie — aka Diamonté Harper — blew up after posting her impromptu rhymes over Khia's raunchy 2002 single "My Neck, My Back." Now here we are, in 2018, with her first major work (the excellent "High Maintenance" EP) and a now-loyal fanbase built primarily from her social media hustle. A welcome surprise is that her newer tracks, songs like "B.A.N." and "Agua," are even better than the viral hit that put her on the map ("ICY GRL"). Next up for Bay Area's iciest is a summer album, which will hopefully make good on the daunting yet exciting goal she's set for herself: "change the idea of what it means to be a female rapper."
Lil Skies is on the rise, and he doesn't need industry validation. The 19-year-old Pennsylvania rapper has exploded over the past several months, making the kind of deep, cultural dent that has resulted in millions of streams — per song. He'd of course be perfect for this year's XXL's Freshmen List — go-to video director Cole Bennett certainly has his back — but Lil Skies is so sure of himself that he turned it down for being "rigged," claiming his spot was secured before the voting process even began. The youth these days can spot industry ploys from a mile away, and Lil Skies is clearly doing just fine without 'em.
CupcakKe has always felt larger than life. Her aesthetic persona — a mixture of dance party theatrics, raunchy lyricism and ostentatious fashion — is so towering that attempts to contain it is futile. But despite her daunting reputation and hungry delivery, the Chicago rapper often tempers her explicit bars and dazzling wordplay with some of the most honest, illuminating lyrics around, tackling everything from eating disorders and body politics to sexual assault and poverty. No matter what is being told to us on the surface, CupcakKe reminds us that life can be just as nasty her lyrics. Premature YouTube takedowns for "nudity or sexual content" only drive that point home.
Trippie Redd
Ohio's Trippie Redd is among the wettest behind the ears on this list — his first
mixtape
came out only just last year — yet he's the biggest one here. He recently dropped a video with Diplo, revealed that Erykah Badu and Lil Wayne will be guesting on his forthcoming debut and was originally intended to feature on Drake's record-shattering mega-hit "God's Plan." While quick ascensions like his often feel derived from a business template, it's clear that Trippie's is a simple case of having so much talent that he simply can't be ignored. Put even more simply: Redd can belt out a thrilling melody infinitely better than most of his peers, and he has the instinctual wherewithal to see that talent through. Up next: worldwide recognition.
Listen to all the raps on Red Bull Radio