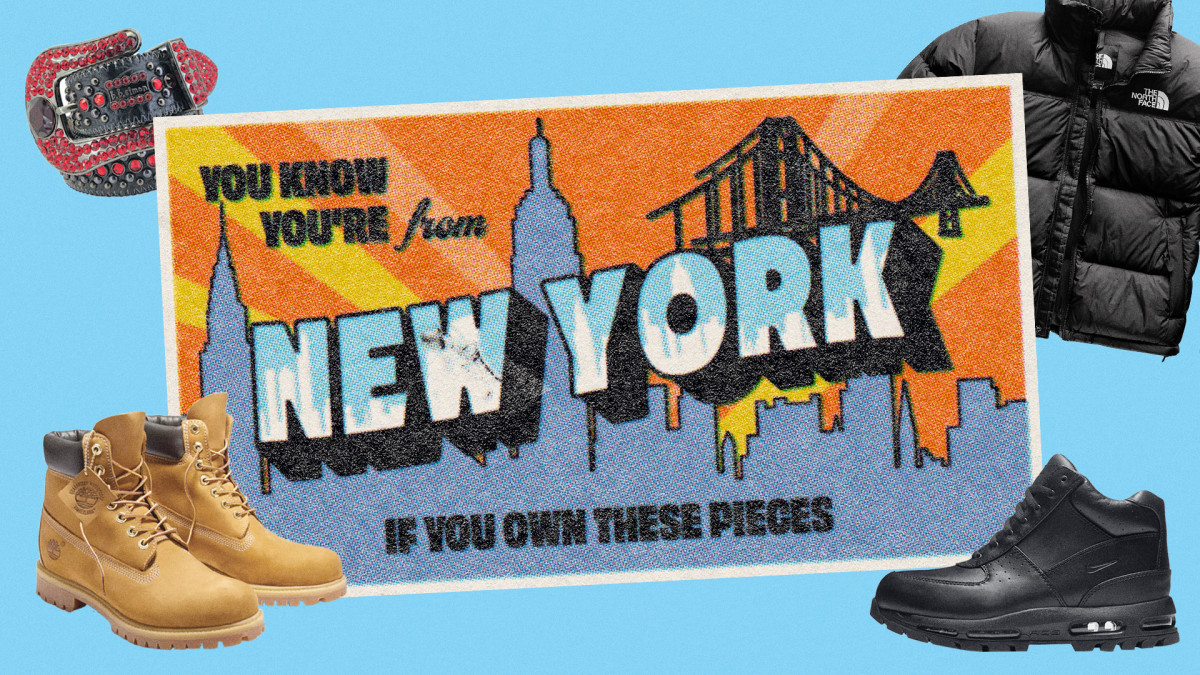 Since the birth of hip-hop in the South Bronx, New York City has spawned a number of street fashion trends that have been co-opted by both the mainstream public and larger fashion brands today. Nowadays, you see everyone rocking New York City staples like Yankee fitteds and 6-inch Timberland boots. Meanwhile, brands like Supreme respectfully pay tribute to jackets like the Marmot "Biggie" and designers like Virgil Abloh make Louis Vuitton pieces inspired by American flag outfits and Pelle Pelles, popularized in the 2000s by rappers like Juelz Santana.
New York City street fashion influences everything, whether you like it or not. Our closets are filled with both staples that the rest of the world is starting to catch up on, and newer drip that make us stand out. Whether you're a New Yorker that rocks Moncler and Amiri or a classicist that's wearing a 20-year-old North Face jacket with a grey brim Yankee fitted, you know you're from New York City if you own these pieces.
Every New Yorker knows a good pair of Timberland boots will never fail you. For years, Timbs held it down for both blue-collar MTA workers and New York City rappers like Biggie Smalls and ASAP Rocky. Although Timbs are now associated with New York City culture, the brand's iconic waterproof 6-inch Nubuck leather boot first released in 1973 by a New England-based shoemaker named The Abington Shoe Company. Abington's "Timberland" boot became so popular that the shoemaker decided to change the company name to Timberland in 1978. According to a 1985 New York Times article, Timbs made their way into high-end New York City department stores like Bloomingdales and were originally marketed toward wealthy backpackers. Before taking off in the streets, the boots became so popular in places like Italy that teenagers in Milan were robbing folks for their Timbs and even took trips to New York to export them overseas.
It's impossible to pinpoint who really started the Timbs wave in New York during its golden era in the '90s because so many iconic rappers co-signed them. Nas shouted out suede Timbs on his 1994 Illmatic single "The World Is Yours." Havoc from Mobb Deep wore a brown pair of 6-inch Timbs on the back cover of The Infamous. And no one can forget the silver pair that Busta Rhymes wore to the 1998 MTV European Music Awards. If you don't believe a New Yorker would die for his Timbs, just listen to the Smif-N-Wessun song "Timz N Hood Chek," and peep this video of Boot Camp Clik's General Steele opening a closet entirely filled with boxes of Timbs. Yeah, the love for Timbs is really like that out here. Although Timberland boots have become a winter menswear staple for many people, thanks to a barrage of "Deadass memes," they will continue to be a New York icon. Trust us, you can never go wrong with a pair of "Beef and Brocs" or "Butters," but please wear them properly.
Before anyone gets OD tight, let's clarify that we're not claiming that New York City birthed Air Force 1s. We got to give love to Moses Malone for debuting the shoes on the 76ers court in Philadelphia and thank Baltimore's sneaker shops for saving them from being shelved. But now that we got those formalities out of the way, let's take a moment to make our case on why New York made "Uptowns," or white on white AF1s, what they are today. Sure, Nelly had that big song in 2002 about buying two pairs of AF1s. But if we really dig into the archives, one of the first hip-hop stars to ever make Air Force 1s look fly was from Harlem. On the cover of Rob Base and DJ E-Z Rock's 1988 debut album It Takes Two, Rock is seen wearing a Dapper Dan sweatsuit with a white pair of AF1s. OK, they're not technically all-white Air Force 1s, but E-Z Rock was still ahead of the game by like, 30 years, because he really decked his pair out with a custom Louis Vuitton monogram Swoosh. So yes, Harlem really birthed that custom AF1 trend as well. In the '90s, Jay-Z further solidified New York ties to all-white Air Force 1s on "Can I Live II" by spitting: "Can I live, for all my n****s with all white Air Force 1s and black guns." Aside from rapper co-signs, street basketball players you'll find in courts like Rucker Park in Harlem also wore the shoes. "It was the ball playing community that wore those sneakers, off the bat, to play ball. Then it started spilling off court," said the famous New York sneaker connoisseur Bobbito Garcia.
From Fat Joe to Cam'ron, we can go on for days listing how many New Yorkers made AF1s hot. But let's end this debate by recognizing that the shoe's biggest music video appearance—before Nelly's "Air Force 1s"—was "Mo Money Mo Problems." You literally had Mase, Sean "Diddy" Combs, and a whole team of backup dancers by the Unisphere rocking Uptowns for the whole world to see. "Just being from Harlem, whether it was the classic Reeboks or the Air Force 1s, they were really dominant," Combs told Complex in an episode of Sneaker Shopping. "For us, Air Force 1s were a staple in a lot of our [music] videos to make sure that we were representing the way we actually looked in New York." Just remember that every time you lace up a fresh pair of Uptowns, you're representing New York to the fullest. So please, wear them correctly and keep them clean because they weren't named Uptowns after the hipsters who only get near Harlem once a year to desecrate pairs at Gov Ball on Randall's Island.
Let's make it clear that Jack Harlow didn't bring B.B. Simon belts back when he name-dropped the brand on "What's Poppin." Sorry Jack, but the only reason any girl was unfastening your B.B. was because a New Yorker wore it a decade before you did. While B.B. Simon belts have attracted rappers outside of the five boroughs like Post Malone and Travis Scott, New York has always held these iced out belts down. Although some may be quick to point out that 6ix9ine popularized B.B. Simon belts in New York City recently, it's important to note that the famous "B.B. with the Robins" bar off "Tati" was actually stolen from a popular Bronx YouTube freestyle that went viral nearly 10 years before 6ix9ine snitched on everyone. And before "Tati" even dropped, NYC-based fashion Instagram influencers like Bloody Osiris were bringing the B.B.s back with proper style.
But if you want to know who really started the B.B. Simon wave, you've got to look toward the Wave God himself. Max B. Biggaveli wore these giant belts in nearly all of his music videos and DVD appearances in the 2000s. And around the same time, Dipset members like Jim Jones wore B.B. belts as well. Despite how popular these Swarovski-embellished belts became in New York, they surprisingly aren't made in some basement on Canal Street. They are all handcrafted in Los Angeles. The designer behind B.B. Simon is an Iranian immigrant named Simon Tavassoli, a former electric engineer who got into the belt game after moving to the United States in the '70s to help his uncle's buckle-manufacturing business. Tavassoli launched his brand in 1987 and was originally embraced by cowboys and cowgirls in states like Texas and Oklahoma as westernwear. In 2000, he received a huge co-sign from Madonna, who famously wore a big buckle B.B. Simon belt during her western phase. When Tavassoli was asked why rappers started wearing his belts, he simply said: "They had to wear belts because they wore very low pants." A humble response, since Tavassoli knows damn well that no one can touch him when it comes to producing some of the waviest belts ever made.
In general, one of the oddest fashion choices that New Yorkers make without fail, year after year, is buying a ridiculously expensive down jacket for the winter. The history of rocking the priciest down coat that money could buy likely dates back to the Lo-Lifes boosting Polo gooses out of Macy's in Herald Square during the early '90s. That later evolved into teenagers robbing each other for $575 Marmot Mammoth Parkas or "Biggies" in the late 2000s. And in the 2010s, it seemed like everybody and their mother was shelling out hundreds for Canada Gooses that made more sense to wear in Antarctica than on 40-degree walks in New York. Who knows why New Yorkers will wear the same pair of Timbs for six years straight, but bust out a month's worth of rent for the hottest new jacket this winter. Well nowadays, it seems like the latest jacket to take this coveted spot are these shiny Monclers that glisten like the East River.
To be fair, Monclers have always been popular. And the 69-year-old luxury fashion brand has only gained more popularity in recent years because of high-profile collaborations with designers like Rick Owens and Matthew Williams. But it's really hard to imagine that the brand once made jackets for climbers like Achille Compagnoni and Lino Lacedelli on expeditions to the Himayalas when it's become such a staple in cities like New York. Although wealthy New Yorkers have always worn Monclers, it feels like they've exploded in popularity ever since drill rappers like the late Pop Smoke and Ron Suno started wearing them. New York City-based clothing designer Angelo Baque has even acknowledged that today's New York rappers have impacted his perspective on the brand. "When I was working on this [Moncler] collab, I was listening to A Boogie," Baque told Highsnobiety in an interview about Awake New York's 2020 collaboration with Moncler. "I knew the kid that I wanted to see wearing this collab was the kid that lived in The Bronx, Brooklyn or Queens.
Although most of the world laid off denim in favor of sweatpants and loungewear due to COVID-19, New Yorkers have never stopped wearing pricey pairs of jeans. But please send your prayers up to the most high, True Religion, for holding it down for so long. Sadly, True Religion went from being one of the most hyped denim labels to wear in New York City, to filing for bankruptcy last year alongside jean brands like G-Star and Lucky Brand. Although the pandemic definitely led to the tragic demise of these brands, it's also pretty clear that the only jeans New Yorkers are rocking with today are Amiris. The Los Angeles-based designer Mike Amiri has built up his brand's reputation through many celebrity endorsements, but it's pretty clear that one of Amiri's biggest supporters, from Day 1, was A Boogie wit da Hoodie. The Bronx rapper has been shouting out Amiri jeans on his songs for nearly four years now, and honestly, I think we could all believe that A Boogie really owns more Amiri jeans than Mike Amiri himself. It's likely that A Boogie began copping Amiris shortly after Patron of the New became one of the brand's first stockists in New York City. Of course, the late Pop Smoke also elevated Amiri's status as the must-have jeans in New York. But to be fair, even though Pop Smoke referred to Amiris as "Billie Jeans" on "Dior," A Boogie was the first one to actually dub Amiris with that nickname.
Honestly, it might be overkill to wear a puffy down jacket on most days in New York City. But a good tracksuit or sweatsuit is always a valid option when it gets brick outside. Although a lot of us will be on our Jay Critch shit and wear a pair of Balmains like a Nike Tech, we all know that those designer clothes won't hold us down like that Tech Fleece will. For those curious, the lightweight fabric that makes Nike Tech Fleece is a layer of plush foam that's placed between two layers of cotton jersey. That foam doesn't just make Nike Tech pieces comfortable and warm, it also gives Nike Tech a boxy and rigid look that other tracksuits just don't have. Less than five years after Nike first released Tech Fleece in 2013, it quickly got co-signed by both the UK and Brooklyn drill scenes. Practically every video from the early days of Brooklyn's drill movement featured rappers like 22Gz, Bam Bino, and Curly Savv spitting bars in Nike Techs. But ever since New York City drill has gone mainstream, you'll find that more drill rappers have glowed up and are now wearing designer brand hoodies these days. And let's be real, rappers like A Boogie already know that you'll likely start hating your Nike Tech outfit after wearing it as a fit every day for a week straight. But trust us, the classic Nike Tech suit in your closet will never get old. Especially if you are just trying to put together an effortless fit to get out the door. And like Jay Critch said on "Bronny," don't be afraid to be that guy rocking your Nike Tech with some Amiris.
When it comes to iconic New York City staples, you can never go wrong with the Yankee fitted. Although all New Yorkers have traded in their fitteds for snapbacks, dad hats, and even Supreme camp caps at some point, they always end up coming back to the tried and true New Era 59Fifty. But please, let's take a moment of silence for anyone who got the wind knocked out of them over a snakeskin Don C Mitchell & Ness hat back in the day. Although New Era's 59Fifty model is over 65 years old, it only became the official on-field hat for Major League Baseball players in 1993. Three years later, the first person to turn the 59Fifty into a special piece for their wardrobe was, of course, a New Yorker. The Brooklyn-bred film director Spike Lee called New Era to make a hat in a custom red colorway so he could match it with a red Yankees Starter jacket that he was going to wear for Game 3 of the 1996 World Series between the Yankees and Atlanta Braves. New Era fulfilled his request and the rest is history. After making Spike Lee's red Yankees fitted, New Era began producing more fashionable editions of their popular 59Fifty hats, even designing fitteds with rappers like Cam'ron and Fat Joe for a special collection in 2004. Today, Yankee fitteds are more popular than ever before, with stores making customized styles that bring unique colors, commemorative patches, and retro logos to the 59Fifty. But please, whether you love grey brims or pink brims, wear your fitteds respectfully and ditch the black nasty.
Let's keep it stack, we can't all spend over $1,000 on Moncler or Moose Knuckles down jackets. So what has always been the go-to jacket for most New Yorkers? A good coat from The North Face. Whether you're a fan of the 700-Fill Nuptse jackets from the '90s or those burly McMurdo parkas that dropped in the 2000s, there's definitely a good North Face in your closet that's held you down during the harshest winters. Ever since the brand became popularized by the likes of rappers, graffiti writers, and shoplifters in the '90s, it has never left the true New Yorker's rotation. It's tough picking what's the best North Face to wear for New York's crazy and unpredictable weather patterns. Down jackets like the Nuptse are guaranteed to keep you warm while wearing just a plain white T-shirt. But other models, like the Mountain Light, will keep you dry during the worst rain storms and fit nicely into a good North Face backpack—just wear some extra layers since there's no insulation. And the brand's classic Denali fleece will always be better than your average hoodie, if you can get past its Wall Street/Upper West Side dad look. But seriously, when it comes to buying solid winter clothing for a reasonable price, The North Face comes out on top. You can buy a down, fleece, and waterproof shell for the same price as a single Moncler. What's not to love about that? But of course, if you want to flex and rock a Gucci North Face like ASAP Rocky, there are plenty of new North Face collaborations that can satiate your needs for that, too. But trust that if you get too deep into this North Face game, you'll end up easily spending hundreds on obscure vintage North Face jackets from lines like Steep Tech and the Trans-Antarctica Expedition. Explore the world of North Face carefully, especially if you don't want to spend too much coin.
Plain white tees in New York City, and we ain't talking about Delilah. As Action Bronson said recently: "I'm so New York my white tee still say 'Sunwear.'" Although Atlanta's Dem Franchize Boyz solidified white T-shirts as a wardrobe staple with their hit song "White Tee," every New Yorker knows that a simple white tee comes in the clutch all year-round. The perfect T-shirt to go along with a pair of Uptowns, Timbs, a Moncler, and really anything else under the sun. Yeah, you can rock the Supreme box logos, Polo Bears, Dior, or whatever cotton T-shirt you want. But let's be real, it's just a T-shirt and you don't have to get that crazy with it. Walk into a bodega with less than $10 and you'll come out with a sandwich, a Modelo, a loosie, a blunt wrap, and a fresh pack of Gemrock or Sunwear white tees to start your summer off strong. Whether you like wearing it fitted like Bobby Shmurda or in a size 5XL like a member of Dipset in the 2000s, you will never look bad with a white tee on. Yeah, you can buy a higher-end white tee, like one with a little Polo horse on it, to flex a little more. But trust that no one is going to really care. Just make sure you keep those tees as clean as your Uptowns.
Damn, can New Yorkers really claim the classic Nike ACG Goadome Boots? In general it seems like a lot of popular East Coast footwear trends from the aughts are becoming recognized by the wider fashion world lately. You have high fashion brands like Comme des Garçons and Louis Vuitton sending out their own pairs of Nike Foams onto the runway and streetwear brands like Supreme resurfacing classic Nike ACG Boots in snakeskin leather colorways this year. Whether the DMV or New York started the Nike Boots wave is still a highly contested topic. Let's never forget when Jim Jones came onto Full Size Run to wave the flag for Harlem as being the ones behind the ACG Boots craze back then. "Nike Boots, with the air bubble on the bottom, they started in Harlem. All facts," Jones said on the show. "Wale might have come to Harlem and got a pair of them joints. But they started on 145th Street and Broadway, and you can ask my man Luca Brasi when they first came into the store." Although Jim Jones eventually acknowledged that the boot's designer Carl Blakeslee credited DC and Baltimore for starting the wave, he still asks who really made Nike ACGs fly. New Yorkers will point out how members of Dipset and rappers like Max B, made ACGs some of the hottest boots in New York City. But it's true, we can't just ignore Wale's beloved "Nike Boots" single, or this interview with Blakeslee crediting the DMV for starting this wave. But there's an important part to the Nike Boots story that both sides need to acknowledge.
In the interview where Blakeslee details the design process behind the iconic Nike ACG Goadomes, he specifically points out that he took a trip to New York City for inspiration. Blakeslee said he met up with Udi Avshalom, the owner of the now-defunct New York City sneaker store chain Training Camp, in the Meatpacking District to research "fly boots" that New Yorkers wore on the dance floor. "My whole motivation for this direction was from time spent with Udi and hanging around in NYC, seeing how important the Timbs were and how it would not be a smart move to try and knock them off the shelf, said Blakeslee. "Rather, I wanted to provide an alternative or better yet, a second pair of boots at the register. Timbs and Goas should both be in my boy's closet. Not one or the other. It's not an option to pick one. You gotta have both." It may be impossible to ever settle this heated debate about which area popularized Nike Boots. But let's just say, everyone looks toward New York City when it comes to style and fashion. And our boot game has always extended way beyond Timbs, because Asolos and Vasque boots would have been valid additions to this list as well. Question: Is there a DC Fashion Week? There is? That's crazy… because it seems like no one has ever heard of it.