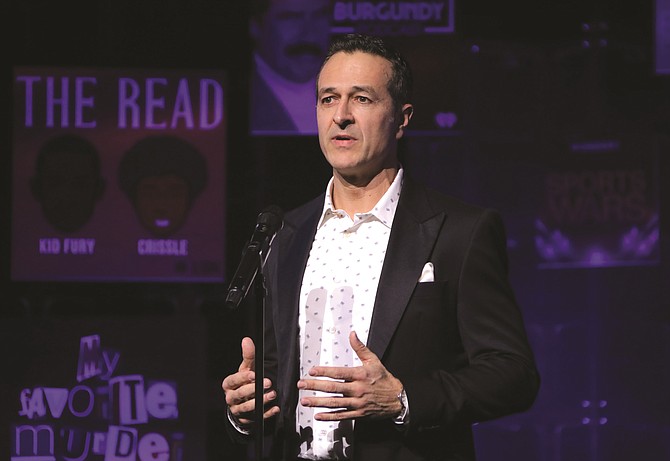 Wondery Inc., a West Hollywood-based podcast network acquired by Amazon.com Inc. in January, will partner with Cupertino-based Apple Inc. on an upcoming podcast subscription service.
Through the partnership, the Wondery+ premium service will be available on Apple Podcast Subscriptions, the subscription platform that will launch in 170 countries this month, according to The Hollywood Reporter.
Financial terms of the partnership were not disclosed.
This partnership between Apple and Seattle-based ecommerce giant Amazon shows that Amazon won't impose exclusivity on Wondery's content for its own streaming service, Amazon Music, which introduced podcasts in September.
"We're excited to join with Apple on the next chapter of podcasting and are encouraged by the opportunities this subscription offering opens up for the podcast industry as a whole," Jen Sargent, Wondery chief executive, said in a statement to The Hollywood Reporter.
Wondery+, which offers ad-free podcasts and exclusive episodes to listeners, costs $4.99 per month or $34.99 per year. Pricing will remain the same in the Apple Podcast subscriptions service.
Wondery was founded in 2016 by former chief executive Hernan Lopez, and made a name for itself as "largest independent podcast publisher in the world" prior to its acquisition. It's hit podcasts include "Dirty John," "American History Tellers," "Business Wars," "The Shrink Next Door" and "Gladiator."
The Wall Street Journal reported on Dec. 2 that Wondery is worth more than $300 million. As of April, Wondery attracts nearly 7.6 million listeners a month with its 116 active shows, making it the fifth-largest podcast producer in the world, according to podcast analytics platform Podtrac Inc.
In its April 29 earnings release, Amazon Music announced the continued expansion of its podcast services by launching localized offerings for listeners in France, Italy, Spain and India at no additional cost. In January, Amazon Music surpassed 55 million subscribers.
For reprint and licensing requests for this article, CLICK HERE.