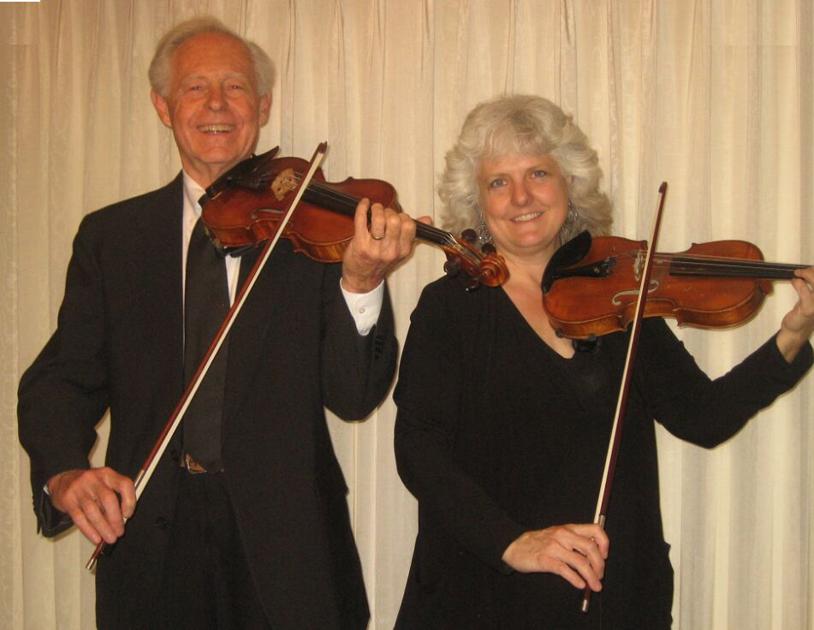 Nothing compares to a live audience, says local musician, violinist Cynthia Lynn. During the past 16 months of limited contact in our society, she and her colleagues have crisscrossed the city, started YouTube channels, and found other ways to connect with listeners while the usual options for in-theater performances were limited.
Now they're getting back to in-person, but some of those opportunities are still outside.
Curbside Culture, a program of the Cultural Office of the Pikes Peak Region promoted local artists in connecting during the pandemic with their audiences at outdoor locales across the city.
Lynn performed for the City of Fountain and in downtown Colorado Springs for "the butterfly reveal" with Curbside Culture.
"That was one of the first things people were able to get out of their houses and come to see," she says.
In August 2020, the butterfly sculptures were on display for a ceremony at the Colorado Springs Pioneers Museum.
Even now, indoor performance venues still have audience limitations, and performers are trying to recover from lost bookings, so COPPeR is continuing the Curbside Culture series.
Curbside Culture saw more than 60 performances and bookings ranging from dance to drums to aerial arts last year.
Outdoor performance venues for Lynn and other musicians varied. They adapted to weather concerns. Setting up blown-over stands during a windy performance on "the Mesa" overlooking Garden of the Gods, using a tent for the musicians and bring-your-own chairs for audience members during concerts in a large backyard in Rockrimmon, and the Broadmoor provided heaters on their terraces for micro-weddings.
Artists distanced, wore masks, spread apart their stands and turned their own music pages. And in Lynn's case, she performed about 80 concerts from her living room. Doing two shows a week for a while on Facebook Live and YouTube, using her own prerecorded piano backdrops. Quite a few people watched those live, she said, and now she's sharing recordings of those performances.
"It was really popular," she says.
That worked until technology problems like an irritating WiFi lag, became too troublesome.
So far this summer in a performance at the bandshell in Bancroft Park, Lynn says hearing people again in-person clapping and laughing, "Was just awesome, I got goosebumps."
Lynn says she got to talk to the audience too, as the announcer.
According to her website, fiddlinbiker.com/home, "Cynthia Lynn (and First-Strings) can, "tailor a mini-concert to meet your desires/needs."
Lynn, sometimes with a duo, trio or quartet of other musicians, "…can play selections from most styles of music, including classical, classic rock, movie & Broadway tunes, Celtic, some current Indie tunes, Jazz and even rap tune melodies (by Eminem & Dr. Dre)."
Lynn performs "church jobs" on Sunday mornings often, performing solo violin at various services.
Since 1980, Lynn has been a professional musician for the Colorado Springs Philharmonic. She e has performed with many famous celebrities and musical groups at big local venues like Red Rocks Amphitheatre and The Broadmoor World Arena.
But she says she also enjoys wedding gigs like one coming up at The Club at Flying Horse.
She joins with other "jazz buddies" in the pit band for musicals at the Colorado Springs Fine Arts Center at Colorado College, and with other fellow music artists locally at restaurants such as Jives Coffee Lounge and The Margarita at Pine Creek.
She's also put out two CDs and has been "practicing more" during the shutdowns. In addition, she shares that as the Colorado Springs Philharmonic is struggling to comeback, there are some creative efforts by individuals going on to keep connections, income and performances going. Providing new opportunities for artists to play together and to connect with audiences.
Curbside Culture continues to add artists to their roster and accomplished performers living in El Paso and Teller counties are invited to apply. Interested artists may download an application on the Curbside Culture website, culturaloffice.org/programs/curbside-culture.
Businesses or individuals interested in hiring local performing artists through Curbside Culture can access a digital toolkit on the website for use to share bookings with friends and audiences.