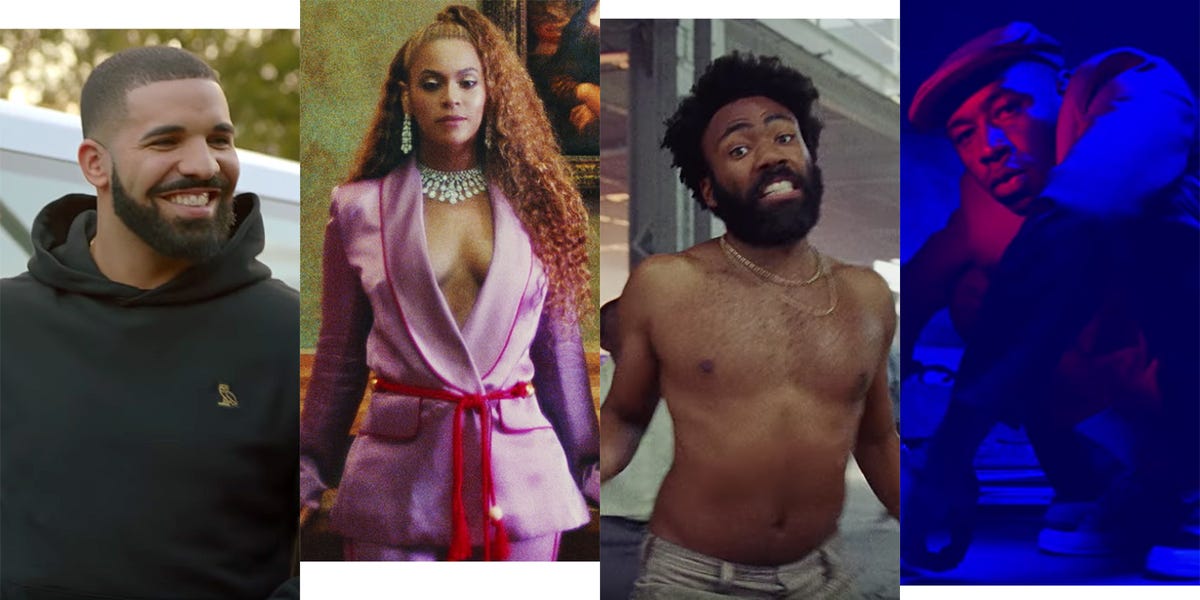 Hip-hop has officially become the most dominant genre in popular music. It's a genre that's so robust that the likes of Drake can release albums with 20+ tracks and have all of them appear on the charts. Listeners can't get enough. And every day, there's a nearly non-stop flood of new tracks from big names and new voices alike. Kanye West alone has been involved with a half dozen projects this summer while remaining the most infamous man in music. Future has released two mixtapes, one of which was with Juice WRLD, who had only released his debut album five months prior. There's a lot going on in hip-hop, and to help you sort through all of it, we curate the best hip-hop songs of 2018 so far.
Lil Peep – "Life Is Beautiful"
One year after his tragic death at the age of 21, Lil Peep's Come Over When You're Sober Pt. 2 marks a bittersweet reminder of the artist we lost too young. When he died shortly after the release of Part One, he had just defined himself as much more than a Soundcloud oddity. The kids were listening. What's sad is on this posthumous album, there are glimmers of hope among the darkness. Lil Peep connected with audiences for his open and honest discussion of his own anxieties and self-destructive addictions. And in "Life Is Beautiful," he speaks directly to his listeners in second person. He knows all too well the challenges of anxiety, depression, and life. And though he sang about it often, it's in this song that he offers brief salvation, opening with the lyrics "I know that it hurts sometimes, but it's beautiful / Working every day, now you're bleeding through your cuticles / Passing through a portal as you're sittin' in your cubicle / Isn't life beautiful? I think that life is beautiful."
Earl Sweatshirt – "The Mint"
It's been nearly four years since Earl Sweatshirt's sophomore album I Don't Like Shit, I Don't Go Outside. That album marked the young Odd Future-affiliated rapper starting to find his own identity. He had already defined himself as a brilliant, versatile lyricist, but his sound was still something majorly in the works. Returning in late 2018 with "The Mint," Sweatshirt shows exactly where he's at with his artistic development. "The Mint" has Earl developing a loose underground sound, one that plays with tempo and textures in ways that he never has before. On top of that, his writng have never been sharper, touching substance abuse with the lyrics, "Tiptoein' over glass, brodie go too fast, told him slow up / Know I use too much of everything at hand / Except the difference is now I control it." Here he drives it forward over a fascinating reverse looping beat and a sideways flow. Earl is very much back. And he's the rapper he's always meant to be.
Metro Boomin – "Don't Come Out the House"
After a stunning 2017 that included his production credit on Future's "Mask Off" and Migos' "Bad and Boujee," Metro Boomin returned with his own surprise full-length album supported by Travis Scott and 21 Savage. His sound has defined a new generation of ambitious beat-making. The Metro Boomin tag means emotive production no matter how simple or complex he makes a beat, with music ranging from boldly cinematic to sample forward to heavy low ends. Not All Heroes Wear Capes is proof that he has no shortage of audacious ideas, but his crowning achievement of the album is the jarring and perilous banger "Don't Come Out the House." 21 Savage's whispering flow anchors a frenetic and menacing track that pulses like a arthouse thriller.
Leikeli47 – "Iron Mike"
As Leikeli47 has explained, the title of her new album, Acrylic, comes from a defining characteristic of black neighborhoods. "You know exactly where you are when you smell acrylic. When you smell acrylic, you're in our neighborhood." The album provides an intimate look into the Brooklyn rapper's life, focusing on the details, anxieties, and passions of her community. On "Iron Mike," Leikeli47 proves she's among the best emerging New York rappers, with a vivid boast track that details long nights in the studio and the work she put in to become who she is. It's a true American story, one that's told with passion, dedication, and striking fidelity.
Vince Staples – "FUN!"
Though he's described his album FM as an album with "[n]o concepts, no elaborate schemes, just music," Vince Staples's latest release weaves his own narrative into the antiquated FM radio format. And while it might seem bizarre for a young rapper to focus on a dying medium, Staples seems to be commenting for the most part on how we consume pop music. The case in point is "FUN!," a song that like its title includes buoyant production from Kenny Beats. Although on its surface, it sounds like a track ready for mass consumption, Staples layers it with his own dark and poignant realism, weaving in lines like, "My black is beautiful but I'll still shoot at you, dawg."
Anderson .Paak feat. Kendrick Lamar – "Tints"
Two years ago, Anderson .Paak's breakthrough album turned him into one of the most impressive rising stars in hip-hop. His sound—a warm mix of funk, R&B, and hip-hop—along with his dynamic, effervescent live show, made him among the most exciting emerging musicians. Now, as many young stars in his position realize, he must find a balance of the art and the fame. Thankfully, Kendrick Lamar is the perfect mentor (and collaborator) for .Paak. Together, their vocal styles mesh effortlessly, along with their dedication to the craft, which is never placed above celebrity status. Tints is a stunning celebration of this balance, a song that could work as a major radio single but also a statement from a young artist who refuses to fall into that cliche slump after success.
Sheck Wes – "Wanted"
"Where we from, they don't give, so we don't got shit / They leave us young niggas with no options," Sheck Wes raps on "Wanted," a song about growing up in New York City. The Harlem rapper explains how he grew up too quick, living a life where the only options left for him were being involved with drugs and violence and robbery. It's like a tour of the city from his perspective, name dropping all the major areas where shoppers and tourists and families didn't want him around. It's a song that wholly translates an experience and point of view of Sheck Wes, complete with an ominous, doom-ified beat like it's being played from a crummy speaker in the back of a train or from the trunk of a nearby car.
Teyana Taylor feat. Ghostface Killah, Method Man & Raekwon – Gonna Love Me (Remix)
In 2009, Ghostface Killah released a romance album. Always the poet of Wu-Tang Clan, Ghostface's wordplay lends itself surprisingly well to writing love songs. So it only makes sense that when he heard one of the best love songs of the year from Teyana Taylor, he had to recruit his Wu-Tang cohort to remix her "Gonna Love Me." The result is a Wu-Tang song the likes of which we haven't heard in a long time. Much of this is thanks to the incredible beat from Kanye West, but also the legitimate romanticism that the song inspires.
Noname – "Self"
Just listen to the opening verse of "Self" for proof of the depth and dexterity of Noname's lyricism. It immediately sets the album up as one you'd listen to driving home late at night. "Really questioning every god, religion, Kanye, bitches … Y'all really thought a bitch couldn't rap huh? Maybe this is your answer for that, a crack era. The Reagan administration that niggas are still scared of." It's a brilliant verse—one that touches on politics, on hip-hop culture, on systemic racism, on sexism in the span of a few bars. There's a reason Noname has been called one of the greatest rappers alive. Lyrically she can do more in a few lines than many rappers can do with an entire song, creating something more like spoken-word poetry. That combined with the high-brow, jazz-influenced beats gives Noname an air of true intellectualism without ever feeling pretentious.
Young Thug feat. Elton John – "High"
Way back in 2016, Young Thug shared a photo of himself with Sir Elton John. For years, Elton John has been an avid fan of Young Thug, having heard the rapper on Beats 1 in 2015. Shortly after that, the two started working on a collaboration, and a song featuring Thug and Elton John's vocals from "Rocketman" has been rumored ever since. This year, the two finally made good on that promise, releasing the melodic and thoughtful "High" featuring John's iconic hook. It's a flawless melding of two generations of pop stars, one that on paper could have been a disaster, but is genius given the talent of both musicians involved.
Joey Purp – "Bag Talk"
On his first proper studio album, Joey Purp arrives to make a statement. After the success of his excellent 2016 mixtape iiiDrops, Purp firmly establishes himself on Quarterthing as yet another inventive Chicago rapper. He stretches the scope of his sound to fascinating places like on "Bag Talk," where he raps over a looping piano scale and a stripped-down beat. Here his flow and lyricism take center display, with focus on clever turns of phrase like this excellent Mad Max reference: "Had to back-back out the gas pack / Had to back track, hit the drank, having flash backs / Hit the gas like Mad Max / All the bad brats like 'Hustleman, goddamn.'"
Nicki Minaj – "Coco Chanel"
Look, when it comes to the Nicki Minaj / Cardi B beef, we here at Esquire are on Team Cardi. But that's not to say Nicki's new album didn't have its highlights. On "Coco Chanel," she comes back with fire, making spitting the lines that we remember back from her early days. It's reminiscent of the time when she was one of the most versatile vocalists in hip-hop. Backed by Foxy Brown, it feels like Nicki has the energy and artistry of a rapper who never attempted to be a pop star.
Mac Miller – "Self Care"
There's a grim irony to Mac Miller's "Self Care" after his tragic death at the age of 26 in September. This is a time when hip-hop is taking great strides to address addiction, anxiety, and mental illness in full force. Few rappers did that like Mac Miller, a writer who could define and analyze his own worst moments. It's a horrible loss to music that he died so young from the problems he wrote about his entire career. But, like this gem from Swimming—released months before his death—his words helped countless young people who took his advice to heart. Even if he couldn't.
Mick Jenkins – "What Am I To Do?"
It should be a credit to Mick Jenkins that Kaytranada's light, jingling, chopped up soul beat doesn't take center stage here. Instead, Mick takes control of the beat and harnesses his anger through a chorus that asks: "'Cause I be streaming black they'll beat me to blue / Put it on TV then tell you what's true … What's a nigga to do? / When you call the police but the trigger's on you" There's outrage, there's pain, there's confusion—but Mick manages to channel these feelings into a powerful question that people shouldn't have to be asking in 2018 America.
Jevon – "Paranoia"
At this point in hip-hop anxiety is in the spotlight—whether it be in the form of emotional honesty in music, or the tragic deaths of young, talented rappers. An interesting trend in this phase of emotional hip-hop is a return to melodic and guitar-based music. And Jevon, a promising London MC, delivers these same ideas without the doom and gloom of other rappers. Instead, on Paranoia, he harnesses a dizzying, clicking beat to deliver some open, self-reflection. It's refreshing in a time when most introspective hip-hop channels the same type of sound. And hopefully there's more like this to come.
The Internet – "It Gets Better (With Time)"
Increasingly, it feels like we live in an era where it's tough to face the world. In this second-half track from The Internet's excellent Hive Mind, we don't know who—or what—Syd is addressing. It could be a broken heart; it could be one of the many atrocities on the news. But her support remains the same no matter what we're experiencing. In the song's second act, Big Rube—whose spoken word poetry can be heard on Outkast classics—delivers another inspirational message: "The easy path rarely leads to what our heart truly desires / In this life we must face many a worthy challenge for the outcome to satisfy us." That's something we can all be reminded of, no matter the context. By the final act of these three movements, Patrick Paige II seems to be on the other side of this conflict, ending the song with a newfound feeling of empowerment: "I move mountains and move boulders / I cross borders, don't take orders."
Chance the Rapper – "I Might Need Security"
We're watching in real time as Chance the Rapper navigates the complicated relationship between being a hero and being a celebrity. No matter how much he gives back, no matter how much he's proven to be a community leader making real change in his neighborhood, he can't escape the critics. On "I Might Need Security," he gets angry, and he channels that emotion into real action in his community. While other rappers are handing out big budgets for music videos, he's actually investing in local journalism and in non-profits that actually promote real change in the lives of his neighbors. In this song, over a loop of "fuck you," he announces he purchased Chicagoist while he defends himself from haters who call him a deadbeat dad.
Tyler the Creator, A$AP Rocky – "Potato Salad"
Does WANG$AP exist? It's a question to which we might never have an answer. Tyler, the Creator and A$AP Rocky have been coy about their long-rumored collaborative album, which may or may not exist. And their excellent new joint track "Potato Salad" only deepens the mystery. Here the two rappers trade relaxed, playful verses: "They thought I was goofy and all mouses / Double C my luggage and fill them with Comme blouses," Tyler raps. Then Rocky tosses out this amazing burn on mumble rap: "Then I think about the state of rapping / All the freshmens in the classes / All the super seniors mumblin' and ramblin' / Mumblin and rappin', mumble rapping?" And since this is 2018, it's also produced by Kanye West, with a sample of Monica's "Knock Knock."
Travis Scott – "Stargazing"
Since the death of Lil Peep late last year, hip-hop has become an open place for artists to discuss their fears and struggles with substance abuse. Travis Scott's "Stargazing" comes as a declaration of love and sobriety. In this woozy trap ballad he sings, "I was always high up on the lean / Then this girl came here to save my life." It's a reference Kylie Jenner, with whom he recently had a kid and inspired him to quit codeine. The second act of the song tracks his rise to stardom to its peak, which in his mind is a relationship with Jenner, who's both his saving grace and one of the biggest celebrities in the world.
Brockhampton – "1999 Wildfire"
In the wake of their dismissal of rapper Ameer Vann, Brockhampton has spent much of 2018 proving that they have an identity without their embattled star rapper. And on 1999 Wildfire, the group does something they've never done before, putting together a puzzle of melodic R&B throwbacks with Joba and Dom McLennon trading verses around Abstract's hook. In the second verse, they outline the origins of Brockhampton in a Tolkien-esque skin, and by the third verse it all manages converge into a satisfying conclusion. While often Brockhampton songs can feel like various scattered sections, "Wildfire" shows a group that's learning to exist as a tight ensemble without a key member.
Beyoncé / Jay-Z – "Apeshit"
The Carters are pop music. They're hip-hop. They're culture. On "Apeshit," Beyoncé and Jay-Z analyze cultural institutions that fail to include black artists. The video places black dancers and the Carters in front of white artwork in the Louvre in Paris. They call out the Grammys, which invite black artists for ratings at the ceremony but don't reward these musicians with actual trophies. As a combined force, the Carters are an establishment of their own, one that's capable of challenging the likes of the NFL and the Recording Academy.
Teyana Taylor – "Rose In Harlem"
Among releases from Pusha T, Kid Cudi, Nas, and Kanye himself, Teyana Taylor lands among the best of the West-produced albums in the summer of 2018. Even Pusha said her K.T.S.E. was his favorite of the G.O.O.D. Music projects. The highlight of that release comes on "Rose in Harlem" a song that acts as a biography of her making it out of her home neighborhood. Over a passionate cord progression, and a genius sample of "Because I Love You Girl" by The Stylistics, Taylor sings of her past: "Been through more than a lil' bit / But I ain't callin' no names out / No, no free promotions."
Lizzo – "Boys"
This marks the second year in a row that a song called "Boys" has shown up on our year end list. And like Charli XCX's 2017 song, Lizzo's "Boys" is a celebration of sexual liberty from a powerful female perspective. With musical influences ranging from Prince to Justin Timberlake's "Sexy Back" and even "Mambo No. 5," Lizzo flips what's historically male musicians objectifying the female body.
Meek Mill feat. Miguel – "Stay Woke"
On April 25, Meek Mill was released from prison, where he was sentenced two to four years for parole violations. The sentencing set off waves of protests with Jay-Z and Pennsylvania's governor supporting the rapper. He knows first hand how the criminal justice system in America is working against young black men. And on "Stay Woke," his first new track since being released, he uses his moment to carefully outline the horrors of mass incarceration. He at once admits his own mistakes that landed him in legal trouble, while also pointing out how the system is designed to keep him in prison rapping on the song, "In a world where black is wrong and white right, it's like a combat / We go to war for our freedom, they say we equal."
Jay Rock – "Redemption"
"If you had a second chance in life what would you do?" Jay Rock asks in the opening of the title track from his excellent new album. This marks the Top Dawg rapper's first release since a motorcycle accident nearly took his life. Like his label mate Kendrick Lamar (who appears on this song and throughout the album) it outlines themes of rebirth, faith, and redemption from their South LA neighborhoods.
Pusha T – "The Story of Adidon"
The surgical summer officially began on May 29, 2018. A decade-long beef sizzling in the subtext of hip-hop, exploded into the most vicious diss track in years with Pusha T's "The Story of Adidon." It's a song that completely dismantles Drake's good-guy persona, picking apart his alleged use of ghost writers and rumored child with a former porn star. Drake's response to Pusha's "Infrared" was good, but "The Story of Adidon" took this feud to a mythical status. There's possibly never been a diss track as rhetorically sound, calculated, and damaging as what Pusha wrote (Drake was even forced to issue an explanation of the questionable album art). This ranks among the greatest diss tracks in rap history, and one of the most game-changing songs of the year.
Childish Gambino – "This Is America"
The sheer scope of Donald Glover's body of artistic work is so incredible that he even made it into a gag in his opening monologue on Saturday Night Live. Music, movies, TV, unmade cartoons, writing—the list of his talents goes on and on. Starting as a playful hip-hop moniker, Glover's Childish Gambino persona has evolved into something completely unexpected with his Grammy-winning third album, Awaken, My Love. On that release he moved from rap to a falsetto-led collection of soul and R&B. But after the success of that pivot, he does so again with the jarring and brilliant "This Is America." The song, and its accompanying video, is a surreal critique of race and violence in this country. And it's another essential piece of Glover's catalogue.
Kid Cudi & Kanye West – "Kids See Ghosts"
"Kids See Ghosts" is one of the moments on the joint album from Kid Cudi and Kanye West album of the same title where each part contributes to make a transcendent hole. Together, Cudi and West make something completely unlike each of their solo output, where the moody stoner anthem finds a perfect equilibrium with unchecked ego. Here's a moment where both Cudi and West drag each other out of their melodic and compositional comfort zones.
A$AP Rocky feat. Frank Ocean – "PURITY"
One of his rare musical contributions since Blonde, Frank Ocean appears in the closing track of A$AP Rocky's Testing to bring the album to a pensive conclusion. Taking cues from Ocean's masterpiece, "Purity" is anchored by a gentle, bubbling guitar. Here, producing team Finatic N Zac, Dean Blunt, and Rocky mix into Ocean's formula a sample of Lauryn Hill's "I Gotta Find a Peace of Mind." Through it all, Ocean and Rocky seek clarity of mind freed from brands, Xans, and love. Ocean has always had his own helpless love-at-first-sight romantic view of the world, which can best be described in this song with his lyrics: "One blink and I'm precummin' / That could turn every no one into someone."
Kanye West – "Violent Crimes"
Love him or loathe him, but no artist has commanded the spotlight in 2018 quite like Kanye West. Some of the things he's said and done this year are unforgivable. But in the soul-searching gospel of "Violent Crimes," West examines the inherent evil of men. At the end, West finds something resembling hope at the conclusion of a dark and fucked-up album.
J Balvin – "Peligrosa"
J. Balvin's success stateside has been building since Beyoncé dropped vocals on a remix of "Mi Gente" last summer, when Blue Ivy was a fan of the song. Now, with his own album combined with Cardi B collaborations, Balivn is prepared to own Summer 2018. It comes at a perfect time, when his reggaetón style is at the forefront of popular hip-hop music. Even though his influence and genre can be heard all over mainstream American music, his sound, especially on the buttery "Peligrosa," will make everyone forget about "Despacito."
Valee feat. Jeremih – "Womp Womp"
The latest signee to Kanye West's G.O.O.D. Music, Valee shares his fellow Chicagoan's I'll-do-it-myself mentality. As the New York Times described him recently, "He does carpentry, construction and electrical work, and builds koi ponds, too. He customizes fast cars—full-size and remote control—and cooks. He's tattooed others, as well as his own arms and legs." And that type of attitude is clear in his music, which is playful, curious, and multifaceted. A natural pairing with Jeremih, Womp Womp is an effortless exploration of hip-hop at its most laid-back and fun.
Cardi B – "I Do"
Cardi B ends her brilliant debut album with a call to action about men: "If they can't make you richer, they can't make you come." It's a song that sums up the running theme of female empowerment from the album, where Cardi raps, "I think us bad bitches is a gift from god." The album highlight also brings in SZA, the breakout star who released one of the best albums from 2017, to explain that she just leaves dudes on read because she feels like it. Hell yes.
Drake – "Nice For What"
With a spinning sample of Lauryn HIll's "Ex-Factor," Drake doubles down on his good-guy thing, rapping about female confidence—both online and IRL. He tells the story of a woman doing her own thing: paying bills, going to clubs, living life without a partner or "without a mention or a follow." In fact, it's a song so good, it even got the Lauryn Hill approval when she covered it in concert in late April
Saba – "Logout"
There's something so poetic about a Chicago rapper singing about just logging the fuck off. "If you press log out, you get forgotten / What's a post, but a reminder just how boring our lives ar-ar-ar-are / Look at how much fun I'm havin' / Ain't no beauty in the absence, of broadcastin' to your followers." In hindsight, that seems like such an insightful statement given what Chicago's most prominent rapper did in late April. Alongside Chance the Rapper, it's good to know that a new generation of artists from Chicago gets it.
Tyler, The Creator – "OKRA"
Two months after his first nomination for Best Rap Album at the Grammys, Tyler, the Creator returns with an absolutely dizzying boast track. In includes some of Tyler's most impressive wordplay, with an assault of references, jokes, and brags. In just a single line, he jumps from referencing shoe sponsorships to a Robert De Niro pun: "Red Ones look like Aidan Mackey, spent dinero like Taxi Driver." In another just before that, Tyler once again slyly addresses his own sexuality, which was a major point of discussion on his critically acclaimed 2017 album Flower Boy. Tyler isn't going to let you forget the year he had—no, he's going to make you bask in it with him.
Vince Staples – "Get the Fuck Off My Dick"
A day before releasing "Get the Fuck Off My Dick," Staples set up a GoFundMe campaign called #GTFOMD where he asked fans to fund his early retirement. "No songs, no interviews, no anything," he said. "Get off of my dick or fund my lifestyle." While he didn't end up retiring (the GoFundMe was actually pulled down by the site), he did release a song with the same kind of sentiment. In it, he touches on the hypocrisies of the entire entertainment and media industry, rapping "I ain't takin' no more calls, might think 'bout callin' it quits / Press is tryin' to block my blessings, no more talking to Vince / NPR and XXL, man, I can't tell which is which." He follows that by calling out his own record label, along with the Grammys for snubbing his 2017 critically acclaimed album Big Fish Theory. He proves nothing is off limits, continuing to be one of the most punk rock rappers out there today. And isn't it just therapeutic to tell everyone and everything to "Get the fuck off your dick" once in a while?
Juice Wrld – "All Girls Are the Same"
Juice Wrld's "All Girls Are the Same" is an excellent example of our era of the vulnerable rapper. While hip-hop was once dominated by materialistic boosterism, a new generation has rebuilt the genre on a basis of sad beats and an oversharing of feelings. If anything, this type of life is a lot more relatable. Take this song for example, where Juice Wrld agonizes over how he can't fall in love. That's almost the exact opposite of our traditional understanding of rap. "I just want real love, guess it's been a minute / Pissed off from the way that I don't fit in, I don't fit in / Tell me what's the secret to love, I don't get it," he raps on the track. It's tragic, it's universal to everyone, and it's honest.
Saba – "LIFE"
With a few mixtapes and his debut studio album, Saba has made an early case for himself as one of the most inspiring new voices in Chicago hip-hop. On "Life," Saba incorporates the sounds of R&B and jazz for a stunning track that tosses bursts of brilliant social commentary. Saba goes in hard right away in the first verse, rapping: "They want a barcode on my wrist / To auction off the kids that don't fit their description of a utopia (black) / Like a problem won't exist if I just don't exist / If I grew up without a single pot to piss in / Pardon me for venting / Congress got the nerve to call itself religious / Rich just getting richer, we just tryna live our life." He offers vivid critiques of the black experience, one that comes in a flow that Saba switches up in the moment—sometimes a breathless rapid fire, sometimes slow, thoughtful and analytical.
Lil Yachty – "66"
Lil Yachty is less of a rapper and more of a big kid who someone gave some cool beats and a microphone. And that's why his music is always so airy and playful. And "66" almost feels like the music equivalent of the movie Blank Check, in which Yachty is some teen who randomly got a bunch of money, "High school, servin beans," Yachty raps, "dropped out, now I'm rich, flexin' 'till I'm 66." He goes on to discuss his Bentley truck that he bought "ain't no rentin'." And, honestly, good for Yachty: He creates music that's become the epitome of pop rap, based not really on what he says, but how he says it.
Drake – "God's Plan"
Whether he means to or not, with every new release Drake is able to out-Drake himself. With "God's Plan," he played up his nice guy schtick with a truly touching philanthropic music video. And since this is Drake, fans took it and packaged the idea into the pervasive God's Plan Starts Playing meme. And plus, this might be the most Drake line of all time: "I only love my bed and my momma, I'm sorry." It's impossible not to love Drake, I'm sorry.
Mozzy with Sjava and Reason – "Seasons"
In one breath, emerging Sacramento rapper Mozzy talks about the corrupt justice system, racism, classism, police brutality. On "Seasons," he raps, "I cried when lil' brotha died, got high and watched the sunrise / Wiggle on 'em if it's one time, they done hung all of my people / I love all of my people, I'm in the slums with all of my people / They trynna tell us that we all equal / We gettin' no justice so it ain't peaceful, yeah / Think they bluffin', they ain't gon' beat you / Paid attorney, we gon' need it." It's a beautiful and powerful verse, one that's shocking to hear on a soundtrack for a Disney movie. It's just another stunning contribution to popular culture from Kendrick Lamar and Black Panther.
Migos – "Made Men"
Migos didn't hold anything back releasing Culture II on the anniversary of their groundbreaking major label debut. It's a massive dump of 24 songs, which indicates that they could have maybe used some discretion while pairing down that final album. That's precisely why there are a number of forgettable tracks along with some truly great ones. Obvious standouts are the Pharrell-produced "Stir Fry" (which technically came out last year, so we can't include it here) and "Made Men." On the latter, the beat is a glittering and classy late-night boast. Taking the phrase from classic American mafia, Takeoff casually brags in his first verse, "Not Toby, but we slave for it / No Kunta Kinte, but we slave for it / I waited some days for it" in a brilliant Roots reference.
Rae Sremmurd – "Powerglide"
The melodic vocal gymnastics of Rae Sremmurd are usually something most rappers don't mess with. Slim Jxmmi and Swae Lee play around in those upper registers that make for truly addictive pop-rap. And they can do it over any type of beat, from a bleary trap beat to a driving beat like "Powerglide" featuring Juicy J.
JPEGMAFIA – "Macaulay Culkin"
I'll be the first to admit that JPEGMAFIA might not be for everyone. He embodies the true punk aesthetic of SoundCloud hip-hop. He's artistically hyperactive—he's already released three albums this year of frenetic lo-fi rap. These albums have songs like "I Cannot Fucking Wait Until Morrissey Dies" and "Libtard Anthem." But beneath that abrasive provocateur is a compelling lyricist, and when he tones it down a bit, like on "Macaulay Culkin," that writing truly shines. Over a lost, melancholy guitar, he raps Orange is the New Black references and admits, "I play my albums front to back and make it feel important."
SAINT JHN – "I Heard You Got Too Litt Last night"
As hip-hop has statistically taken over as the dominant genre of popular music, it's sometimes difficult to find the line between R&B, pop, and rap. SAINt JHN incorporates all of it, with the woozy, low-end beat and the melancholy sing-song flow so popular. But, like a hazy hangover, the Brooklyn rapper recounts a night out as if it's a morning drained of dopamine.
SOB X RBE – "Lifestyle"
There's a perfect balance at play on SOB X RBE tracks. Yhung T.O.'s seductive club choruses are the perfect packaging for forceful, dangerous verses. Take "Lifestyle" for example, where Yhung T.O. sings in the chorus, "I remember late nights all alone / I remember long talks with my cousin through her phone / RIP all of my niggas dead and gone / Give it all to bring you back and to bring my niggas home." It's followed by an opening verse from Slimmy B where he raps about people getting murdered at stoplights.
cupcakKe – "Cartoons"
Quite possibly the greatest hype track ever written solely dedicated to cartoon references. There's certainly no greater joy in hearing the sex-confident chorus dedicated to giving Smurfs blue balls when she raps: "I'm a snack so I attract Scooby Doo's / Give 'em Smurf dick, that's balls blue / I don't look for niggas so fuck Waldo / Bitch, I'm cocky like Johnny Bravo."
Maxo Kream – "Roaches"
On "Roaches," Maxo Kream comes out firing with an opening chorus rapping, "Back when the face tatts was for OG killas / Now I'm seein' tear drops on you Soundcloud niggas / Remember back when music had content and metaphors / Way before the mumble nonsense and poppin' handlebars." It's a visceral attack on a new era of rappers finding pop stardom like Post Malone. What follows is vivid account of his childhood shooting guns, watching his uncle get shot.
Tee Grizzley feat. Meek Mill – "First Day Out Remix"
Meek Mill is currently incarcerated for violating probation—a sentence that's caused mass outrage, even causing Jay-Z to pen a New York Times op-ed. And the bitter irony is that Mill's latest verse comes on a remix of a Tee Grizzley song called, "First Day Out." Likely recorded when he was out on probation, Mill's verse touches on everything from Nicki Minaj to his beef with Drake, "I made a milli from rappin' and I ain't look back / I brought that Dawn in my hood, they was like, "What's that?" / They tried to tell me I lost, nigga, I shook that (shook)," he raps. Anyway, free Meek Mill.
Matt Miller
Culture Editor
Matt is the Culture Editor at Esquire where he covers music, movies, books, and TV—with an emphasis on all things Star Wars, Marvel, and Game of Thrones.
This content is created and maintained by a third party, and imported onto this page to help users provide their email addresses. You may be able to find more information about this and similar content at piano.io