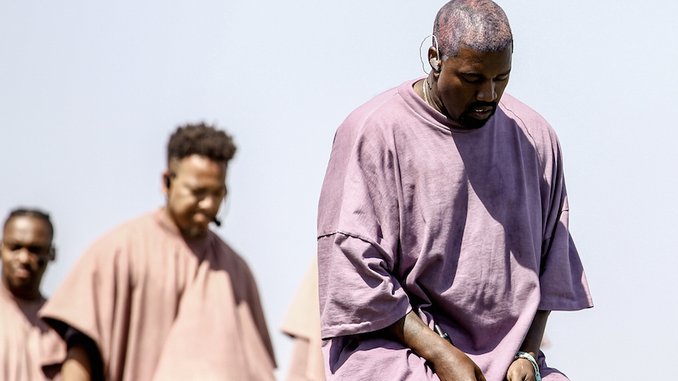 Rap occasionally seems to get a bad wrap. The genre's critics may be quick to point out the R-rated content that defines hip-hop and makes it the important powerhouse in music that it is, but there's so much more to it. Some modern rappers like Kanye West and Chance The Rapper may still rap about having a little fun, but they also rap about their faith. So here's a list of the top 10 spiritual songs in modern rap music, ranked.
When this song comes on, the crowd is likely to sing in harmony, "I'm way up I feel blessed." Big Sean delivered us this hip-hop anthem back in 2014, and it also features Drake in addition to an extended version with Kanye West. No, it's not the most spiritually inspiring song on the list, but it's definitely the catchiest, with verses we've all come to know like, "Blessings on blessings on blessings / Look at my life man, that's lessons on lessons on lessons."
This song is not as popular as Kanye West's "Jesus Walks," but rapper Lupe Fiasco, who identifies with the Islamic faith, wanted to write his own version. Using the same background vocals and beat, Fiasco flipped the lyrics back in 2006 to shed light on the Islamic teachings. Opening up the track with a line from the Quran and lyrics like, "Don't think Osama and Saddam is our leader / We pray for peace," "Muhammad Walks" is a powerful and honest look at a man confident in his faith.
From Chance The Rapper's fan favorite and Grammy Award-winning album Coloring Book, "Blessings," featuring Jamilia Woods, is a jubilant church song. A slow, R&B jam with Wood's sweet voice singing "When the praises go up, the blessings come down," "Blessings" is simple, joyful and could bring a smile to anyone's face.
"Angels" wouldn't necessarily be classified as a worship song, especially with a few "dirty" words slipped into the lyrics. But, under the surface, it has a powerful message. "Angels" is a tribute to Chance's home city of Chicago, but it's also a tribute to all his "angels" looking out for him that "keep him surrounded." Whether it's family members, friends, or actual guardian angels he's rapping about, it's a fun, uplifting track, regardless of what religion you affiliate with.
Hip hop legend Common's track "Faithful" contemplates if God is a "her." Produced by Kanye West, "Faithful" also features vocals by John Legend and old school samples from songs like D.J. Rogers' 1975 track "Faithful to the End" and Faith Evans' 2001 song "Faithful." Released in 2005, "Faithful" was one of Common's later tracks, but it was just the beginning for West's skyrocketing career.
It may be a stretch to call this song spiritual with lyrics like, "I was high when I met her" and "She just bleached her asshole," but the song is actually a play on Pastor T.L. Barrett's "Father Stretch My Hands" from 1976. With smart sampling, West took the choir from the original song, blended it with his lyrics and even added Kid Cudi to the mix.
"Only God Can Judge Me" is a phrase we might see on a bumper sticker, in an Instagram bio, or in a clap back song to all one's haters, and the latter is exactly what rapper Tupac Shakur made with "Only God Can Judge Me." The 1996 anthem reminded everyone (cough cough Biggie) to "Get out of my business / Only God can judge me now." Not only is it a message to the haters, but "Only God Can Judge Me" also features Shakur crying out to God after several gunshot wounds and reminds us that "even thugs cry."
Five powerful minutes of a gospel choir, Chance The Rapper, Pastor Kirk Franklin, Kanye West and a little girl shouting "Hallelujah" just isn't long enough . Before his coming-to-Jesus album, West delivered us a taste of what would be in store for the future. The leading track from his seventh studio album The Life of Pablo, "Ultralight Beam" could be analyzed as West's praise to God, which is quite a step down, ego-wise, from his prideful track "I Am a God" from his previous album Yeezus. We're proud of you, Mr. West.
Whether it was at a party, in the car or in your room, we've all screamed, "Do you love me? I tell her, "Only partly" / I only love my bed and my momma, I'm sorry." "God's Plan" by Drake was a summer anthem for the world in 2018, but he doesn't get too spiritual or biblical in the lyrics, except for, "God's plan / I can't do this on my own." However, the music video, coming in at over one billion views, shows Drake giving money away to the people of Miami, an example of a man truly living out a plan that's bigger than just the fame.
Well before Kanye West dropped JESUS IS KING and started his own Sunday Service, he didn't have the holiest of lyrics. But "Jesus Walks," from his first studio album The College Dropout, is still one of his most beloved songs to date, and it's a tune almost every millennial can rap word-for-word. Sure, the song is a great way to show your friends how well you can rap a whole song, but it's really the lyrics that make it so special. West humbles himself in his lyrics by stating, "I want to talk to God, but I'm afraid because we ain't spoke in so long," giving us all the impression that even Yeezy struggles with his faith sometimes.