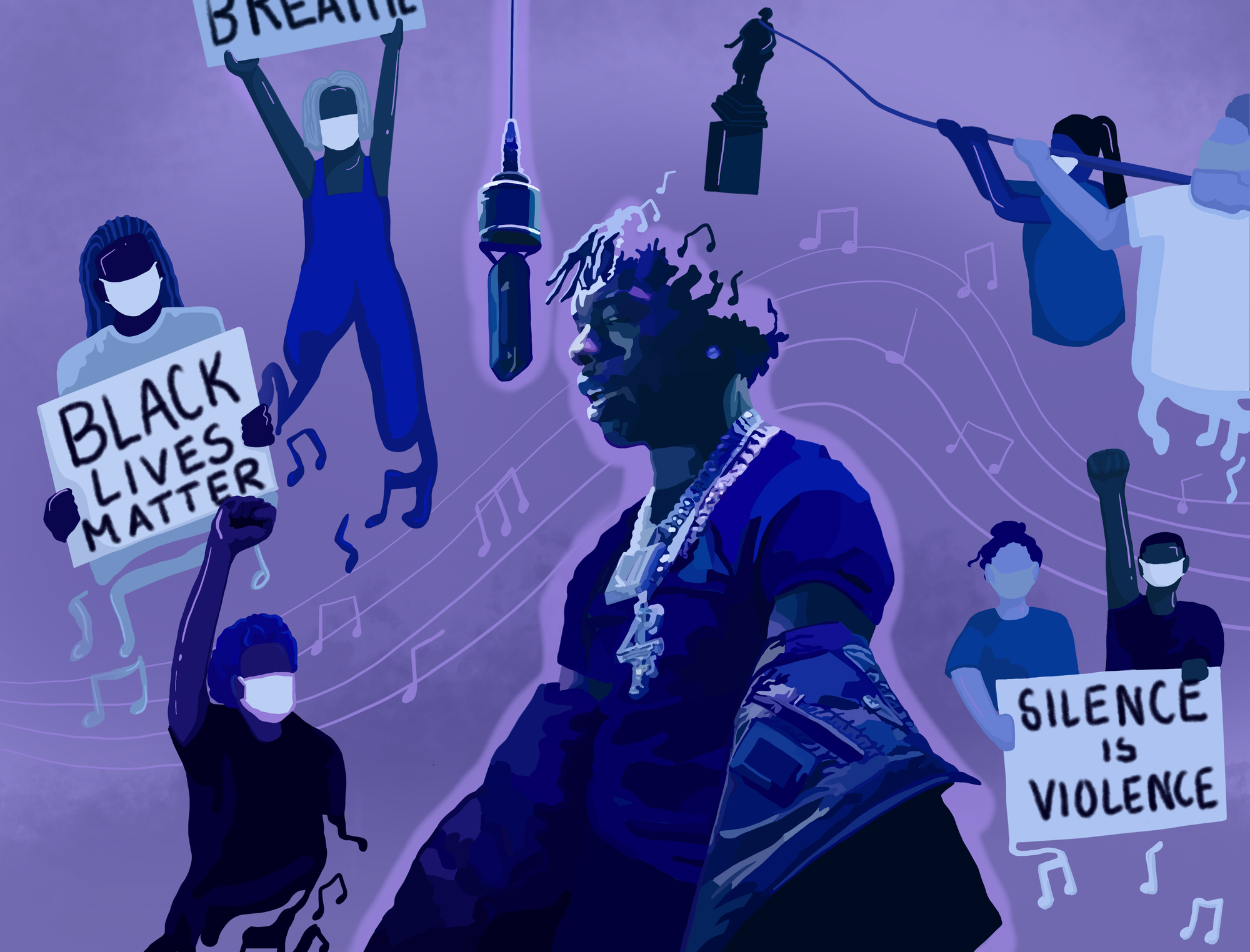 "It's bigger than black and white, it's a problem with the whole way of life."
The lyric comes from rapper Lil Baby's recent single "The Bigger Picture," a protest anthem and social commentary track speaking against police brutality and racial injustice. And he couldn't have captured the moment more succinctly as nationwide protests and civil unrest rages on an entire month after a Minneapolis police officer killed George Floyd, a 46-year-old Black man from Houston, on video.
The track veers into new thematic territory for Baby – he's not comfortably rapping about how fast his Trackhawk Jeep goes or the amount of money he makes for each show. Instead, he's doing something much more important: He has recognized his platform's ascent and has chosen to provide a poignant take on a moment that is vastly more imperative than any ounce of his newfound fame.
In the single, Baby raps, "It's too many mothers that's grieving/ They killing us for no reason/ Been going on for too long to get even/ Throw us in cages like dogs and hyenas," illustrating the longstanding pain that police killings like Floyd's or Breonna Taylor's have brought upon the Black community.
[Related: Creators turn to art as a form of activism to support Black Lives Matter movement]
But Baby isn't the first – nor will he be the last – rapper to release a socially conscious political track. His contribution is only a piece to the larger puzzle to rap culture's integral role in activism efforts for social justice. Because, at its core, rap music has always embodied the plight of the Black individual in America. Since its very beginning, rap has functioned as a way for Black individuals – along with other communities of color – to make sense of situations of poverty, inner-city violence and urban renewal.
In the late '80s, rap group N.W.A. rose to prominence with the aptly titled "Fuck Tha Police," a protest anthem against, you guessed it, police brutality. The song became the soundtrack to the 1992 Los Angeles race riots, which spurred from the acquittal of three police officers for the use of excessive force on Rodney King, a 25-year-old Black man. And now, 28 years later, streams for the song surged about 272% in the wake of Floyd's death, reflecting a lack of progress over the last few decades in how police have treated Black Americans.
But something's in the water – rap music has enjoyed a meteoric rise in popular culture in recent years. Since the start of 2020, nine out of the 12 Billboard Hot 100 number-one singles have been by Black rappers and singers. Rap songs that weren't made with the intent to chart end up doing so because of their dominating popularity on social media apps like TikTok and Twitter. And by taking the fire of their genre while acknowledging the strength of their own fanbases, prominent hip-hop artists have applied both of those forces to social movements against police brutality that need continuous momentum to prompt change.
Recent songs like Anderson .Paak's "Lockdown" visualize the plight of protesting in the streets with the looming danger of violent resistance from riot police as he sings "Said, 'It's civil unrest,' but you sleep so sound/ Like you don't hear the screams when we catchin' beatdowns?" Other novel protest tracks like J. Cole's "Snow On Tha Bluff" and Noname's "Song 33" – back-and-forth "diss" tracks to each other – ponder on what roles the artists themselves play in social media activism during moments like these.
[Related: Second Take: Performative activism fails to prompt meaningful long-term systemic change]
Outside the studio, entrenched rap and R&B staples such as Kanye West, The Weeknd and Drake have donated close to $3 million combined to various organizations such as the National Bail Out Collective and Colin Kaepernick's Know Your Rights Camp as well as directly to Floyd's, Taylor's and Ahmaud Arbery's families. And on the streets of Compton, Kendrick Lamar protested under the radar with NBA stars DeMar DeRozan and alumnus Russell Westbrook. Whether or not these artists chose to publicize their actions, fans found out anyway through social media word-of-mouth, only furthering the awareness of ongoing issues like police brutality and systemic racism.
So if it's putting those feelings on a track or silently protesting in the streets, hip-hop's frontrunners have lent themselves to a social moment much larger than the collective worth of their fame, success and accolades. Because such idolized Black artists are staking their claim in the same causes that everyday people are fighting for, there's an overwhelming sense that what happened to Floyd, Taylor, Arbery, Tamir Rice, Philando Castile – the list goes on – could've happened to any Black individual.
It's evident that this moment feels different. For the Black community and all of its allies, it's the culmination of all of those before Floyd who lost their lives to police brutality and racial injustice. Racial tensions in America have boiled over to the point where blissful ignorance is no longer acceptable, and the leaders of the nation's most popular musical genre must keep applying pressure to stoke awareness and reform while encouraging their listeners to do the same.
As Baby said in his protest anthem, "It can't change overnight/ But we gotta start somewhere/ Might as well gon' head start here."