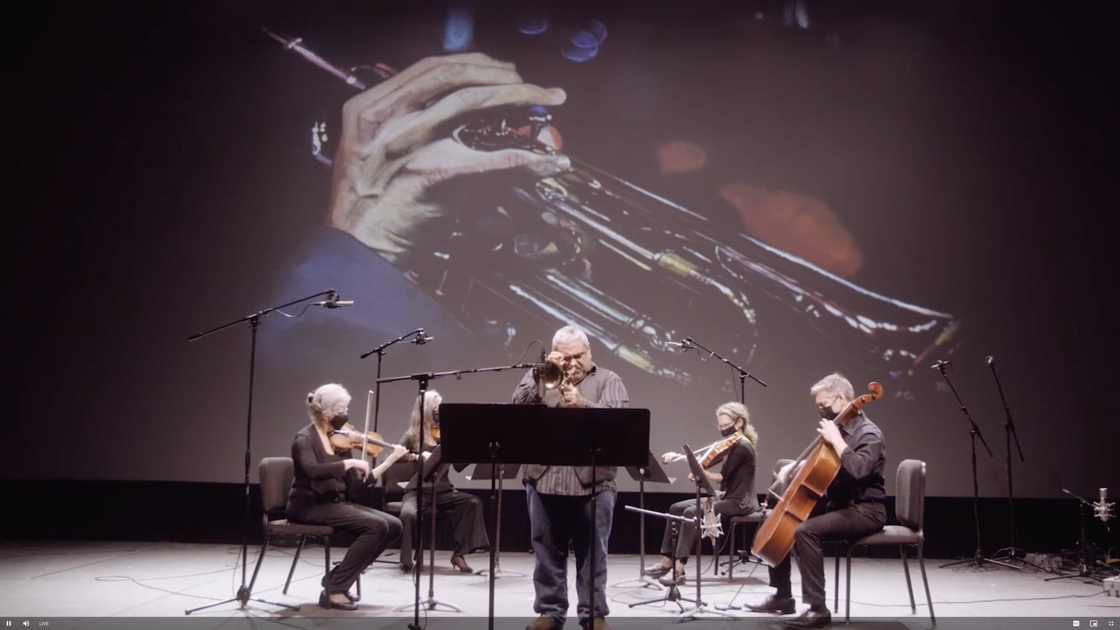 ESSEX JUNCTION — The Vermont Symphony Orchestra closed its 2020-21 virtual season with "Music for Days Like This" program featuring composers of color. Spanning eras from the 18th century to two world premieres, the nine chamber works served as a timely reminder that composers of color had and have a part in the history of classical music — even if they have been forgotten or not been given due credit.
Perhaps most exciting was the premiere Carlos Simon's "Flight" and "Settle" from his string quartet "Warmth from Other Suns," commissioned by the VSO.
The first was striking, driving a jazz theme to passion; the latter, a contemplative but edgy journey focusing on violin and cello. As with much substantial contemporary music incorporating knotty harmonic language, it was difficult to absorb in one listening — but certainly well worth it.
The sympathetic and expert performance was delivered by the VSO Juke Box Quartet (aka Arka Quartet) — violinists Letitia Quante and Brooke Quiggins, violist Stefanie Taylor and cellist John Dunlop. This and the other performances were filmed at the Double E Performance Center in Essex Junction. Although some sounded harsh due to close miking of the strings, the audio and multi-camera video were imaginative and well done.
The other premiere was of a decidedly different flavor, but no less rewarding. Vermont trumpeter Ray Vega soloed over VSO strings in his jazz-flavored "Buscando Doña Juana Figueroa," a tribute to the grandmother he never knew. Vega delivered virtuoso improvisations over the dissonant strings in this melancholy, yet very inviting work.
Two other composers are still living. Quante and Taylor on violin and viola delivered the edgy drive of Middlebury College composer Matthew Evan Taylor's "Antsy."
Dorothy Rudd Moore (b. 1940), who studied with Aaron Copland and Leonard Bernstein's teacher Nadia Boulanger, was represented by the Moderato from her string quartet "Modes." A cello solo opens this striking lament performed sensitively by violinists Kathy Andrew and Jane Kittredge, Taylor on viola, and cellist Klimowski.
For those not knowledgeable about classical music history, the biggest surprise was Joseph Bologne, Chevalier de Saint Georges (1745-1799). Born in the French colony of Guadeloupe, he studied on Europe where he was successful as virtuoso violinist, conductor and composer. Though dubbed the "Black Mozart," he was no Mozart, but his music stands with many of the accomplished composers of his day like Boccherini, Clementi, Salieri and the like.
Andrew, the VSO's associate concertmaster, led VSO strings in the opening Allegro from Bologne's Symphony No. 1 in G Major (in an arrangement by Matt La Rocca, the program's curator). Though not profound, the music was elegant, witty, well crafted in a Haydn-like style.
More depth was to be found in the Scherzo from the Piano Quintet in g minor, Op. 1 by Samuel Coleridge-Taylor (1875-1912). This is meaty but cutting-edge of the late Romantic music, dissonant and dramatic. It was given power by pianist Mary Jane Austin, with Andrew, Kittredge, Taylor and Klimowski.
Florence Price (1887-1953) became the first Black woman composer to have a symphony performed by a major American orchestra when the Chicago Symphony premiered her Symphony No. 1 to great acclaim in 1933. However, here she was represented by her arrangement for string quartet of the spiritual "Swing Low Sweet Chariot" from her Five Folk Songs in Counterpoint. Still, the virtuosic and contrapuntal arrangement was that of a real master.
In a lighter vein were two songs "Amor" and "Atraente" by the very successful Brazilian female composer and conductor Chiquinha Gonzaga (1847-1935), arranged by LaRocca for violin and piano. Quiggins and Austin delivered these Stephen Foster-like songs with a Fritz Kreisler-like elan and warmth. It was a delight.
Closing the program was dessert: the VSO strings enjoying Scott Joplin's rag "The Cascades" (arr. LaRocca).
The imaginative multi-media program was hosted by poet Reuben Jackson. Rita Dove, U.S. poet laureate in 1993, the youngest and first African American to be given the honor, read her "Gospel." Works of art by artists of color Alan Blackwell, Julio Desmont and Crystal Stokes were used as backdrops.
Saturday's VSO "Made for Days Like This" proved a substantial and welcome program showcase of artists of color of today and of history.