How hip-hop style critiques society
(Image credit: Courtesy of Sundance Institute)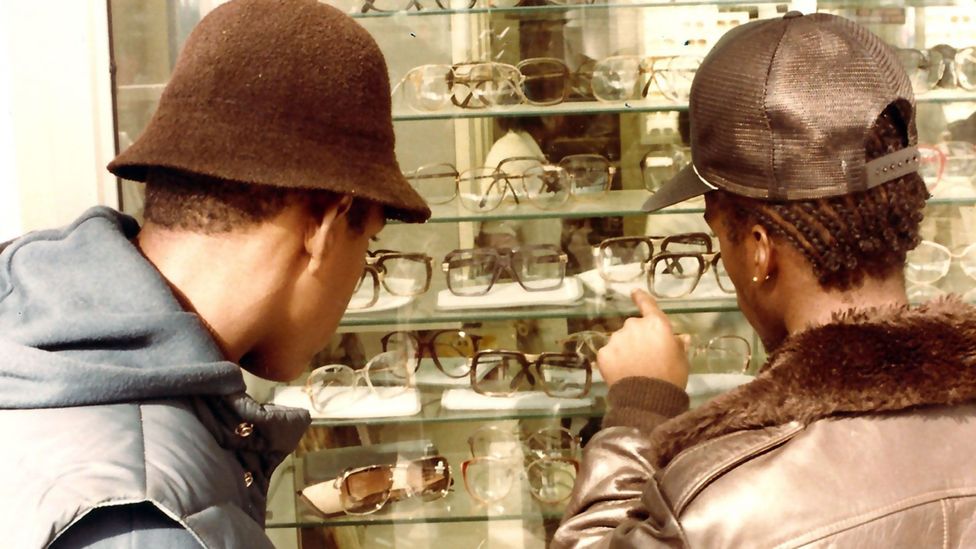 Rappers' fashion choices say much – about their aspirations, their frustrations at social limitations for African-Americans and much more, writes Ekow Eshun.
I
It's rare that a new hip-hop album is greeted by a story in US Vogue. All the more so when the story is about the artists' fashion preferences rather than his music. Yet earlier this year, in May, the magazine marked the release of rising rap star A$AP Rocky's new album At.Long.Last.A$AP with a list of the many fashion references on the record, a roll call that included Rick Owens, Dior, Martin Margiela and Saint Laurent alongside luxury accessories brands such as Audemars Piguet watches and Goyard, the bespoke luggage maker.
Rocky's own fashion interests run deep. He's a fashion show front row regular, has collaborated with designer Jeremy Scott on a collection for Adidas and for a while dated the supermodel Chanel Iman.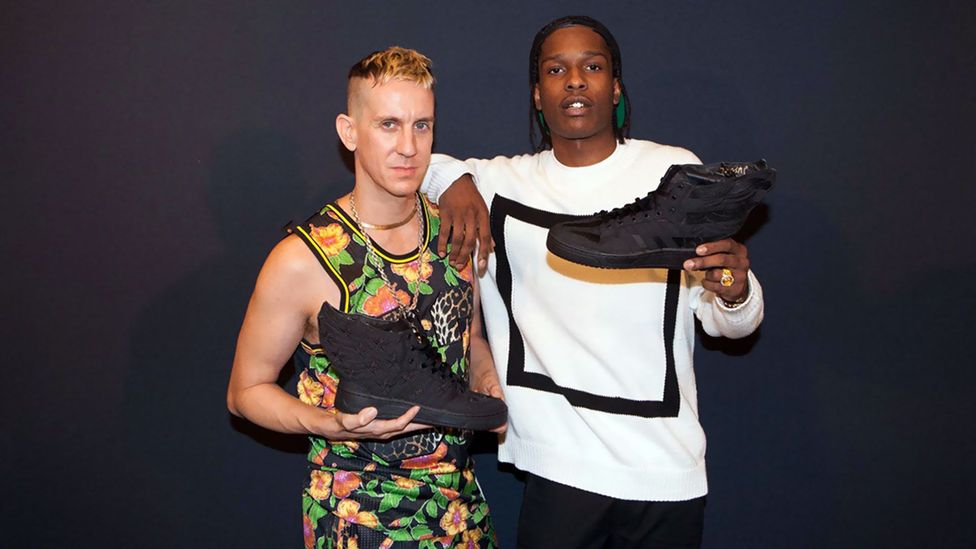 A Rocky raps about fashion labels and has collaborated with Jeremy Scott on an Adidas collection – but he's just the latest rapper to embrace fashion (Credit: Adidas)
Hip-hop is often thought of as music of uncompromising authenticity in which staying true to the streets and 'keeping it real' is all-important. But Rocky's role today – in Vogue's words he's "a significant style star" – is a reminder of how hip-hop has maintained an ardent love affair with fashion since the music's earliest days.
At the very least, that is the argument that runs through Fresh Dressed, a new documentary produced by the rapper Nas, which traces the evolution of hip-hop style from the 1970s old school of Adidas shell toes, Kangol hats and Cazal spectacles to the fur coats, diamond jewellery and designer clothing of the bling-era 2000s.
As the film asserts through interviews with the likes of Kanye West, Pharrell Williams and producer Swizz Beatz, it's impossible to track the development of rap music without looking at who wore what when. And by extension, asking what rappers are saying when they dress the way they do.
Authenticity and artifice
In the mid '80s the couturier of choice for the hip-hop world was Harlem tailor Dapper Dan. Rap stars such as LL Cool J, Eric B and Rakim and Big Daddy Kane travelled to Dan's store on 125th Street for his signature creations: Gucci, Fendi and Louis Vuitton coats and jackets festooned with outsize logos that gleefully flouted copyright law. The ostentation of his designs – Dan's ankle length fur coats trimmed with Gucci logo embossed leather were a best-seller – struck a chord with his African-American clientele. Alongside the rappers, regular customers included Mike Tyson and some of the city's major drug dealers and gangsters. As one admirer put it, wearing one of Dan's jackets "was like wearing a Rolls-Royce on your back. It was like luxury on steroids."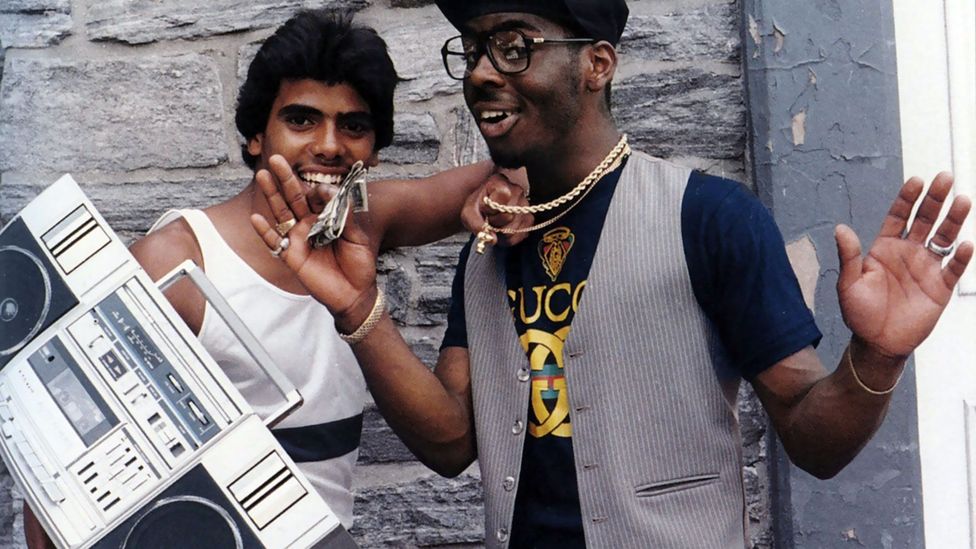 Flaunting luxury brand logos may be a way for rappers to express both aspirations and critiques of social mobility in the US (Credit: Courtesy of Sundance Institute)
The historian Monica L Miller has described the sartorial extravagance exemplified by Dan's designs as "stylin' out", a black tradition of "dressing to the nines, showing their sartorial stuff, especially when the occasion calls for it and, more tellingly, often when it does not."
The clothes adopted by rappers offer their own commentary on the position of black people in America
The roots of stylin' out as a cultural practice stretch back to the start of the black presence in America. In the 18th Century some African-American slaves would insist on dressing as stylishly as possible, fashioning clothes out of scrounged or stolen scraps of material, as a means of asserting their individual liberty against the strictures of bondage. There are so many contemporary accounts of runaway slaves that mention their appearance – men or women described as "generally dressy", "remarkably fond of dress" or "addicted to dress" – that the historical significance of style as a marker of black identity is hard to ignore.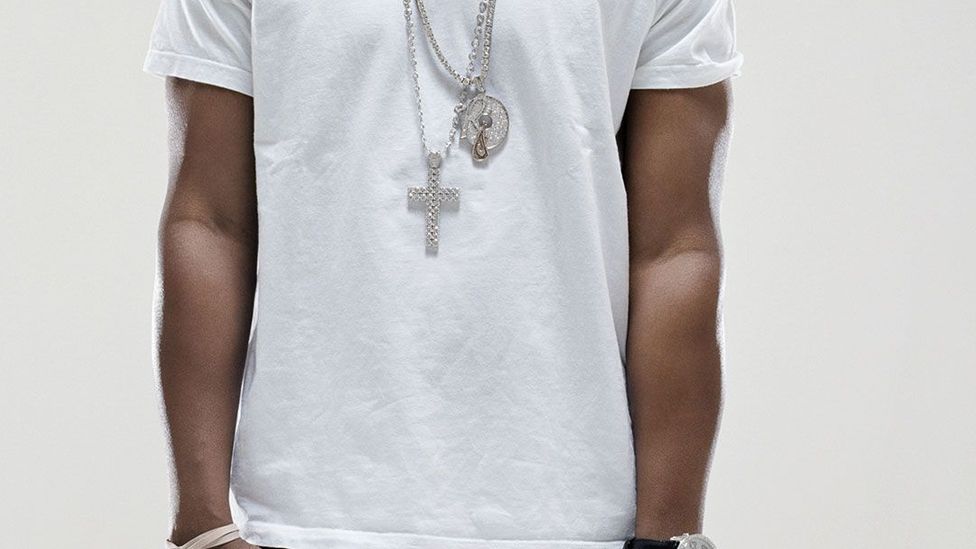 Jay-Z has his own clothing line, Rocawear, and so do many other rappers, including Kanye West, Pusha-T, 50 Cent, André 3000, Lil Wayne and P Diddy (Credit: Courtesy of Roc Nation)
Today, the clothes adopted by rappers and their fans frequently offer their own commentary on the position of black people in America. In the 1990s preppy labels such as Ralph Lauren and Tommy Hilfiger became wildly popular amongst New York rap crews such as Wu-Tang Clan and Mobb Deep. The craze was kick-started by Brooklyn's Lo-Life gangs, so-called because of their fanatical devotion to Ralph Lauren's Polo brand. The trend was a gleeful appropriation of the uniform of the East Coast's old money elite. Dressed head to toe in Hilfiger, a rapper like Method Man seemed to be parodying and celebrating wealth and social status all at once.
From gangsta to Gatsby
In the early 2000s Sean 'P Diddy' Combs made the link between hip-hop and class aspiration explicit with his lavish 'white parties' – guests were required to wear white – in the Hamptons. Combs had risen from record company intern to multi-millionaire music industry mogul and fashion designer in little more than a decade. In the Hamptons, he didn't try to crash the parties of the rich and powerful, he staged his own extravaganzas and invited them to attend. It was an arriviste gesture worthy of the Great Gatsby, who'd laid siege to American high society on Long Island not far from Combs. Alive to the parallels with Fitzgerald's hero, Combs gave a deadpan response to a reporter's question: "Have I read The Great Gatsby? I am the Great Gatsby."
Combs' rise was also hip-hop's. By the turn of the millennium, rap had become the most popular music form in the US. Off the back of the music's appeal, stars launched their own fashion labels and others got rich off sportswear sponsorships and drinks endorsements. As the money flooded in, hip-hop revelled in orgiastic levels of conspicuous consumption. Rappers name-dropped Versace and Gucci, Cartier and Rolex; in videos they danced on yachts, drove drop-top Bentleys and consumed industrial quantities of Cristal champagne.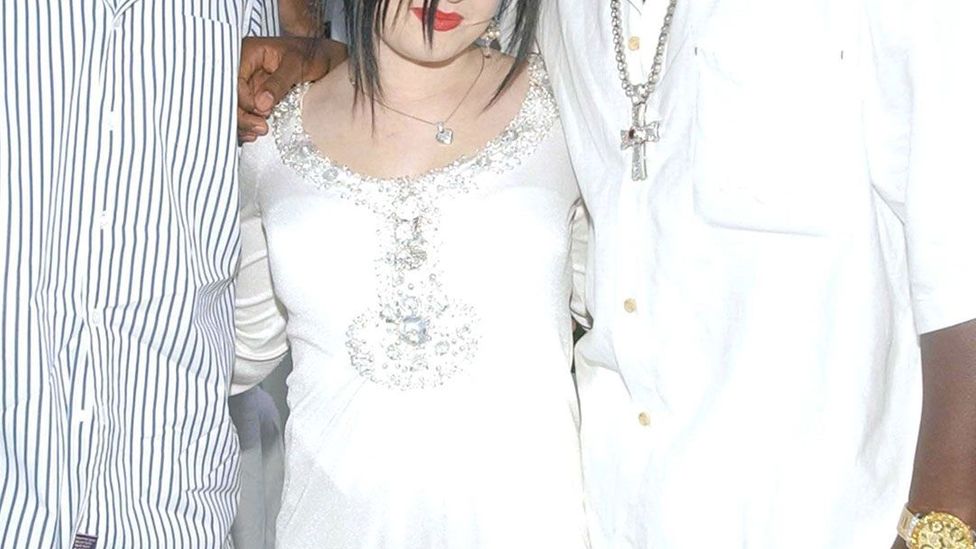 P Diddy has thrown "white parties" at his home in East Hampton, New York, likening himself to The Great Gatsby – Jay-Z produced Baz Luhrmann's film version (Credit: REX)
But what happens after you get all you dreamed of? By 2012, Jay Z, who'd grown up in poverty in 1970s Brooklyn, had an estimated wealth of $450 million (£279 million) and was on first name terms with the president. On the track Murder to Excellence he sounds elated by success ("Tuxes next to the president, I'm present/ I dress in Dries and other boutique stores in Paris"). But you can also hear the acknowledgement that with success and uplift has come cultural isolation ("Only spot a few blacks the higher I go"). And with that, the greater, sadder realisation that, however fortunate he's been over the years, true social progress has eluded a majority of African-Americans, despite the promise involved in the election of a black president. He signs off the track sounding wearied: "I'm all dressed up with nowhere to go".
For all the reflectiveness of that ending, it's telling that Jay Z turns to fashion as the prism through which to reflect his life. How could it be otherwise when, in hip-hop, status, hope, desire, ambition and self-worth and so many other factors remain so tightly bound up in the simple act of choosing what to wear? As Nas says in Fresh Dressed, "Someone said to me your clothes are your wings. So you know if you want to fly, you're going to put it on something nice… Once we put it on, it's a whole different story. We take it to the next level."
If you would like to comment on this story or anything else you have seen on BBC Culture, head over to our Facebook page or message us on Twitter.