Organisers of the 3Music Awards decided to once again do a virtual awards show. So like last year, they needed to have high moments that would undoubtedly keep the audience at home engaged.
The event which took place at Accra International Conference Center, Grand Arena on Saturday, March 27, had many moments that impressed fans throughout the night.
Drip Carpet
3Music Awards brought back the Flava Room which features OB Amponsah, Akrobeto, Lezky the Comic and Kalybos as hosts.
The quartet entertained fans with jokes and comebacks that had the audience at home tweeting about how much fun they were having.
infact i don't like what Lexis & OB Amponsah dey do for the 3music awards top… My ribs all dey pain me… herh gyimie nie!! 😂😂😂😂💔#3MusicAwards21

— χ²= ∑σx̅🍥 (@OnePrinceBorga) March 27, 2021
The whole world 💯💯💯💯💯Ebi Akorobeto who know music what he's saying is real and funny at the same time #3MusicAwards21

— Daber3 woyale 🤫😎💯🏃🏽‍♂️ (@sikaena1) March 27, 2021
Keche taller looks like Mango – Akrobeto

😂😂😂😂😂#3MusicAwards21

— EUGENE, THE FACT CHECKER (@eugeneoseitutu) March 27, 2021
Dapper not Diaper 😂😂😂😂😂ei Akorobeto #3MusicAwards21

— Daber3 woyale 🤫😎💯🏃🏽‍♂️ (@sikaena1) March 27, 2021
They also took the opportunity to educate people on the history of some Ghanaian music genres including Hiplife, Gospel and Highlife.
They also interviewed guests who had been invited to the show. Some of the questions the quartet asked and the answers they got had fans entertained while they waited for the show to begin.
This is Highlife! 🥳

Akrobeto will forever be a national treasure. 😉#3MusicAwards21 #3MusicAwards pic.twitter.com/gnoOZSviNl

— Joy Prime (@JoyPrimeTV) March 27, 2021
Kumerica in the building! @deadpeepol, @YAWTOG_, @malcolmnunaa & @KofiJamar – "Leaders of the New School". #3MusicAwards21 #JoyEntertainment pic.twitter.com/Z6pPKGE26o

— Hitz 103.9 FM (@Hitz1039FM) March 27, 2021
The Set
Many people fell in love with the awards show even before it began. The organisers prior to the show shared photos of the set they had prepped for the show.
Social media users were impressed with the work and energy put into creating the stage.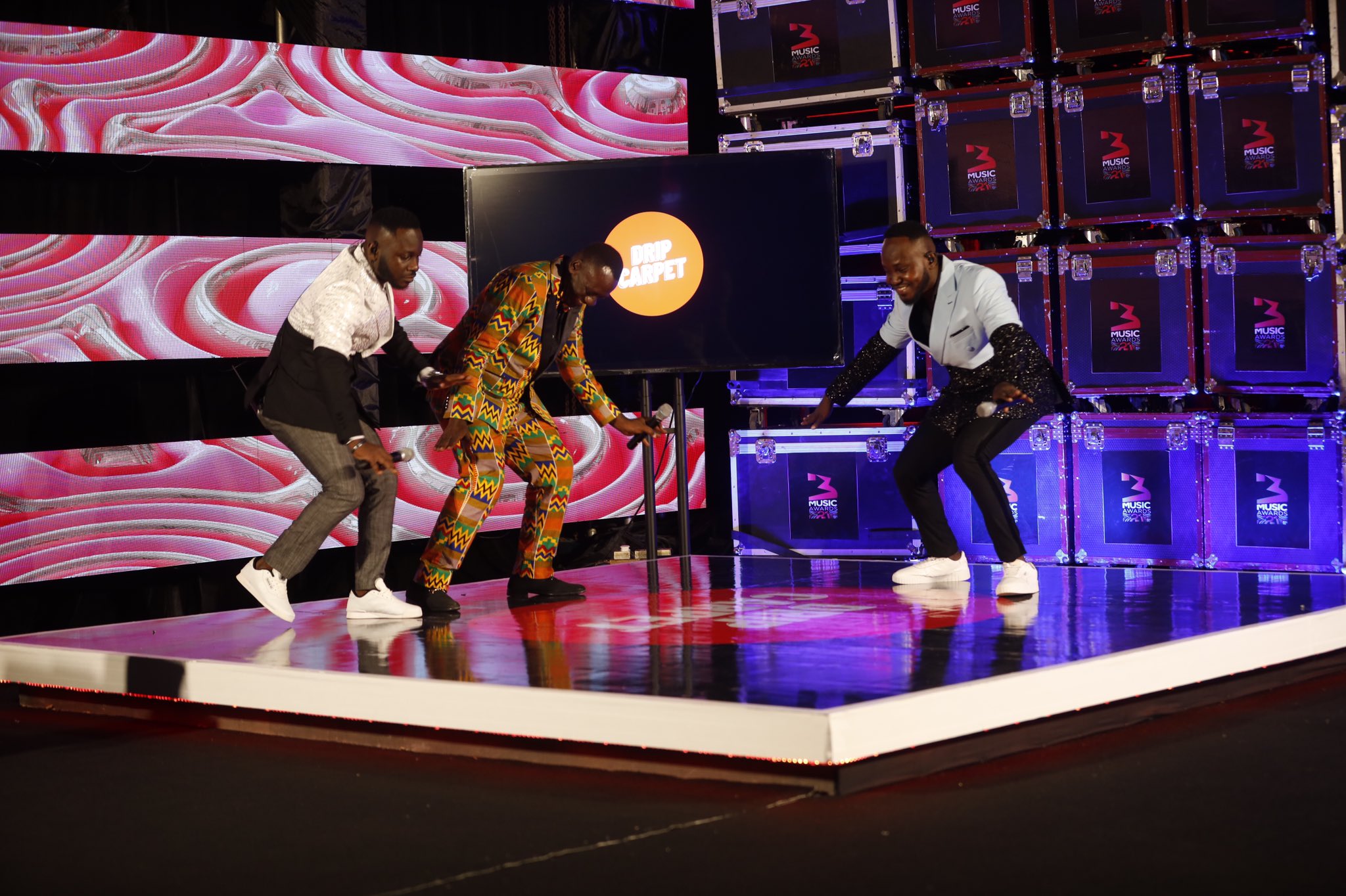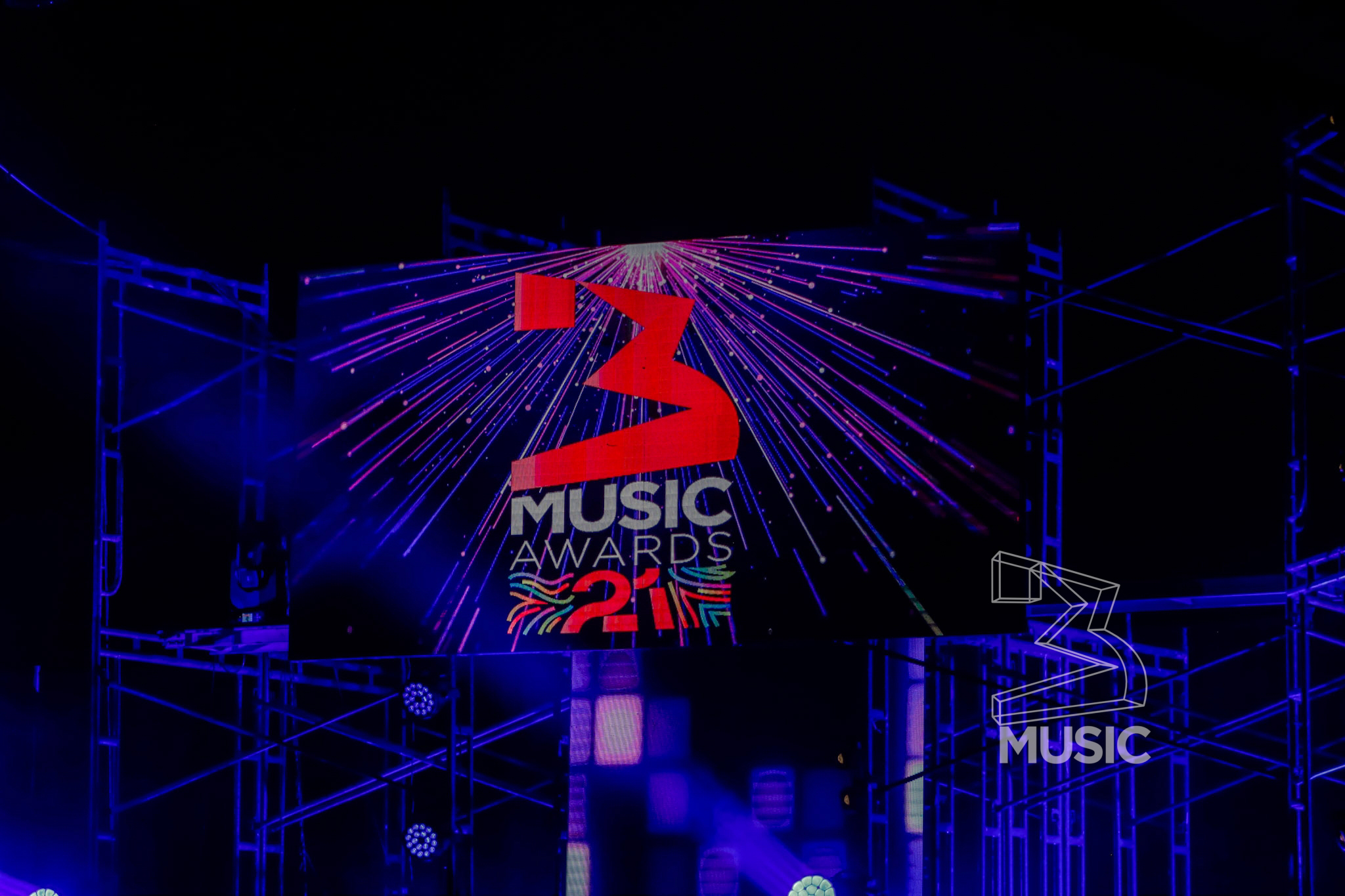 Even when we're apart, we're looking forward to bringing us together with a spectacular ceremony tonight.🎶Let's celebrate Africa's most exciting music night with exciting performances from a blend of mainstream and the NEW GEN✨
Catch us on all-access media outlets from 8PM WAT. pic.twitter.com/CvcR15UlRQ

— #3MusicAwards21 (@3musicAwards) March 27, 2021
The 3music awards set up is really be dope 🔥🔥

Big ups to the organizers cos this is really really up there 🤝

— KELEWELE JOINT 🍟 (@ANKAMAGYIMI__) March 27, 2021
Really inlove with the setup and the production so far for the award show… it rocks shoulders with the BET and others #3MusicAwards21

— WeirdFactsGH (@GhWierd) March 27, 2021
Aside from the set of the stage, others were taken aback by the set the organizers created for other artistes to perform on. KiDi and Mr Drew performed in a night club like set, Kofi Jamar performed on lounge like set among others.
Damn!!! 3music just set the bar high with the setting of Medikal's La Hustle. I doubt any award show in Ghana can top this.

— Joe🇬🇭 (@Papa_Of0ri) March 27, 2021
@AmgMedikal, @1RealJoeyB, @CrissWaddle open the set with an amazing performance of their hit singles.#3MusicAwards21 pic.twitter.com/ecN0S1bGYC

— #3MusicAwards21 (@3musicAwards) March 27, 2021
THIS LOVELY! @mrdrewofficial, @KiDiMusic, @KofiJamar and @SantrofiMusic teamed up to recreate the memorable #Osibisa moments. Osibisa were honored for their illustrious contributions to the Ghanaian music industry.#3MusicAwards21 pic.twitter.com/QxTYY03O4T

— #3MusicAwards21 (@3musicAwards) March 28, 2021
The leaders of the NEW GENERATION are joining forces to hoist the flag of Ghana music high and we can't do anything but to support their craft. @KofiJamar @YAWTOG_ @ypeegh just gave us one of the best performances at the annual #3MusicAwards21 pic.twitter.com/yaLMg4mu86

— #3MusicAwards21 (@3musicAwards) March 28, 2021
3music awards bi mard herh see lighting set design and sound quality. Some people must be shaking now 🥺😂

— I_directions (@Idirections1) March 27, 2021
#3MusicAwards21 set the the standard for music awards in Ghana PERIODT‼️ pic.twitter.com/P0yReIFgkl

— OseiSam (@0seisam) March 28, 2021
The performances
Many fans seemed to have enjoyed the performances this year a lot as compared to last year. Because it was the team's first virtual show in 2020 they had challenges especially with some of the perfomrces.
Thus this year (this is an inside secret) the organisers decided it was best to pre record some of the performances to give the audience the best experience and it seemed to have worked.
Many viewers were intrigued with the performances and the live band as well.
The Opening Act
Because in 2020, organizers had some challenges with performances and sound when 3Music Awards went virtual for the first time, some people were not certain what to expect in this edition.
However, after seeing the opening acts Medikal, Criss Waddle and Joey B perform, many were hooked to the show.
[embedded content]
MEDIKAL spoil the 3music awards Aswear de performance Dey bee🔥🔥🔥🔥🔥🔥🔥🔥

— Benzman👻 (@amg_disturb0) March 27, 2021
Photos from @1RealJoeyB's epic performance at the 4th #3MusicAwards21 pic.twitter.com/ZVZ0lTr1EN

— #3MusicAwards21 (@3musicAwards) March 27, 2021
Osibisa performance by KiDi, Kofi Jamar and Mr Drew
Organisers of the show, hit the jackpot choosing KiDi, Kofi Jamar and Mr Drew to pay tribute to the legendary Osibisa band.
The group graced the stage with '80s inspired outfits for their performance. They performed Dance the Body Music and the Warrior.
[embedded content]
Mr. Drew and Kidi's performance is what Ghana music is all about🙌🙌🙌#3music award

— Sitsofe Tsikata👻 (@SitsofeTsikata) March 28, 2021
The more I watch the highlights of #3MusicAward21 , the more I get fascinated by the ingenuity of @sadiqabdulaiabu and team. Wow! Great show! Awards in Ghana is no more a monopoly.

I saw Mr. Drew and Kidi video performance in honor of Osibisa. Wow! https://t.co/vBxcw6Z1G7

— #LordHanson (@Ehansoni1) March 28, 2021
The Osibisa tribute and the new school production was top notch🇬🇭

Proud Ghanaian moment

— allafricangirl (@animwaa_osei) March 28, 2021
New school performances
The new artistes Ghana discovered in the past year continue to prove to many that they are in the industry to make Ghana proud.
Social media users were floored by performances from Gyakie, Kofi Jamar, Kweku Flick, Yaw Tog and YPee.
[embedded content]
Omo, 'My mind dey for YOU'. @Gyakie_ shares a colorful and sexy performance of her lethal hit song "Forever" at the ongoing #3MusicAwards21 #OdarteyGH pic.twitter.com/XZs40z2K5n

— #3musicawards21 (@odartey_gh) March 28, 2021
[embedded content]
Yaw Tog did it tonight💫
….Kumerica higher💫 pic.twitter.com/OsChiX3U5k

— Kweku_Phame🇬🇭👻🎶 (@KwekuPhame) March 28, 2021
Best performance i think was a tie! Medikal with Joey B and Criss Waddle, and then Kofi Jamar with Yaw Tog and Ypee. These two performances were lit🔥🔥🔥💪💪💪
Shouts to the video director too👏👏👏#3MusicAward21 was amazing❤❤#3MusicAwards21 #3MusicAward21

— Bwoy Tito💭 (@iamtito_gh) March 28, 2021
[embedded content]
Sika Nie Kwaku Nie You did a great job fam @KwekuFlick pic.twitter.com/IGeHj2GMyQ

— Iwin🦅Humble🇬🇭 (@HumbleIwin) March 28, 2021
sure not this will never let him down..great performance..the best pic.twitter.com/zThQtLA5rF

— Kelvin Joo (@BigBen69328616) March 28, 2021
They've made kumericans proud #yawtog #kweku_flick #kofijamar #3MusicAwards21

— Crowd_King👑 (@Djdove_) March 28, 2021
Nana Acheampong
Although the new artistes had people cheering for them, Ghanaians on social media were overjoyed to listen and watch a highlife legend perform for them.
Nana Acheampong performed some of his fan favourites including Casanova.
A legend for generations, Nana Acheampong gave off a top tier performance at the #3MusicAwards21 pic.twitter.com/uue22IH6X7

— OKYERE KWAME TAWIAH 🇬🇭🦅 (@okt_ranking) March 28, 2021
Nana Acheampong still looking good. His looks and everything dey on point.
I rem his beef with DL…
The real beef that o hwe
Beef mu American videos nyinaaa

— Official Ewuradwoa (@belynda_arthur) March 28, 2021
Nana Acheampong be lit..🔥🔥🔥and ever Green 💚💚 #3MusicAwards21

— Lysis Braidley (@BraidleyLysis) March 28, 2021
The Gospel acts Diana Hamilton, Efe Grace and Kobby Salm also had people turning up their volume to listen to their performances.
Diana Hamilton and Efe Grace top top performance with Ohemaa Mercy's band
That the live the Gospel Musicians have
The hip-life,dancehall and hiphop musicians should learn from them. #3MusicAwards21 #3MusicAwards

— Nana Hook😁🇬🇭🇬🇭💉💉🐬 (@Suro_Nyame) March 27, 2021
Diana Hamilton performs Adom (Grace)

Adom O Nyame, Adom O Adom
Adom nti na me tease
3y3 W'Adom nti na me wo ho
Lord the Essence of my Praise
Is Centered on your Grace
Adom, Adom, W'adom#3MusicAwards21 vgma#3MusicAwardspic.twitter.com/zQfe8bqG8S

— Maiestas Ⓜ️ (@Ebenezer_Peegah) March 27, 2021
For viewers who do not know Kobby Salm they did not expect his urban gospel style, nonetheless, they were impressed by his rap and his performance.
Yo @KobbySalm … was that gospel 😳… that was 🔥🔥🔥🔥🔥🔥 #3MusicAwards21

— Oheneba_Nurudeen (@ohenebanurudeen) March 27, 2021
I swear , Ghana we are late ooo 😂😂😂, gospel paaa mu rap 😂😂😂😂

— Sterling_Asap (@SterlingAsap) March 27, 2021
@KobbySalm bless up bro….great performance bro…u stole the show wit the squad

— #NEWMUSIC #TWALE (@OnyamebaTipGh) March 28, 2021
.