Despite enjoying a "pretty traditional" upbringing, fishing and camping and learning from his tribal elders, Cook says he has still found common ground with James Madison, who authored the US Bill Of Rights but was also a Virginia planter who owned over 100 slaves.
"The biggest thing that resonates with me is that the founding fathers created their own path," says Cook, who also plays revolutionary hero Hercules Mulligan in Hamilton.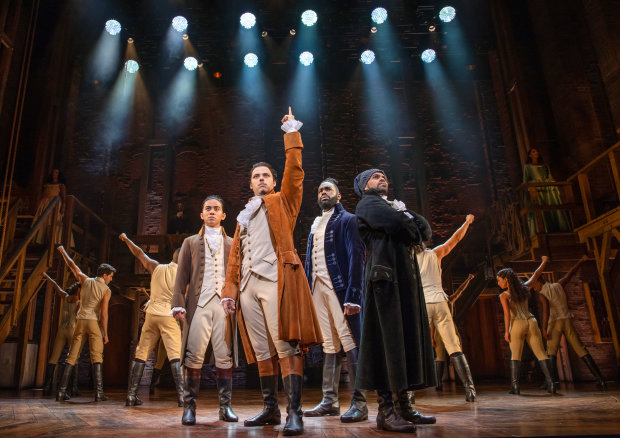 "They had a vision of the world they wanted to live in, and they made it happen."
Cook is guided by that ethos in his own life, which contained no exemplars for a career in the performing arts until he and a friend formed a hip-hop dance duo in high school.
Gaining confidence by performing for his classmates, Cook was soon taking the four-hour dirt road drive to Karratha during school holidays, where he participated in acting workshops organised by Perth's Black Swan Theatre Company.
Advertisement
He graduated from an Aboriginal performance course at WA's Academy of Performing Arts in 2009, then completed his training at NIDA in Sydney.
"Coming over here was when I got a real sense of walking between two worlds," says Cook, who returns whenever he can to the Pilbara where he works as an archaeological heritage surveyor for mining companies.
"My family is very cultural – we don't do 'first cousin', 'second cousin', they're all family. They keep me grounded and show me so much love and support."
One connector between Hamilton and Cook's home life is its hip-hop content. The musical's book boasts an average 144-words-per-minute for its two-and-a-half-hour duration, demanding verbal dexterity and vocal stamina from its cast.
"We used to do rap battles in high school so I'm very comfortable with that side of it," says Cook, revealing that he, Victory Ndukwe (who plays Marquis De Lafayette and Thomas Jefferson) and Marty Alix (John Laurens, Philip Hamilton) have regular freestyling sessions backstage.
Advertisement
"Someone will put a beat on and we'll just start rapping about the show, or whatever's happening in the moment. It keeps our brains spinning and fresh."
Cook realised he also had a talent for singing when he started taking vocal lessons via Zoom after he got the part.
"I discovered that I'm a high tenor, who doesn't have to strain to get to the top notes. So that's been amazing," he says.
But Cook has been most affected by the diversity of Hamilton's casting, which is insisted upon by creator Manuel-Miranda – himself a Puerto Rican immigrant to the US.
As well as three First Nations performers, the 35-person cast includes talent with Egyptian, Filipino, Italian, Jamaican, Japanese, Maori, Mauritian, Nigerian, Samoan and South African backgrounds.
"What's on stage is what's on the streets of Sydney," Cook says.
"A lot of us have talked about we wish we could have seen this growing up, and you can see that [sentiment] in the audience too. People are in tears every night."
Hamilton, at Sydney Lyric theatre, is the only production in the world currently playing. Tickets are on sale until at least November 14.