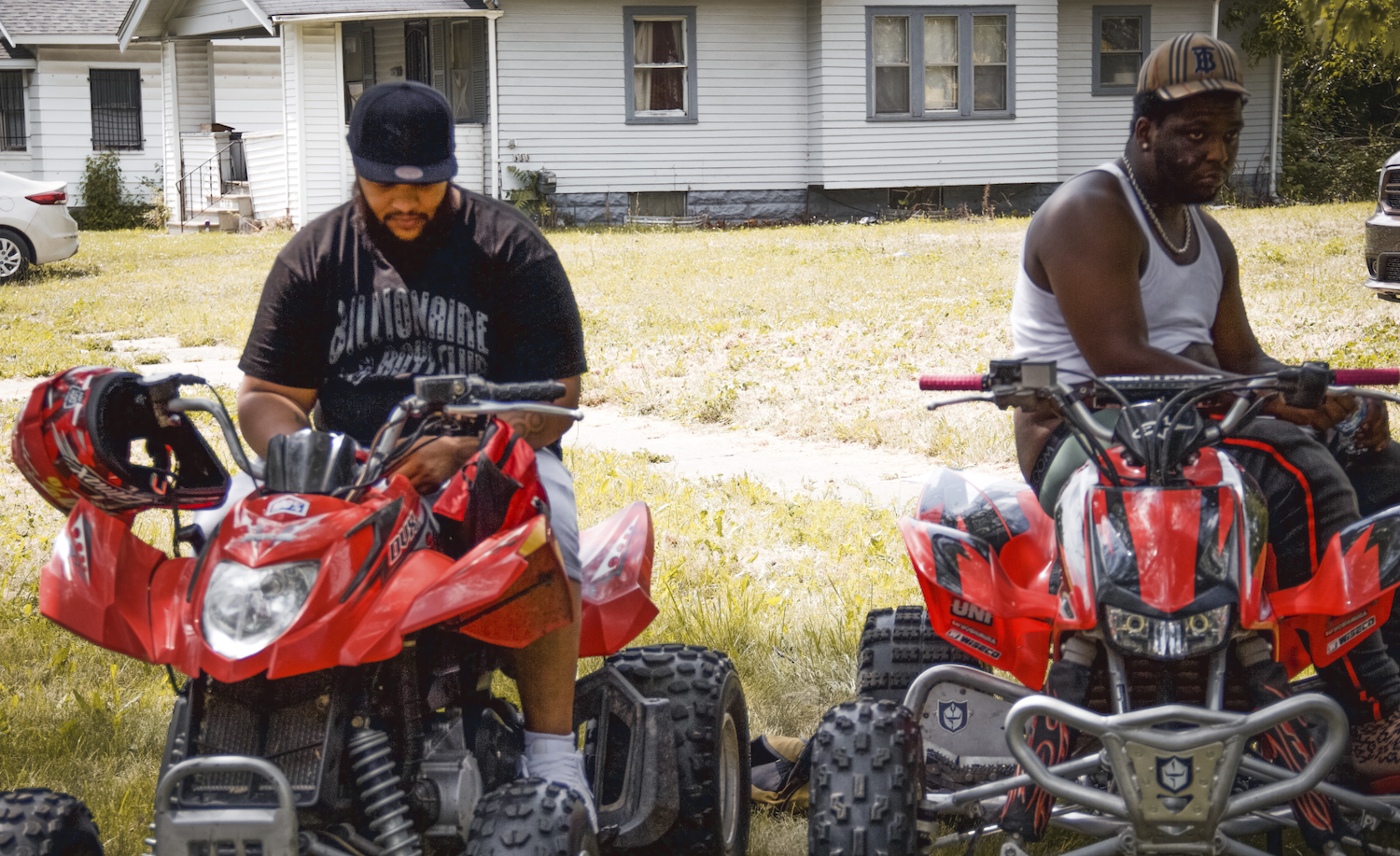 FLINT, Michigan — British playwright Howard Barker once said, "Tragedy is the greatest art form of all. It gives us the courage to continue with our life by exposing us to the pain of life. It is unsentimental, it takes us seriously as human beings, it is not condescending. Paradoxically, by seeing pain we are made greater."
For Flint Hip Hop, that sentiment rings true at its core.
Flint's decline throughout history has been well-chronicled, ranging from the downturn of the American auto industry to the Flint Water Crisis, with crime, poverty, racial injustice, blight, and virtually every other socioeconomic factor stacked against the city and its people. In 2020, those issues still manifest in different ways, but Flint Hip Hop represents a flower that grew out of the concrete.
Flint is a cornerstone of midwestern Hip Hop, but it's rare to find a rap fan under the age of 30 who could tell you that. Flint rap was the first Hip Hop scene between the coasts to bypass local radio pipelines and get national airplay. In an era ruled by the Ice Cubes, Eric Bs, and LL Cool Js, Flint's own MC Breed burst onto the scene in 1991 with his single "Ain't No Future In Yo' Frontin'" reaching No. 66 on the Billboard Hot 100 chart, officially the first Hip Hop single from outside of the coasts to ever chart.
"I was in party mode, and that song was an anthem," said Ira "Bootleg" Dorsey, who was just a few years from becoming a historically significant Flint rap figure in his own right when Breed's smash hit climbed the charts. "When that motherf—– dropped it made me proud to be from Flint, and it made me believe that we could make it coming from this city once I saw it blow up."
MC Breed developed relationships across the country, most notably with Tupac. He was so close with the iconic rapper that Breed spent time with Tupac across the country; from shooting a video with tricked-out Mercedes Benzes at Andre Rison's Atlanta mansion to an L.A. tattoo parlor to witnessing Tupac get his now-iconic "Thug Life" torso tattoo. Breed isn't the only successful rapper from the 1990s in Flint, though, as The Dayton Family (Bootleg's group) rose up through the realm of horrorcore rap, which seemed like the next big thing in music when The Dayton Family dropped their most popular project, F.B.I. (F— Being Indicted), in 1996, which became a classic in the Hip Hop subgenre.
Unfortunately, even Flint's best acts encountered struggles. During what should have been their peak years as a group, Bootleg was, in fact, indicted, and spent time in prison. The Dayton Family is still active in both music and the Flint community today, but fans will undoubtedly point to the mid-1990s as their peak.
"We were blessed to come along in a time where we had a lot of label support in the '90s," Bootleg said. "We were able to establish a worldwide fanbase with the help of a label, and that legacy speaks for itself. Good music will always last. I just thank God we were blessed to be the voice of Flint for decades."
Flint's close relationship with some of Hip Hop's cultural touchstones didn't catapult its popularity to where it is today. Throughout the past two decades, several acts from Flint have entered the national conscience with varying successes. Jon Connor, the gifted lyricist from Flint, was on XXL Magazine's Freshman list in 2014, signed a deal with Dr. Dre at Aftermath Records, and just recently released a new album, SOS.
A greater shift began to happen, though, when creatives came together at Camp 810 in the mid-2010s, an unofficial creative house in Flint spearheaded by DJ Phat Jordan, a jack-of-all-trades in the city's music scene. At Camp 810, which doubled as lodging for aspiring musicians, artists were able to collaborate and work on development at a ground level. From learning how to program drum machines to improving songwriting skills to learning videography, this era laid the groundwork for the iteration of Flint rap we see today.
"Camp 810 had so many different people working together. It was the first time I've seen people from different sides of Flint coming together and doing something positive," said DJ Phat Jordan, who also goes by Big Homie Brown. "We didn't have anything in this house except a studio, a PlayStation, a TV, and a couch. And we barbecued every single day."
Louie Ray, one of the hottest MCs from Flint today, was one of the first artists to take advantage of the facilities the older generation was able to provide when he began work with DJ Phat Jordan in 2014. He, along with his eventual counterpart YN Jay, grew from interested kids to bonafide artists at Camp 810.
"LLCMB was a rap group that was like five dudes, and Louie Ray was one of them. When his team stopped rapping and I had people in my team going to jail or not caring about rap, I linked with Louie. I have probably produced eight full projects with Louie Ray," said DJ Phat Jordan, noting that Louie Ray and YN Jay actually met for the first time at the creative house. "Jay and Louie wouldn't know each other like they do now if it wasn't for Camp 810."
As the 2010s rolled on, several young rappers in the city started dedicating themselves to their craft and releasing voluminous amounts of music on YouTube. One of the rappers, Rio Da Yung OG, caught eyes outside of Flint, aligning himself with the Ghetto Boyz imprint headed up by Peezy, one of Detroit's most influential voices.
Once Rio got Peezy's co-sign, he took the baton and propped up the Flint rap scene. Since the release of his collaboration mixtape Dumb and Dumber with his partner-in-crime RMC Mike in the spring of 2019, Rio has seen a steady increase in popularity, known for his dark humor and productivity (seriously, it feels like there are new Rio songs on YouTube every day), and he brought the entire city's scene with him. Rio's self-branded "s— talking" style is a can't-miss aspect of Flint rap.
While Rio and Mike get millions of YouTube views and streaming platform plays, YN Jay and Louie Ray took their blueprint and learned how to go viral. Their off-kilter tune, "C——", released five months ago, has become the Flint Hip Hop introduction for people around the globe; the song's music video on YouTube has 17 million views and counting. It recently became the subject of a TikTok trend — and the two have cozied up with Atlanta rap superstar Lil Yachty in light of their virality—and the inspiration for a heavily-publicized, controversial festival in Flint that got shut down by police.
Beyond the epicenter of Flint rap that is Rio, Mike, Jay and Ray, there are other important and pivotal artists. GrindHard E, and Flint-to-Houston transplant Bfb da Packman — who still reps Flint in his absurdly memorable music — both have dedicated fan bases of their own. YSR Gramz and KrispyLife Kidd from Beecher deserve a share of the credit for their contributions, playing as a more traditional foil to the rest of Flint's jarring lyrical content, painting vivid street motifs that have roots in more popular rap styles. If Rio and Mike are to Flint as Chief Keef and Lil Durk are to Chicago, Gramz and Kidd are G Herbo and Lil Bibby. They also are responsible for introducing fans to the architect of Flint's identifiable sound, Enrgy Beats, whose credits include some of the city's biggest hits, such as "C——" and Rio Da Yung OG's breakout track "Legendary."
"I made a whole mixtape with YSR Gramz in 2018, and then in March of 2019 he asked me to make a Detroit beat. I really wasn't into making Detroit beats, and I wasn't feeling the Detroit style," said Enrgy. "I had my own sound in mind, though. I was in the shower thinking of a melody, and I came out and it was the first beat I made in the Enrgy 'Flint-type Beat' style. It was something so different. Gramz was like, 'That beat you sent was hard!' and I was like, OK, I can make something like that. From then on, Gramz took me off a bit. He put my sound out there. I appreciate him. Then I linked with Rio and Mike, and the rest is history."
The sound that has become synonymous with Flint rap — abrasive, hyper-realistic street tales with a dash of humor over uptempo beats, laden with hi-hats and snares — is an offshoot of Detroit rap, but unique in its own right. Enrgy's production style spawned an entire city's iconic sound because of its objective quality, yes, but the biggest reason it has become so omnipresent is its strong identity. Flint rap's grimy, distorted brand has become synonymous with the city's swelling creative scene, and has become public domain for up-and-comers across the city.
"The Dayton Family sound was the Dayton Family sound, not the Flint sound. That was the difference," said Mo B, Enrgy's dad and manager, who grew up in Beecher and has been a mainstay in Flint rap culture since its early years. "A lot of us, we were conflicted. We didn't want to use the Dayton sound because they were actively guarding that sound as their own."
"In December 2019, Enrgy started to upload beats on YouTube using the tag 'Flint-type Beat.' Enrgy labeling his beats as 'Flint-type Beats' effectively means that if you're from Flint, you can make this kind of beat. It's not just an Enrgy-type beat anymore, it's for all of Flint, but it's synonymous with his name at the same time."
It's important to look forward into the future as well as acknowledge the past, and the context that brought Flint to this moment. Even if the music isn't structurally similar, a direct lineage to the OGs of Flint can be drawn through family ties and age-old relationships, and the groups that came before paved the way for the stars of today.
As Flint's burgeoning hip-hop scene gains popularity across the country, major labels have come calling. Rio Da Yung OG is releasing music under Empire Distribution, and nearly every major artist in the city has been contacted by large record companies. The next few years should be a fruitful time for Flint's artists, both financially and creatively.
FLINT: THE VEHICLE CITY PLAYLISTby Jameson Draper