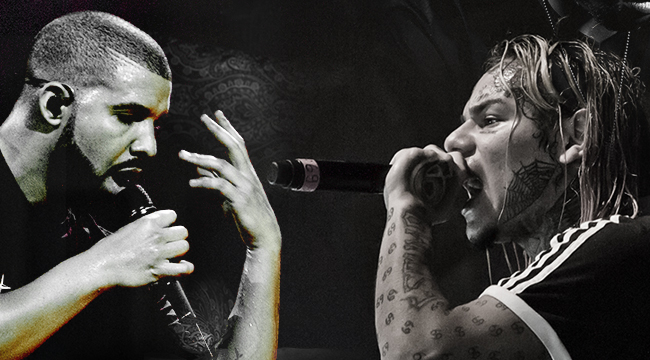 The rapper onscreen can't be any older than 19 or 20 years old. The beat backing him up is as cheery as the melody he sings on the instantly catchy hook, built around a bright, gospel-influenced piano loop. He's surrounded by friends, none of them much older than he is, a few looking significantly younger. It has all the makings of a sunny, summertime bop, but then, the rapper brandishes a monstrous automatic rifle that looks like something out of Call Of Duty, upsetting the lighthearted presentation with the contrast.
The gun draws the eye because it's almost as big as the kid holding it; it seems out of place in the video, yet the lyrics mark it as the only thing that should belong in it. The kids, the beats, even the low-budget, shot-on-an-iPhone-in-mom's-kitchen aesthetic all seem woefully incongruous with the casual menace conveyed by those words and that gun.
The video in question is Polo G's "Gang With Me," but it could belong one of any number of other rappers who've filled their videos with the same level of military-grade armory and sinister intent, from viral upstarts like Tay-K, whose video for "The Race" made him a superstar, to YBN Nahmir, who formed his YBN rap collective over online gaming networks and grew up playing baseball, but blew up when "Rubbin' Off The Paint" became a Youtube favorite.
Polo's following is practically nonexistent, the video a paid promotion to Worldstar Hip-Hop like Tay's and like Nahmir's, but it's clear he hopes to insert himself as they did into hip-hop's ongoing, ever-expanding discussion by proving his street credibility. He's a gangsta. He's a menace. He's keeping it real. But why? Why would anyone want this to be their audience's first impression of them and their art?
[embedded content]
"Keeping it real" has long been not just a feature of hip-hop music and culture, it's been the foundation that both are built on. Rap audiences — and consequently, the major labels and media outlets that purvey the music to their potential consumers — have long insisted on authenticity as the cardinal rule of hip-hop. In hip-hop, "keeping it real" is a badge of honor, a prerequisite, and code of ethics all at once, supposedly. Over time, the definition has shifted to mean so many different things, but over the course of hip-hop's 45-year history, it came to be associated with a very particular attitude, a persona of violent hypermasculinity that resulted in videos like those described above becoming the standard, not an exception.
But that standard has had dire consequences for some of the rappers who've associated themselves with violent attitudes; 18-year-old Tay-K is currently on trial for capital murder in the state of Texas, while controversial Florida rapper XXXtentacion was shot to death just a month ago. Keeping it real, at least in the sense of the phrase that evokes street credibility and the invincible, tough-guy persona, comes with a price. The obsession with performing a twisted form of authenticity is endangering a new generation of fans and artists who've been inundated with that principle without ever really questioning why.
However, it wasn't always like this.
For Rob Markman, who is currently the Manager of Artist Relations for the popular lyrics site Genius, and a veteran hip-hop journalist with bylines at outlets like Complex, The Source (RIP), and Vibe, "keeping it real" means to "keep it authentic to yourself."