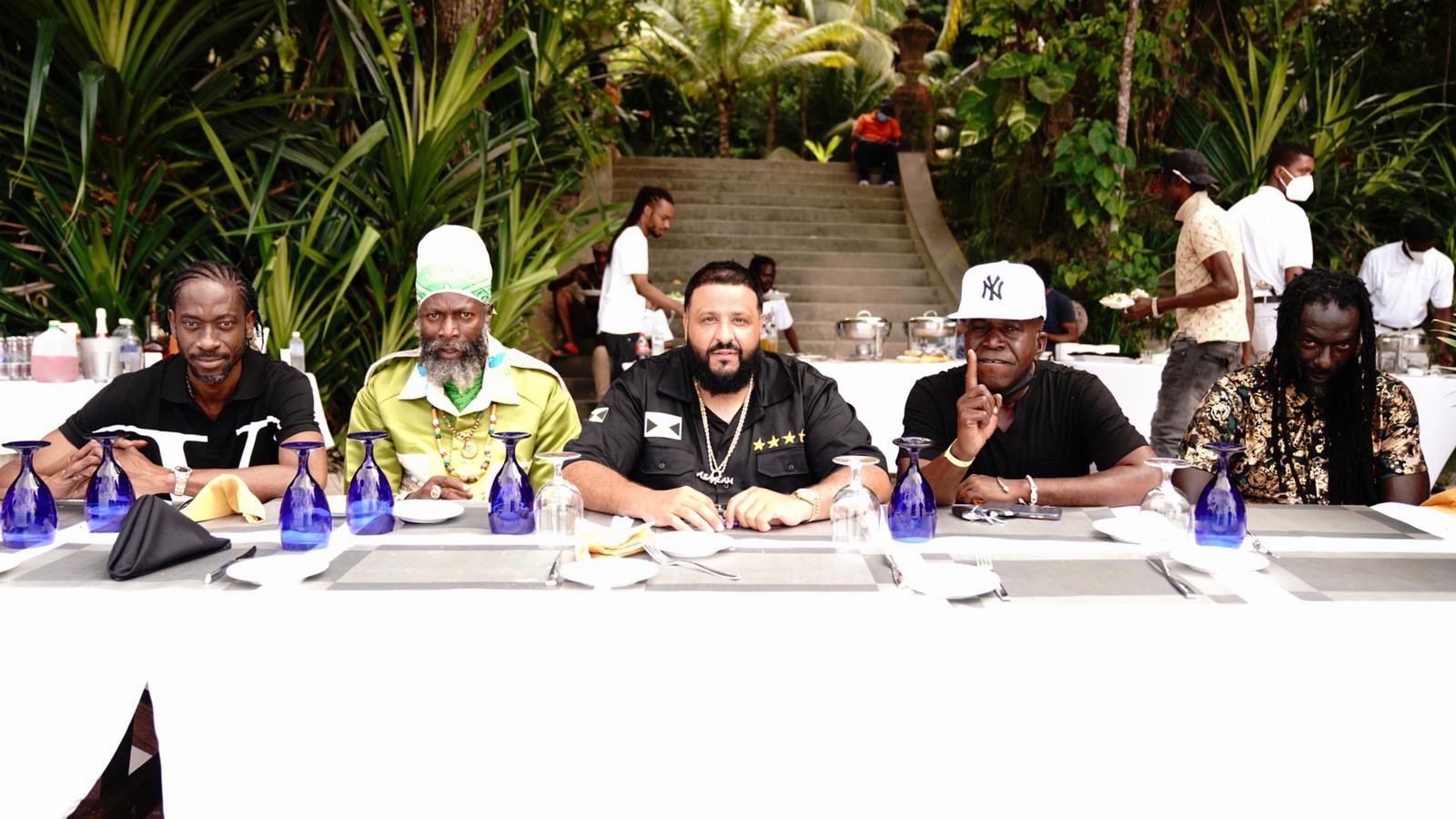 Known for his affinity for Jamaican music, American producer DJ Khaled pulled together an all-star cast of Dancehall and Reggae stalwarts for 'another one' (or possibly a few) of his genius collabs.
The record exec shared several clips of his yaad man link up with Barrington Levy, Buju Banton, Bounty Killer, and Capleton on Instagram with the constant caption, "Working on something special I never forget where I come from. JAH LIV!" With several decades in music, hundreds of hits, and a few Grammys and Gold Certified records between them, the Jamaican legends embody Khaled's We The Best tagline, and anticipation for the positive vibes is at a high among the dancehall/reggae fanbase.
Khaled has been teasing the team effort off his upcoming album Khaled Khaled from as far back as October. Levy also uploaded photos on IG of himself and the Wild Thoughts hitmaker in a studio session telling fans, "In the studio w/the Best. Good vibes and much love always. Heat coming your way, be on the lookout..Just wait for it it's going to be grande".
In an Instagram post yesterday, Levy again teased, "Wait for it, it's going to be epic..", but this time with the careful hashtags: "#djkhaled #champagnepapi #drake #capleton #reggae #hiphop" below a photo of himself and Khaled at his "Holy Mountain" hideout — the 14-acre Sandals & Beaches-owned Rio Chico Villa located outside of Ocho Rios.
While Drake is absent from any of the circulating photos, we know from his and Khaled's last two chart-topping singles, Greece and Popstar, that Drizzy is just a call, text or FaceTime away for visuals. (and if not, expect Justin Bieber)
Levy, 56, is best known for Black Roses, Too Experienced, Living Dangerously with Bounty Killer, Collie Weed, Here I Come, Shine Eye Girl, Ah Yah We Deh, and countless others. Whether or not we get the hip hop joint track he hinted at, fans are already geared up for a reggae/dancehall giant overload.
Khaled commented on the track's rare quality while lauding both Levy and King Shango on set of the video for the as yet unnamed track.
"HISTORY!!!!" the No Brainer hitmaker wrote on Instagram. "Listen, legendary Barrington Levy..legendary, legendary, legendary. Barrington Levy, Bounty, Buju, Fireman, they don't just come out for anybody."
Capleton, best known for Who Dem, That Day Will Come, In Her Heart, Raggy Road and many more, was spotted delivering his verses for a coming music video.
For now, fans can check out the gun fingers, militant poses, and upful vibes from the Gargamel, the Fireman, the Warlord and Mr. Broader Than Broadway as we await a release date for the track, visuals and album.
DJ Khaled was also spotted with rap trio Migos and female Grammy-winning sensations H.E.R. and Koffee as he puts the final touches on the "97.8% complete" suite.
His knack for combining generations and bending genres is a good look for the culture, and his Jamaican representative, Sharon Burke, told THE WEEKEND STAR that "the Caribbean will play a big part in the compilation" while Khaled said the album will "touch the world in a special way."