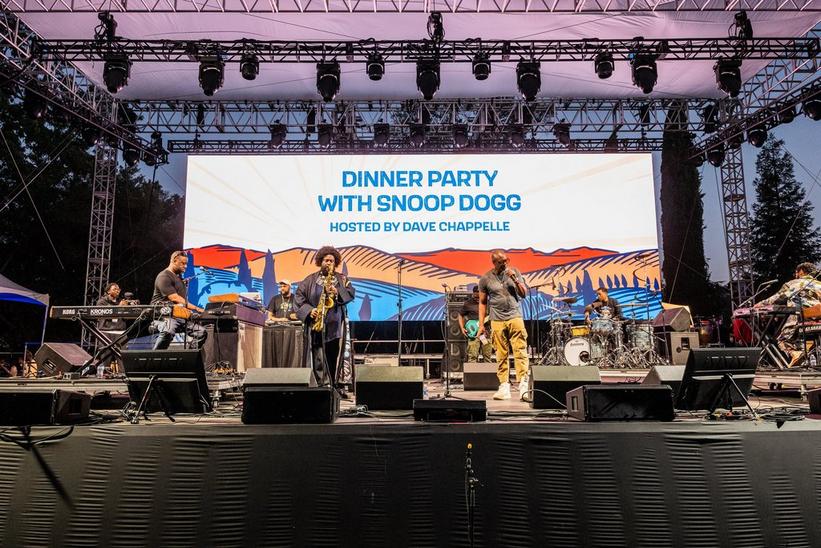 "This is the kind of s— I like being a part of," Snoop Dogg told the crowd on the second night of the Blue Note Jazz Festival in California's Napa Valley. "This s— is fly."
Over the July 29-31 weekend, artist-in-residence Robert Glasper and Blue Note Records left an undeniable impression upon wine country. Held at Charles Krug Winery in St. Helena, the intimate festival for hardcore audiophiles attracted a notable grown-and-sexy audience, which included the likes of Oakland collective SOL Development, actor Anthony Anderson, hip-hop icon Nas, and others.
One of the more diverse happenings to hit Napa Valley, Blue Note Jazz featured performances by Chaka Khan, Maxwell, Snoop Dogg, Flying Lotus, Thundercat, and many more. The atmosphere was open, positive, and noticeably laid back.
Backstage on Friday saw casual conversations between Terrace Martin, D Smoke and Madlib, while Dwyane Wade, festival host Dave Chappelle, and "Black-ish" star Miles Brown showed off their best moves on a makeshift basketball hoop. Originally scheduled as a two-day event, the late addition of the Friday lineup made attendance sparse. Still, it didn't stop musicians from making surprise cameos during each other's sets, sharing their mutual admiration and giving love to the crowd.
Chaka Khan had already breezed through classics like "Tell Me Something Good," "Sweet Thing," and "I'm Every Woman" during her Friday headlining set. But when she got into the Prince-crafted "I Feel For You," with everyone already bouncing to the beat, Kamasi Washington returned to the stage after his dynamic performance to hit a saxophone solo hard. "The inaugural festival brought together great cultural icons both through their love of outstanding music and the camaraderie of their artistic community," said Alex Kurland, Director of Programming at the Blue Note, via press release.
Looking as gorgeous as ever, Chaka Khan's songs were repeated by the crowd, who fully engaged with the sonics and her bubbly on-stage presence. Khan's performance was buoyed by her band and backup vocalists, who were on fire from start to finish. It was a party from that point on, so when Dinner Party — the jazz/hip-hop hybrid supergroup started by Glasper, Martin, Washington, and GRAMMY-winning producer 9th Wonder — took the stage, it served as the cherry on top of a truly excellent evening.
Yasiin bey and Talib Kweli arrived ahead of their Saturday performance as Black Star and joined in on Dinner Party's tribute to Herbie Hancock. They were later joined by Chappelle and Katt Williams, who passed legalized joints. Almost immediately, a signature scent permeated through the crowd, signaling the start of the main event: Snoop Dogg. Chappelle called the Long Beach legend a "miracle of culture" for his transition from genuine gangster to a pop culture icon, which led to Snoop digging into his bag of hits, including "Next Episode," "Gin and Juice," and "Beautiful."
Although Erykah Badu did not perform as scheduled on Saturday, the multi-stage event still was jam-packed with an electrifying mix of hip-hop, jazz, funk, and comedy. Phony Ppl, the Bed-Stuy, Brooklyn-based progressive band, gave a hallmark performance despite a small audience. Lead vocalist Elbee Thrie would jump off stage a few times to engage with the cooler-than-cool listeners, ramping them up to dance and groove to songs like "Before You Get A Boyfriend" and "Why iii Love The Moon." When they got into their Megan Thee Stallion-featured single, "Fkn Around," everyone there was moving in unison.
Thundercat and Flying Lotus were also in rare form, as the two put on a virtuosic display. "I used to be a raging alcoholic," Thundercat told the crowd, celebrating his third year of sobriety, "as we sit here, surrounded by Napa Valley wine." The Bass Gawd went into "I Love Louis Cole" from 2020's It Is What It Is, displaying his prodigal playing with a mouth-water six-string bass solo. FlyLo was in his bag, performing a collection of mixes and crowd favorites, which had set the stage for the full excursion into rap ahead of its 50th anniversary.
As the sun set, Chappelle kicked off the first-ever live audience recording of his award-winning podcast, "The Midnight Miracle" — the second season presented by Luminary and co-hosted by yasiin bey and Talib Kweli. "We are all witnesses to history," said Chappelle. "This is the best that America has to offer in music. What a festival. What a weekend."
Most people on the grounds grew up with Black Star's 1998 debut album on constant rotation. As "Astronomy (8th Light)," "Brown Skin Lady," and "Definition" played under the night's sky, it was a curfew-breaking opportunity to see two masters of ceremony get busy on the microphone. By the affair's end, as the two got into newer songs from No Fear of Time and solo tracks like "Umi Says" and "Get By," the Saturday night, anything-goes spectacle became a who's who of luminaries on stage. BJ the Chicago Kid, James Poyser, J. Ivy, Christian Scott (Chief Xian aTunde Adjuah), Derrick Hodge, Keyon Harrold, and Isaiah Sharkey all took part in the adulation of a job well done.
The 6,000-strong crowd was eager to see Maxwell share his baby-making vibes on Sunday. Dressed impeccably, the Brooklyn good guy dedicated his headlining set to all the lovers in the audience. His connection with the crowd was beautiful, and as we all enjoyed being in his Urban Hang Suite, songs such as "Pretty Wings" and "Stop the World" brought the Blue Note Napa Valley festival to a sweet close.
Relive The Music, Friendship & Thrills Of Newport Folk 2022 In This Immersive Photo Gallery
Subscribe to Newsletters
Be the first to find out about GRAMMY nominees, winners, important news, and events. Privacy Policy