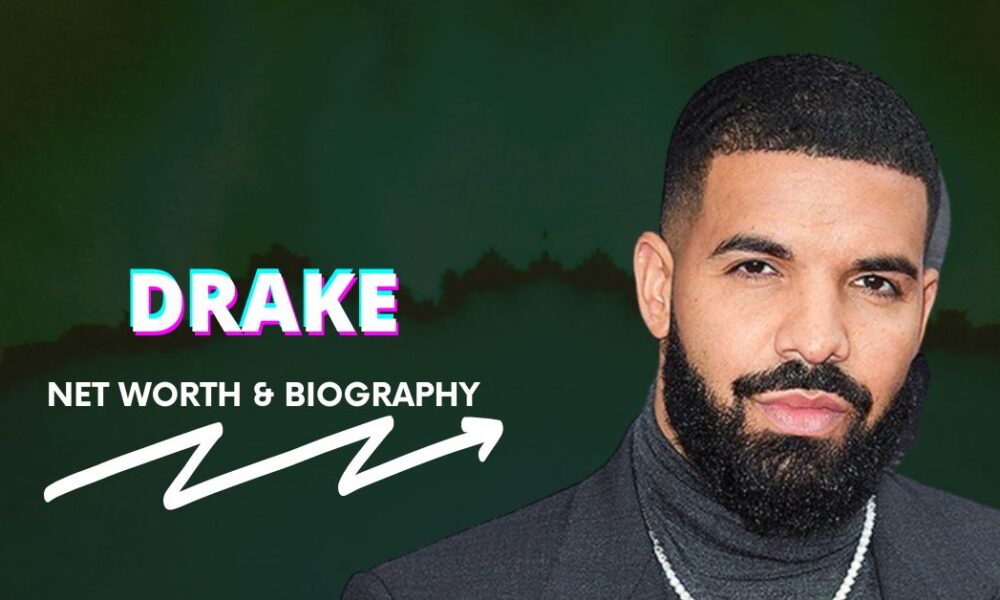 Drake is a Canadian Rapper, with an estimated net worth of $180 Million, making him one of the richest rappers in the world and one of the wealthiest musicians in Canada. He is one of the best-selling rappers of all time, with over 170 million records sold worldwide. Drake is also credited for popularizing singing and R&B sensibilities in hip hop and is considered an influential figure in modern popular music.
Bio Data
| | |
| --- | --- |
| Full Name | Aubrey Drake Graham |
| Date of Birth | October 24, 1986 |
| Gender | Male |
| Marital Status | Single |
| Career | Musician |
| Drake Net worth | $180 Million |
| Nationality | Canadian |
Read More:
Biography
Drake was born Aubrey Drake Graham on October 24, 1986, in Toronto, Ontario. His father, Dennis Graham, is an African-American drummer, who performed alongside country musician Jerry Lee Lewis. His mother, Sandra "Sandi" Graham, is a Canadian, from an Ashkenazi Jewish family, who worked as an English teacher and florist.
He attended Forest Hill Collegiate Institute, where he demonstrated an affinity for the arts, first acting while an active student at the school. He later attended Vaughan Road Academy in the city's multicultural Oakwood.
Drake was often bullied at school for his racial and religious background and upon realizing that his busy class schedule was detrimental to his burgeoning acting career, Drake dropped out of school. He later graduated in October 2012.
Career
Drake began his entertainment career as an actor, acting in the Canadian teen drama series Degrassi: The Next Generation. He featured in the series from 2001 to 2008, appearing in a total of 100 episodes.
Drake began to pursue his music career in 2006 releasing his debut mixtape, "Room for Improvement". He released two other mixtapes "Comeback Season" in 2007 and "So Far Gone" in 2009 before signing with Young Money Entertainment in the same year.
"So Far Gone" received over 2,000 downloads in the first 2 hours of release. Two tracks on the Mixtape: "Best I Ever Had" and "Successful", were certified Gold in the United States, with the former also peaking at number two on the Billboard Hot 100.
This prompted the mixtape's re-release as an EP, featuring only four songs from the original and two additional songs. It debuted at number six on the Billboard 200 and won the Rap Recording of the Year at the 2010 Juno Awards.
Thank Me Later
Drake's debut album, Thank Me Later was released on June 15, 2010, debuting at number one on the Billboard 200 with sales of over 447,000 copies in its first week. The album became the top-selling debut album for any artist in 2010.
Prior to that, Drake had released the debut single "Over", which peaked at number fourteen on the Billboard Hot 100, as well as topping the Rap Songs chart. It also received a nomination for Best Rap Solo Performance at the 53rd Grammy Awards. His second single, "Find Your Love", became an even bigger success. It peaked at number five on the Hot 100 and was certified Platinum by the Recording Industry Association of America (RIAA).
Take Care
His second studio album Take Care was released on November 15, 2011. The album achieved great commercial success, eventually being certified quadruple platinum by the RIAA in 2016, with sales for the album marking 2.6 million in the U.S. It also won the Grammy Award for Best Rap Album at the 55th Annual Grammy Awards.
The album's lead single "Headlines" had been released in August of the same year. It was met with positive critical and commercial response, reaching number thirteen on the Hot 100, and number on the Billboard Hot Rap. It was eventually certified Platinum in both the United States and Canada.
"Make Me Proud" was released as the album's second single on October 16. It debuted at number 97 on the Billboard Hot 100 and reached number nine the following week. It was also certified Platinum by the Recording Industry Association of America (RIAA)
Nothing Was the Same
His third studio album, Nothing Was the Same was released on September 24, 2013, debuting at number one on the US Billboard 200, with 658,000 copies sold in its first week of release. It also debuted atop the charts in Canada, Denmark, Australia, and the United Kingdom.
The album reportedly sold over 1,720,000 copies in the United States and was further promoted by the "Would You like a Tour?" throughout late 2013 to early 2014. It became the 22nd-most successful tour of the year, grossing an estimated $46 million.
What a Time to Be Alive
What a Time to be Alive is a collaborative mixtape with Future. The project debuted at number one on the Billboard 200, making Drake the first hip hop artist to have two projects reach number one in the same year since 2004. It was later certified platinum by the Recording Industry Association of America (RIAA) for combined sales, streaming, and the track-sales equivalent of over 1 million units.
Views
On April 5, 2016, Drake released "Pop Style" and "One Dance" the lead singles for his third studio album"Views". Both debuted within the top 40 of the Billboard Hot 100. "One Dance" however rose to become Drake's first number-one single in Canada and the US as a leading artist. It also became Drake's first number one single as a lead artist in the United Kingdom and peaked at number one in Germany, France, Australia, Brazil, Sweden, Belgium, Norway, and the Netherlands.
Drake's third studio album, Views, was released on the 29 of April 2019. The album would become Drake's most commercially successful album, sitting atop the Billboard 200 for ten nonconsecutive weeks, as well as simultaneously leading the Billboard Hot 100 and the Billboard 200 for eight weeks. It also achieved double-platinum status in the U.S., and earned over 1 million album-equivalent units in the first week of its release, as well as gaining over half-billion overall streams of the album.
More Life
Drake released a mixtape titled More Life on March 18, 2017. The mixtape received mostly positive reviews, and debuted atop the Billboard 200, earning 505,000 album-equivalent units in its first week. It also set a streaming record, becoming the highest ever streamed album in 24 hours, with a total of 89.9 million streams on Apple Music alone. The album also garnered 61.3 million streams on Spotify, dethroning Ed Sheeran's ÷ as the highest opening on the service in a single day
Career Success
Drake is one of the world's best-selling music artists, with over 170 million records sold. He is also ranked as the highest-certified digital singles artist in the United States by the RIAA. He holds several Billboard chart records and is the most streamed artist on Spotify.
Drake has won four Grammy Awards, six American Music Awards, two Brit Awards, three Juno Awards, and 34 Billboard Music Awards including the Artist of the Decade at the 2021 Billboard Music Awards. He is also considered by many, one of the greatest rappers alive.
Drake Net worth
Drake has an estimated with an estimated net worth of $180 Million, making him one of the richest rappers in the world and one of the wealthiest musicians in Canada. In 2019 He was named as a member of the Forbes Five, which ranks the wealthiest artists in hip-hop, placing fifth after Birdman, Jay Z, Dr. Dre, and Diddy respectively.
Over the years, Drake has been one of the highest-paid celebrities, earning an average of $50 Million pre-tax, annually. Aside from earning from music sales, tours, and live performances, Drake can also be described as an astute businessman with numerous investments & ventures to his name.
Drake started his own record label OVO Sound in late 2012. The label presently houses numerous artists and is currently distributed by Warner Bros. In 2017, he co-founded the production company DreamCrew, which functions both as a management company and entertainment group. He also purchased an ownership stake in the gaming organization 100 Thieves, joining as a co-founder and co-owner.
In June 2021, Live Nation confirmed a long-standing partnership with Drake to open History, a 2,500 convertible capacity live entertainment and general function venue in Toronto. He has also invested in numerous startups such as Aspiration, Robo-advisor Wealthsimple, NTWRK, Bullrider, and several sports-related ventures.
Prior to venturing into business, Drake garnered several endorsement deals with various companies, notably with Sprite and fast food restaurants Burger King and Whataburger. Following the launch of Apple Music, a music and video streaming service developed by Apple Inc., the company announced Drake as the figurehead for the platform at their Worldwide Developers Conference in 2015, with the artist also penning an exclusivity deal with the service worth a reported $19 million.