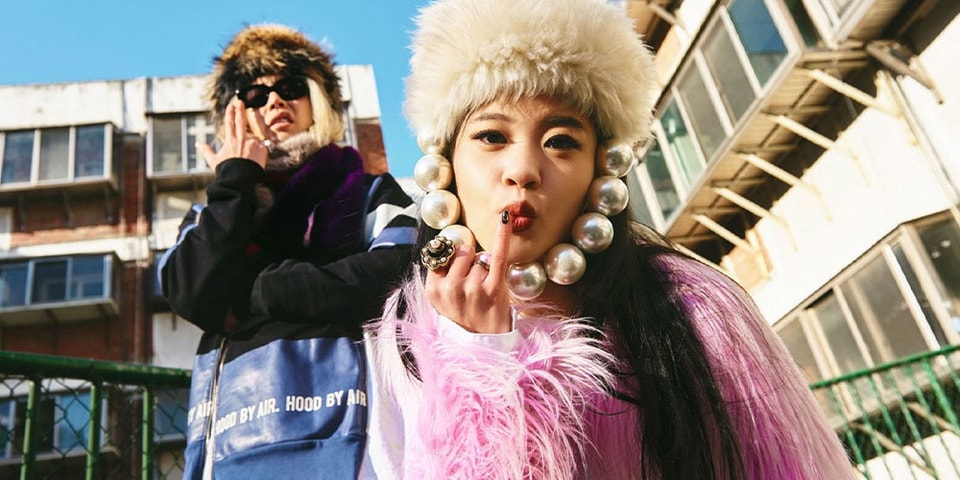 While K-pop has taken over the world in recent years with supergroups like BTS and BLACKPINK, K-hip hop is another genre that's growing rapidly within the music industry. Here, HYPEBAE highlights some of the most exciting South Korea-based hip hop artists you should know and listen to right now.
At the top of our list is Lil Cherry & GOLDBUUDA, a popular sibling duo known for mumble rapping and their unique music videos, as seen on their latest album CHEF TALK. Rather than sticking to only hip hop, artists such as BIBI, YUNHWAY and Sumin have been creating their own style of music, fusing various genres like electronic and R&B together.
From music collective Balming Tiger, emerging artist Sogumm has made her breakthrough thanks to her standout collaborations with musicians like dress and YUMDDA. Rounding out our lineup is Swervy, the first woman to sign with the label Hi-Lite Records, as well as Bryn, who dropped her latest EP SILKMOTH towards the end of 2020.
Get to know these K-hip hop artists by checking out their music below.
[embedded content]
Signed under Feel Ghood Music, a label led by South Korea's hip hop legend Tiger JK, BIBI became a name to watch after starring in music variety show THE FAN in 2019. The artist, known for the two red birthmarks under her right eye (which she revealed to be fake), began rolling out a powerful lineup of music including "KAZINO" and "BINU" in 2020. Her catchy songs led to live sessions on established platforms such as Dingo, which helped land her latest gig – an unexpected collaborative track with Kim Heechul, Min Kyunghoon and DinDin titled "Hanryang."
[embedded content]
Debuting through a collaboration with rapper YANGHONGWON in 2017, Bryn has become a name to watch after appearing on multiple seasons of Show Me The Money. Last year, the artist joined Hip Hop Girl Z, an entertainment program featuring female rappers Lee Youngji and Sandy. Following the show, she released her EP VELVETMOTH last August as part of an ongoing series, following up shortly with SILKMOTH in November.
[embedded content]
Sibling duo Lil Cherry & GOLDBUUDA is loved for their unique style of mumble rap and lyrics that are sometimes incomprehensible. Releasing music under their label Sauce Cartel, the Miami-raised act has gained attention in the K-hip hop scene over the past year for their tracks "ALL-YOU-CAN-EAT," "MUKKBANG!" and "get a whiff of dis." Their latest record, a follow-up on their previous album SAUCE TALK, celebrates their Korean roots as well as their development as artists. The duo continues to roll out unique visuals with styling by their mother, who goes by the moniker Yarntogo.
[embedded content]
Before releasing her first solo album in October 2019, Sogumm kickstarted her career with hip hop crew Balming Tiger. Now signed with Jay Park's record label AOMG, the singer has gained popularity through collaborations with artists like dress and YUMDDA — her joint album Not My Fault with dress features big names in the industry such as Punchnello, Penomeco and Woo Won-jae. Her latest team-up is an upbeat track with none other than OHHYUK.
[embedded content]
Having written songs for K-pop groups like Red Velvet and BTS, Sumin is a multi-faceted artist who creates a mix of hip hop, electronic and bass music to create what she calls "Neo K-pop." The singer-songwriter, who has steadily become a name to watch not only in the world of Korean hip hop, but also in K-pop, has worked with the likes of George and Zion.T . She made her breakthrough with "U & Me," a collaborative track with Jinbo, and recently took the stage on Show Me The Money 9 with rapper Swings.
[embedded content]
The first female musician that signed with Paloalto's Hi-Lite Records, Swervy made an appearance on Show Me The Money 8, gaining presence for her unique style. The 19-year-old artist joined the record label after moving from Russia back to Korea to pursue a career in hip hop. A creative known for her music and art direction that is both distinctive and diverse, Swervy is expected to deliver more new music following her first studio album Undercover Angel released last year.
[embedded content]
A WEDAPLUGG signee, YUNHWAY has gained presence on the Korean hip hop scene thanks to her appearance on Show Me The Money 8. Following her debut in 2015 with her digital single "Fatal Love," the artist has dabbled in a wide range of music styles including R&B, hip hop, electronic and more — she mentions in an interview with Allure Korea that she doesn't want to be defined as an artist with one specific genre. YUNHWAY has since starred in another survival reality show called Good Girl. Another fun fact about the artist: she frequently uses the word "teriyaki" in her music as a tribute to her parents's teriyaki restaurant in the U.S.