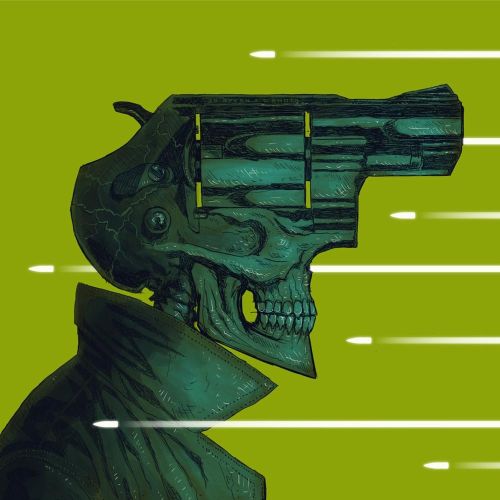 The lineage of the witty street rapper is rich with cult figures, ranging from the punchline hilarity of a Lord Finesse to the verbal dexterity of a Big L, or the charismatic Sean Price to the wild intensity of a Sticky Fingaz. Each artist had a distinct flavor whilst still possessing a brilliant sense of humor that was defiantly theirs. Where each of these emcees excelled for me was with styles that were never afraid to be completely over the top with their imagery. 38 Spesh reminds me of these rappers because he is that rare example of a current emcee injecting OTT humor into what can be very bleak and played-out themes. Street shit, crime, and hustling are topics so well-worn you can quickly see through those that wear them incorrectly.
"7 Shots" follows an endless list of releases from the Rochester (New York) lyricist, but lingered in my ears longer than many of his previous projects thanks to the production choices. Haunting and mournful in tone, there is a deathly atmospheric feel to this EP that separates it from his largely samey catalog of mixtapes and collaborations. This culminates in the single "Can't Show Love Pt 2" with its funeral video celebrating Spesh's brother.
The relentless pursuit of money is a recurring theme and driving force for 38 Spesh, with a cocky bravado not afraid to reference his criminal past. This does threaten to derail his affable charm at times – ignorant raps can't just be ignorant as fans will soon start turning off. It's why a crew like M.O.P. works so well – it contains just enough tongue-in-cheek humor to offset the menace and testosterone.
On this EP, we learn that Spesh was under investigation since 2006 and had a warehouse of "things" in 2003. I feel that rappers never used to go into this level of detail, to the point that some obsessive fan could piece together everything on a timeline. That's something that bled through via social media as he trended online because of a video showing him assaulting an alleged informant, which he has since apologized for. With the recent proposal of The RAP Act (Restoring Artists Protection), it feels as timely as ever hearing 38 Spesh and rappers cut from the same cloth go into specific details on their past – essentially snitching on themselves. There isn't too much of this to be offputting, but it's certainly noticeable and threatens to impact Spesh's unique trait: his twisted sense of humor. When coupled with his strong writing abilities, this is where Spesh excels.
"Benefit" has a hook talking about hustling and possessing business acumen, but the verses are strictly about calling out snitches and mocking those without designer labels. In fact, the more you unpick the bars, the more holes appear and titles don't match up with the lyrics. But at this point, does anyone seriously expect great songs – it's all about the lines and verses. "Eye on Money" similarly boasts a warm, soulful production that draws you in, but is more creative with statements such as "inspired to be the new Tupac, not off rap I wanna be the cat who shoot cops" and the Roc Marciano-ish "I used to sleep on an air mattress, now I have bedspreads worth more than a pair of Cartier glasses".
Spesh, like many of his ilk, can suffer from iffy song structure, whereby it can feel like bars and beats, which affects replay value and keeps him pigeonholed as an underground talent with dope verses, rather than dope projects. The last decade has shown Spesh to be much more than the ex-drug dealer insistent on sharing his past, it's not this mentality that makes him special but how he decorates these stories with similes and comedic imagery.
There are some solid guest appearances on "7 Shots". I'm a big fan of Eto and hearing him on "Flour City 3" was welcome, with the two doing their best impression of Styles and Jadakiss. Che Noir and Freeway appear on "Painful" and it's apparent Che Noir has quickly elevated into that top bracket of emcee capable of drawing you in with her emotional availability and unique vocal tone. I'm not sure she suits the "hot 16" format of this track, or it might just be the fact she has grown into something bigger and better. It's an interesting development, seeing Che Noir, Spesh's mentee, go on to craft excellent albums. The best verse on the album is Ransom's, as he dominates the closer "Last Gasp" with its hypnotic production clearly aimed at anyone who enjoys that early 2000s New York era. It also brings out the best in 38 Spesh, as he looks inward with some thought-provoking lines:
"I remember bein' stressed out about cream
But I ain't never lose sleep, my n****
What's a visionary without dreams?
I needed rest to see out schemes
Like navigation
My imagination could reroute things
Only kings know about queens
I found mine and I hired a
Maid to keep the house clean
Now, where would I be without fiends?
They took care of me, shit
Some even gave me their housekeys"
As much as I enjoyed listening to 38 Spesh on "7 Shots", it's another inconsistent EP/mixtape with glimpses of greatness and limited memorability. His projects often blur together and you know you'll get some crazy verses here and there, alongside production that is more energetic than the Griselda crew. But at 38, I'd like to see Spesh fulfill his potential and craft something truly worthy of his talents to put him in that upper echelon of cult-favorite street rappers.