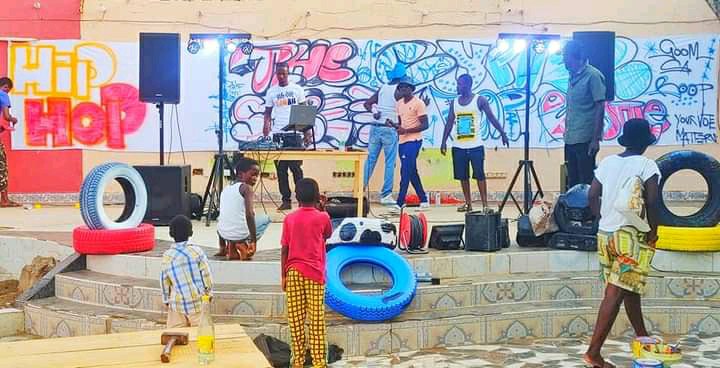 By: Bakary Ceesay
Sixteen of Gambia's most talented, unearthed Emcees qualified for the Cypher 2021 Street Rap battles after almost 20 rappers competed in an audition to win D100,000 Dalasis plus more.
The competing emcees are Babu Ebrima, Jasseh B Baddibu Boyo, Young Race, Young Pac, Rika Da Boss, Lil Pams, Kandalit, Deliver, Shfma, Lil Karl, Matt Crazy, Zule Doff, Yuz-Pro, Stakula Lamin Boyo, Nakharr and Promo kid.
The show which took place on Sunday, July 4th 2021 at Teranga Beach was hosted by Cypher Pioneers, Ali "Killa Ace" Cham and Bai Ibrahim "Rahim" Cham. The judges for the audition were Bankie Greyjohnson, Queenie and Bilal Bin Kebba of Poetic X.
On the first Cypher, no battles took place, instead, all emcees were allocated one minute to freestyle without a beat and given a score by the judges.
Some notable rappers who were eliminated in the first round include; King Talla, Doctor Iss and Big Taff to name a few. The sixteen artists which qualified for the 2021 Cypher Rap Battles are; Cypher 2021 16 Emcees Audition – 4th July 2021
Cypher 2021 – 16 Emcees Audition – 4th July 2021
The main cash prize of D100,000 will be split amongst the top three winners with the first place taking home D50,000, Production of Album, Music Video and Participation in a Major Event.
Second place will take home D30,000 and Production for five songs while the third place will take home D20,000 and production of three songs.
After the audition where each artist showcased their "illest" rhymes three former Cypher artists including Lyrikal Yapseh, Qibla and DS performed for the loyal Cypher hip hop heads that stayed to the end. Watch out for the next Cypher Rap Battles.
Sponsors are invited to partner in this groundbreaking 2021 Cypher Events. In the same vein, we seize this opportunity to wholeheartedly thank all our supporters especially the Open Society Forum the Gambia. The Cypher will continue to provide a platform to engage Gambian Youth to contribute meaningfully towards National Development including voters sensitisation and other civic responsibilities.